KSR Today: Non-Stop Florida Week News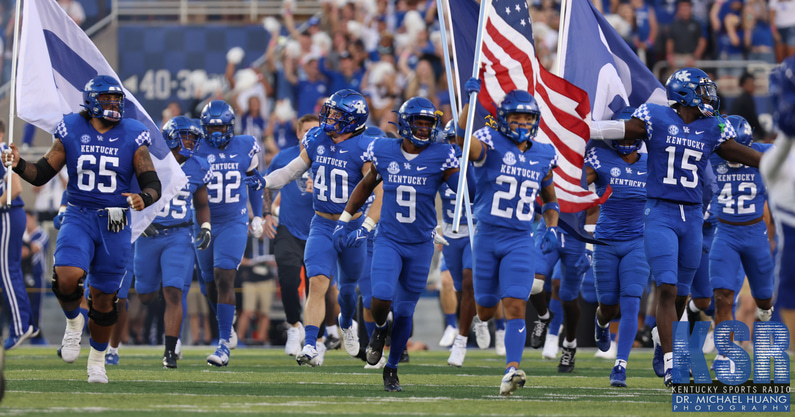 Florida Week is off to a nutty start and it's only been one day. News flew off the shelves fast and furiously on Monday, leaving heads spinning across the BBN. Saturday night's game at Kroger Field officially became a sell out, all while the Kentucky sidelines became a little more crowded.
Six Wildcats Cleared to Return
Dubbed "the Kentucky Six," the players involved in the March fight at a fraternity party are allowed to return to practice today. Anna Tarullo broke the news shortly after Mark Stoops said on his call-in show, "I got some good news on my phone."
We do not know all of the details as to why the players are able to return now. We do know that they were withheld from all team activities for 13 weeks this spring, then sidelined for more than a month at the start of the season. Production expectations should remain low for the players — if they're even allowed to play — with a few exceptions. Vito Tisdale, Andru Phillips and JuTahn McClain should provide depth at position of need.
Other Player News from Stoops
Dekel Crowdus: Up until this point the true freshman wide receiver exclusively worked with trainers to receive treatment. KSR sources expect him to return to practice this week, yet expectations to see him on the field are still low.
Naasir Watkins: The reserve offensive tackle was suspended to start the season. "It is yet to be determined whether Naasir will be back this week or not," Stoops said. "At some point he could work his way in, but Jeremy (Flax) will be ready to go."
Dare Rosenthal: The starting UK left tackle got "dinged up" early on vs. South Carolina but should be fine to play vs. Florida.
Wan'Dale Robinson: There were whispers that the SEC's leading wide receiver could miss the South Carolina game with a hamstring issue. Of course, he did not. "At this point, there are nagging things with people and it's fair to say he has something nagging him."
Mullen Rests Players to Prepare for UK
Reserve quarterback Anthony Richardson will be available to play Saturday against UK. Dan Mullen said the enormous athlete was 100% healthy against Tennessee, but was one of three players withheld from the action due to "precautionary reasons."
We live in a world where Florida is sitting players against Tennessee to get ready for the Kentucky game.
That's not the only way the Gators are preparing for the trip to the Kroge. Mullen is busting out the artificial crowd noise in practice to prepare his players for the BBN. Kentucky fans, now it's your turn to show them what a raucous crowd in a true road atmosphere looks like.
Big New NIL Deals
When driving around Lexington you'll see big billboards from some of the big guys in the trenches. Morgan and Morgan has partnered with Josh Paschal, Justin Rogers, Marquan McCall and Darian Kinnard for their "Size Matters" ad campaign.
What makes this NIL deal different is that the players are in full uniform. It's only possible because Morgan and Morgan is also an official sponsor with UK Athletics. It's also why folks in Louisville see Malik Cunningham in his Cardinal jersey advertising for Planet Fitness on I-65.
JJ Weaver Correction
On this weekend's broadcast at South Carolina, ESPN highlighted the custom six-finger glove made for J.J. Weaver. I incorrectly shouted out Nike for finally giving Weaver a proper glove. The modification was actually made in-house by longtime equipment manager Tom Kalnowski and a guy who became a household name across the BBN this weekend, Tink Belcher.
Three New Podcasts
After a busy 24 hours of football news, you need to inject more Kentucky football into your system with a triple dose of KSR podcasts. Wan'Dale Robinson joins Pin it Deep, Freddie Maggard shares some interesting scoop on the KSR Football Podcast and Adam Luckett will break down the matchup with Florida this morning on a new 11 Personnel.
Bad Visual
Zion Williamson showed up to Pelicans media day with a broken foot and a few more lbs. Yikes.