Mark Stoops committed to winning at Kentucky as coaching carousel turns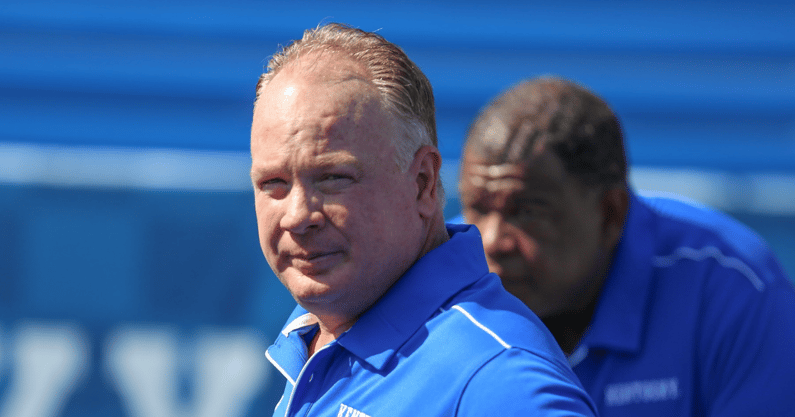 The coaching carousel is moving faster, earlier than ever before. Dan Mullen became the 14th head coach fired prior to the 2021 season's conclusion, totaling north of $80 million in collective buyouts. As the net grows wider and wider is search of successful coaching candidates, Mark Stoops' name has been tossed into a pool or two.
Friday morning Matt Jones reported that Kentucky's head coach was contacted by a third party, gauging Stoops' interest in the LSU head coaching vacancy. Stoops stated Monday that he does not welcome the distraction, particularly on the recruiting front.
"My relationship is strong with the with the prospects and always will be. I can't control that. I have no control over that. I don't want that out there. I don't want that distraction. I don't ask for that," said Stoops.
"As I mentioned jokingly weeks ago, I'd rather it be that than you guys all talking about when they're going to fire me. So I could only control trying to win and build a program here and I think we can all understand that I've been nothing but committed to doing that here, and plan on doing that."
Stoops remains committed to winning at Kentucky on the field and the recruiting trail, something that's happened quite often recently against the University of Louisville.
Prioritizing In-State Recruiting
"They didn't recruit me at all," Wan'Dale Robinson said shortly after the Wildcats' win over New Mexico State. "That goes to show that they don't really take pride in keeping everybody in-state. So, all of the recruits that see this, you know where to come."
Louisville has not done much recruiting in the state of Kentucky over the last two presidential administrations. You can count the number of UofL football commitments from the state of Kentucky on one hand since 2019. In that time UK has received commitments from 20 players from the Commonwealth.
"I have no control over what they do as far as who they pursue and who they do not. That has no effect on me at all," said Stoops. "We do what we do and maybe we have something to do with the outcome of certain recruits. But we've done very well, though we haven't done a 100 percent. They beat us as well a little bit. We want we want to get the ones we're shooting for so in the states important. It always starts with us in-state. We pride ourselves on getting out there, hitting the pavement and getting to know guys early, trying to identify them and get on them. That's their issue whether they did or didn't."
Louisville's losses are Kentucky's gains. Robinson, Izayah Cummings and J.J. Weaver are just a few of the players that grew up nearby who ultimately chose greener pastures in Lexington. They could be the key to a third straight Governor's Cup win for the Wildcats.