Monday Huddle: Kentucky is in a bad place
Kentucky could not afford to lose both SEC home games to Missouri and Tennessee. The Wildcats lost both home games to Missouri and Tennessee. That made November road contests against Mississippi State and South Carolina near must-win games. The Wildcats handled their business in Starkville, but let a winning opportunity slip away in Columbia.
Despite a strong defensive performance, Kentucky's offense had three turnovers in 11 non-kneel possessions and could not land the knockout punch in the second half despite having numerous opportunities. The Wildcats (6-5, 3-5) have now officially had a second disappointing season in a row and the Big Blue Nation is not happy with the current state of its football program.
Mark Stoops and his coaching staff are currently receiving a ton of criticism locally and most of it seems valid. Kentucky has played like an undisciplined football team all season without a clear identity. When big moments have arrived, the Wildcats have melted and finished 0-3 in SEC games that were within one-possession in the fourth quarter. Add in the "pony up" comments and that has created a toxic environment surrounding the program.
The 2023 year will now go down as a lost season. The same could be said for the 2022 season. Kentucky finds itself in danger of being a 6-6 football team for the first time under Stoops with a critical offseason set to begin on Dec. 4 when the first transfer portal window opens. But first, the Wildcats must play in a rivalry football game.
Louisville (10-1, 7-1) is having an all-time season under first-year head coach Jeff Brohm. Next weekend, the Cardinals will head to Charlotte to face Florida State in the ACC Championship Game where the Seminoles will be without star quarterback Jordan Travis. The Cards have caught a ton of breaks this season and have cashed in when big opportunities have arrived. The opposite is true for Kentucky.
KSR's Monday Huddle is here to set the table for the final football week of the regular season. There is still football to be played, but what happens to the coaching staff and roster once the game finishes on Saturday afternoon feels more important at the moment.
But first, a message from our friends at Monticello Bank.
---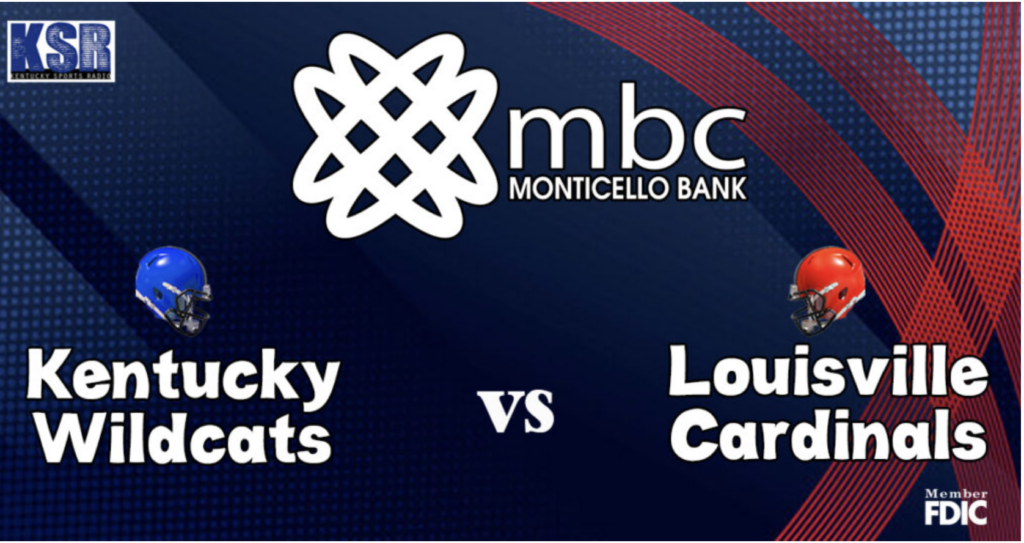 With 128 years of service Monticello Bank is proud to say they go wherever Wildcats and their fans go. The GOMBC Mobile App let's you bank at home, on the road, and if you need to come see us, our convenient branch locations are right around the corner! In fact, we have 21 branches in 14 markets. 
Our "WHERE PEOPLE MATTER" motto means competitive loans, competitive deposit rates and a wide variety of customer focused financial services which makes the numbers side of your life a little easier. 
Find us on the web at MBCBANK.COM
Monticello Bank, Where People Matter. Member FDIC EQUAL HOUSING LENDER
---
First Down: Identity Crisis
Under Mark Stoops, Kentucky football established a brand. The Wildcats were a run-heavy offense and a zone-heavy defense. This program won games by playing ball control and mastering big-play prevention. In crunch time, Kentucky fed the ball to bell cow running backs and relied on the defense to come up with key stops in critical situations.
That led to a lot of wins in close games.
From 2016-21, Kentucky finished 20-9 in one-possession games winning three or more one-possession games in a single-season four times. In 2021, a 5-1 finish in close games led the way to a 10-3 season. That close game success has now disappeared.
After a 2-2 finish in 2022 that included a shocking home upset loss to Vanderbilt where Stoops saw his team blow a later fourth quarter lead, the Wildcats have now fallen to 0-2 in one-possession games in 2023 after Saturday's 17-14 loss to South Carolina. Against Tennessee, Mark Stoops' team could not get a key stop in the fourth quarter. Against Carolina, Kentucky could not land the knockout punch on offense despite the defense providing multiple opportunities.
Over the last eight years, Kentucky was able to turn to Chris Rodriguez Jr. or Benny Snell Jr. in key four-minute situations. The Wildcats did not show that same faith in Ray Davis giving the redshirt senior tailback only two touches in the two fourth quarter possessions before the Devin Leary sack fumble.
After the Missouri loss, Stoops told reporters that his program's focus was on improving the passing game, but those results simply have not come. Add in a defense that has shown some big-play slippage in the passing game and that has equaled a bad game script recipe for the Wildcats.
Kentucky currently has an identity crisis and must figure out a way to fix it.
Second Down: Louisville knows how to win
Louisville has not beaten Kentucky since 2017. During the four-game winning streak for the Wildcats in this rivalry series, there have been four-consecutive double-digit wins where the game was decided by the time the fourth quarter arrived. Mark Stoops' team has held the mental advantage in this.
That does not appear to be the case heading into the 2023 matchup.
While Kentucky has shrunk in the biggest moments, Louisville has thrived. The Cardinals are are 5-0 in one-possession games this season. Louisville's defense got key red zone stops against Georgia Tech, Indiana, and Miami to seal victories late in the fourth quarter. Brohm's teams have won a slugfest (13-10 over NC State) and two shootouts (39-34 vs. Georgia Tech and 38-31 vs. Miami) when points were needed to win. Louisville keeps finding ways to win. That is what makes this team dangerous.
When the game is in doubt, Louisville rises to the moment. Kentucky folded in close fourth quarter games against Missouri, Tennessee, and South Carolina. What makes us think something different will happen if a similar situation arrives on Saturday afternoon in this rivalry game?
Kentucky will likely have to do something it hasn't all season to knock off top-10 Louisville.
Third Down: Where is this team mentally at?
Kentucky has gone of the road twice this month and played well on defense. However, the offense sputtered out against Mississippi State and South Carolina. The former was just much worse than the latter. Getting a defensive touchdown in Starkville certainly helped matters. But after the defense came up short against Tennessee, we have seen better football from the unit this month only to see the offense fail to deliver.
Kentucky's passing game is an absolute mess right now. The Wildcats rank No. 84 in yards per attempt (6.9) and No. 104 in completion percentage (56.3%). Devin Leary's passing success rate (39.0%) has entered woeful territory. Liam Coen's offense has also seen Ray Davis become notably less effective in the traditional run game over the last month. After a surge against Tennessee, this offense has left you wanting more over the last three games.
Louisville is more Florida and South Carolina on offense than Alabama and Georgia. That could lead to a productive day for Brad White's defense but they will need some help. There will be a lot of pressure on Coen's offense this week. Will they bounce back and deliver?
In postgame media requirements following the loss to South Carolina, Mark Stoops was noticeably as down as we've ever seen him. Does the Kentucky head coach feel like he is losing his team? In the offseason and earlier this season, Stoops admitted to the 2022 team falling apart down the stretch and vowed that this year's team would respond in a positive way when adversity hit. That has not happened this season.
If Kentucky plays well on Saturday, they can absolutely beat this Louisville team but it's hard to believe that this team will now produce one of their best performances of the season. We likely won't know what the state of the locker room is until after the season, but Saturday could reveal the answer.
A program in good standing responds in a big rivalry moment. We've seen Kentucky do that numerous times in this same spot against Louisville under Stoops. A program that has a bad culture and multiple individuals heading in separate directions would not play well in this spot.
We could learn where this program is on Saturday heading into a critical offseason.
The week ahead at KSR
Kentucky is reeling. The Wildcats are 1-5 in their last six games and on the verge of their second three-game losing streak this season. Not much is going right in Lexington. Entering rivalry week, the vibes around the program are not great.
That should make Thanksgiving week quite interesting.
KSR will be here to preview another chapter of the Kentucky-Louisville rivalry on the gridiron. Will the Wildcats ruin a dream season or does another embarrassing lose come for Stoops' program? A busy week is ahead.
We will have full coverage of what feels like a potential important Stoops press conference on Monday and will publish an updated depth chart once it goes live. From there, practice reports and podcasts will take over as Saturday quickly approaches.
This week is big but the upcoming offseason feels even bigger. How does Kentucky respond to a horrible loss? We'll find out soon.
Discuss This Article
Comments have moved.
Join the conversation and talk about this article and all things Kentucky Sports in the new KSR Message Board.
KSBoard