Multiple Kentucky MBB targets make Team USA U17 first list cut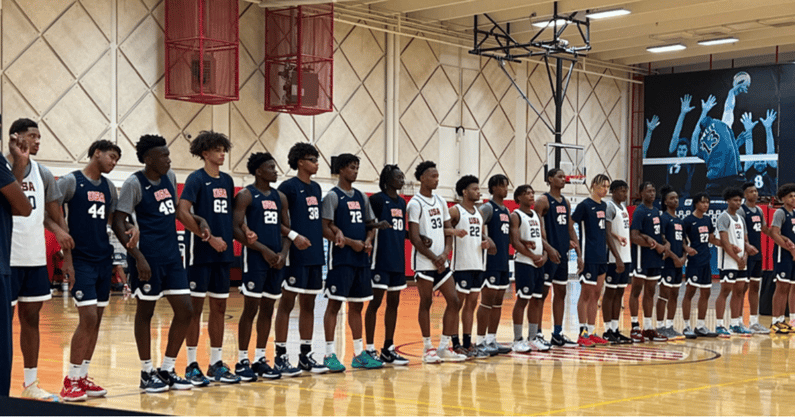 Nearly half of the field at the USA Men's Basketball U17 National Team tryouts were eliminated on Monday afternoon, but plenty of Kentucky targets remain on the roster following the first cut. The list of players was trimmed from 34 to 18, which will eventually shrink down to just 12 spots for the 2022 FIBA U17 World Cup in Malaga, Spain, July 2-10.
Of the high schoolers who made the 18-player cut, at least seven of them are being seriously recruited by the Wildcats heading into the summer. Below is the entire roster following the first cut, with Kentucky targets bolded. Six of them will ultimately get the ax before Team USA heads to Spain next month.
All rankings are courtesy of the On3 Consensus.
Class of 2023
Dennis Evans III | 7-1, 210 pounds; 4-star C, No. 29 overall
Jeremy Fears Jr. (Michigan State commit) | 6-1, 165 pounds; 4-star PG, No. 51 overall
Ron Holland | 6-8, 195 pounds; 5-star PF, No. 5 overall
Justin McBride | 6-7, 210 pounds; 3-star PF, No. 149 overall
Sean Stewart (Duke commit) | 6-8, 210 pounds; 4-star PF, No. 12 overall
Dajuan Wagner Jr. | 6-3, 165 pounds; 5-star CG, No. 2 overall
Wesley Yates III | 6-4, 200 pounds; 4-star SG, No. 43 overall
Over the last several months, DJ Wagner and Ron Holland have been no strangers to this here website. Aside from Robert Dillingham, who is expected to choose Kentucky this week, they are arguably the top two targets on the coaching staff's class of 2023 Big Board. Wagner's recruitment has remained quiet, although the noise surrounding Louisville hasn't gone anywhere over the last month or so. Holland, on the other hand, received an offer from the 'Cats following his official visit last week and recently included UK among his top five, which he dropped on Sunday night.
The newest name to watch is Dennis Evans III, who has seen a meteoric rise in his ranking this spring. The 7-foot-1 center went from a borderline top 100 prospect to a bonafide top 30 talent in a matter of weeks. A Kentucky assistant actually went to watch Evans play over the weekend, although it's unclear as of right now how serious the connection is on either side. He has yet to receive an offer from the 'Cats, which are also recruiting fellow bigs Aaron Bradshaw and Xavier Booker.
Class of 2024
James Brown | 6-9, 210 pounds; 4-star C, No. 20 overall
David Castillo | 6-1, 170 pounds; 4-star PG, No. 15 overall
Nassir Cunningham | 6-7, 180 pounds; 5-star, No. 1 overall
Johnuel "Boogie" Fland | 6-3, 165 pounds; 4-star PG, No. 12 overall
Ian Jackson | 6-5, 180 pounds; 5-star PG, No. 3 overall
Karter Knox | 6-5, 180 pounds; 4-star SF, No. 10 overall
Tyler McKinley | 6-9, 210 pounds; Unranked PF
Asa Newell | 6-8, 200 pounds; 4-star PF, No. 27 overall
A quartet of Kentucky targets from the '24 class made it to the next stage of tryouts, led by arguably the top rising junior target on UK's board in Ian Jackson. Jackson, along with Karter Knox (younger brother of former 'Cat Kevin Knox), both received offers from Kentucky last week once the contact period opened. Both Boogie Fland and Asa Newell heard from the staff, with the former being reached on Wednesday and the latter on Friday of last week, but they did not earn offers at the time.
The other prospect of note — one that I did not put in bold — is Nassir Cunningham, who is considered the top overall '24 recruit in the country. Earlier in the year, there appeared to be some introductory interest between Cunningham and Kentucky, with the top-ranked wing even telling KSR in April he would like to visit Lexington. However, there were no reports of UK coaches reaching out to him since the contact period opened on Wednesday. Shortly after his conversation with KSR, Cunningham told ESPN he would sign with Overtime Elite while maintaining his college eligibility. His situation will be one to monitor moving forward.
Class of 2025
Cooper Flagg | 6-7, 195 pounds; SF
Koa Peat | 6-7, 200 pounds; SF
Bryson Tiller | 6-8, 195 pounds; PF
Cooper Flagg and Koa Peat might not only be the two best rising sophomores, but they also might be the two top overall prospects in the nation, regardless of class (along with 6-foot-8 power forward Cameron Boozer; '25 has the potential to be a special class). As you might have guessed, Kentucky hasn't reached out to these two yet and it might be until a few more months before any basic contact is made, but they will absolutely be on the radar moving forward. Additionally, Bryson Tiller (no, not the singer/rapper out of Louisville) should eventually contend for the top spot in the '25 class down the road, too.