Stand Up, Shut Up, and Talk: Lessons Learned From a Rookie Broadcaster
[caption id="" align="alignnone" width="338"]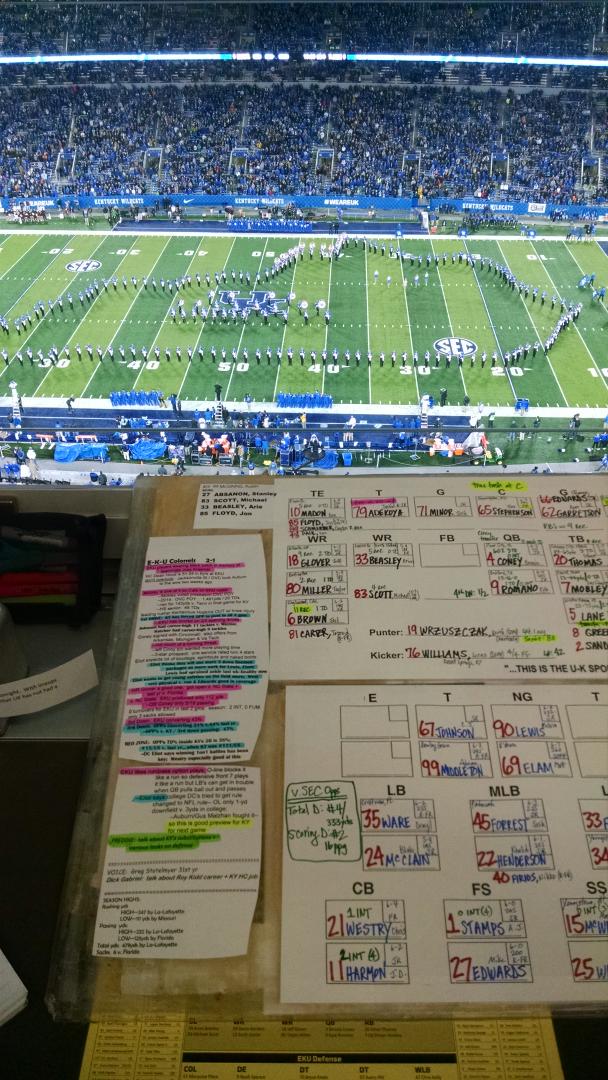 @tomleachKY[/caption] My friend Jeff Piecoro had the unenviable task of covering the Cincinnati Reds on the same day as the EKU-UK football game. I got the call from the bull pen. Mixed emotions ensued: excitement to be in the Big Boy Booth, and pity for Jeff for well, having to cover Reds baseball.  The show must go on. The following are lessons learned from a broadcast booth rookie:
Tom Leach is the Picasso of the Press Box
His "charts" are color coded, alphabetized, and best I could tell, encrypted. The manner he described game action had me mesmerized. In the first quarter, I found myself just listening to Tom as if I had my head set on in the stands. A Leach glare was all it took to remind me that I had to eventually talk. Can be best described as being a Peyton Manning receiver. Tom was going to throw me open, just don't drop the pass.
Don't drink 4 Diet Cokes prior to entering radio booth
You can figure out why on your own. The first half couldn't end quickly enough.
Sitting down hindered enthusiasm
Standing and talking is much more natural. With 7:36 remaining in the fourth quarter, I couldn't take it anymore. Stood from that point on and throughout overtime. Conversation flow and perspective came much easier while semi-pacing.
Stat folks are everywhere
A spotter sits between Tom and Jeff. In front the spotter is a giant computer screen with updated numbers. Once I warmed up, I started spouting stats that made me sound a whole heck of a lot smarter than reality. Papers also come flying after each quarter. Keeping up with current sheets was a challenge.
There's a fine line between objectivity and being a complete homer
As the game wore on, the latter won out. During UK's final touchdown drive to send the game into overtime, I'd broken out pom poms.
No matter how much you prepare, it's impossible to memorize numbers on opposing teams
By the time I realized who made the tackle or catch and looked down to get a name, the next play had started. I extensively over-used "EKU defender" or "Eastern's 6'6" receiver." Rookie mistake.
Staying away from "we" was difficult
I'm five months into a part-time media career. I'm just now understanding the proper use of "it" instead of "them or they."
When UK faltered, so did I
Not so much in anger, but in maintaining composure. Couldn't find the mute button, so at times of intense ineptitude, I just shut up. Restraint is a PhD level of broadcasting. Emotion did override common practice. After sustained incompetence, kinda lost my cool. But not too bad.
It's ok to be quiet to let the radio audience hear the crowd
Small problem, until the end of the fourth, not too many moments for the crowd to roar.
Said, "Have to credit EKU" at least 59 times
Looking back, were the smartest words said all night.
When the play starts, shut up
That's when Tom works his magic. Again, working with him was an incredible and memorable experience. Even with doing a weekly radio show with Leach, observing him in his element was a whole new reality. When we entered the booth, Tom was like a boxer in the ring. All business. It's really cool to see in person.
When describing action on radio, it's tough to remember that the audience can't see what you're describing
So, "as you see on that play" was not one of my finest phrases. There is definitely an art to radio broadcasting.
Still don't get "moving left to right" on radio dial or "kick was end over end"
Guess direction means from press box angle, but kick offs are actually end under end. Potato tomato, or something of that nature.
Wordy is bad
Quick descriptions preferred. Increase of game tempo led to less conversation between plays. Condensing observations into seven seconds is an art form that I've yet to master.
When the game was over, Tom Leach looked exhausted
He leaned back in his chair, crossed his arms, and became quiet. I didn't want to screw up, even after the show was over so I did the same. I think at that moment, I understood how much energy and preparation that Mr. Leach puts into each broadcast. I wanted to hug him, but that probably was against radio booth protocol.
After halftime before we went back on air, I remembered my grandfather, dad, and other influential men in my life
Memories flashed of sitting at the kitchen table or on a porch listening to Cawood Ledford and Ralph Hacker. When the 3
rd
quarter began, I sensed a tremendous amount of responsibility to paint the picture as those two did so well throughout my childhood. That's also the moment I became a little emotional. I understand the BBN. I was born into the BBN. Surreal.
Throughout the game, I thought about Corporal Matt Bradford
Again, once I settled into the broadcast's groove, I imagined as if we were sitting together and he was reliant upon me to explain game action. If you want a thrill, sit with Matt during one game. Love that guy.
Sideline reporter Dick Gabriel was like the butler on Mr. Deeds
Dude was everywhere.
Summary
What a tremendous honor. Thanks to JMI and UK Radio Network for allowing me the privilege. Can't begin to describe just how professional and nice that Tom Leach was before, during, and after the game. Dude's amazing. I had a great time and sorry for the two pens I threw. Won't happen again.
Go Cats