Top-ranked '25 QB Cutter Boley updates recruitment, plans Kentucky visit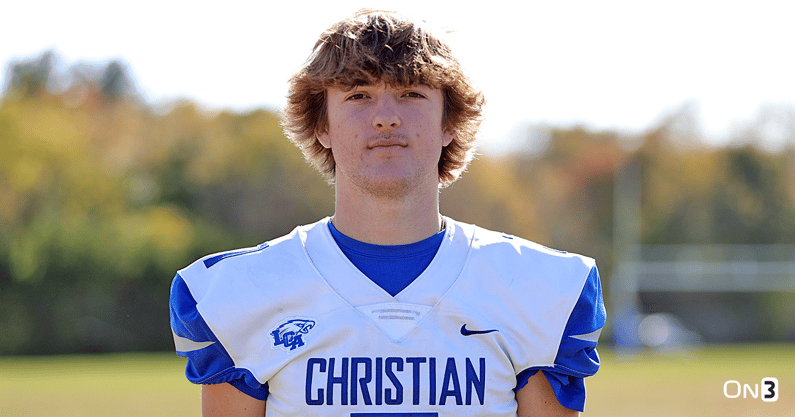 Not only is Liam Coen's return a major boost for the potential of Kentucky's offense, but it's also providing a major and immediate boost on the recruiting trail, too.
The Wildcats coaching staff has been on Lexington Christian Academy quarterback Cutter Boley since he first visited the program as a young recruit in June 2021. The person he interacted with the most on that quick trip? Liam Coen. A few months later in December, Boley earned an offer from UK and Coen, just his second from a Divison I program. Since then, the local QB has blown up as a prized prospect.
According to the On3 Consensus, Boley is considered a Top 50 overall talent in the class of 2025, checking in as the fourth-best QB. The 6-foot-5, 205-pound signal caller played his sophomore season at LCA after transferring in from LaRue County, a move that led to him lighting up the Commonwealth in 2022. Boley threw for 3,901 total yards, 36 touchdowns, and 15 interceptions across 13 games played for the Eagles. His 300 passing yards per game led the entire state.
All of the big-time programs are now recruiting him, including the likes of Alabama, Georgia, and Clemson. Boley spent this past weekend in Miami, FL to help kick off the Battle 7v7 circuit (which features dozens of the nation's top football recruits, with Boley among the top performers) for the 2023 season and made sure to stop by the Miami Hurricanes program for a quick visit while in the area, too.
Ahead of his busy weekend schedule, Boley spoke with KSR to provide an update on his recruitment. The local prospect confirmed that he will be in Lexington for UK's Junior Day event this weekend where he plans to watch the Kentucky-Kansas men's basketball game on Saturday, Jan. 28 at Rupp Arena with members of the football coaching staff.
Boley has been high on Kentucky since last summer, but the return of Coen has undoubtedly made the talented QB even more interested. After all, Coen was the one who offered Boley and piqued his curiosity in the first place. The experiment with Rich Scangarello as UK's offensive coordinator in 2022 didn't pan out for a number of reasons, one of them being his ability to connect with recruits. Coen, on the other hand, has a knack for immediately connecting with talented high schoolers.
"Absolutely," Boley told KSR when asked if he was excited to see Coen come back. "I mean, I liked Coach Scangarello, he just wasn't my type of guy. I really like Coen's personality. I like Coen a lot better than Rich but yeah I was super excited to see him come back. That was a huge, huge get.
"Coen is just easy to connect with. I feel like he'd be a really easy guy to learn from."
When Coen returned to Lexington after spending the 2022 season as OC of the Los Angeles Rams, one of the things he mentioned was bringing in a high school QB the program could develop and eventually promote as a full-time starter. Boley appears to be one of those guys, and he added that Coen plans to visit him at LCA sometime this week. Head coach Mark Stoops was in not too long ago, too.
But as one might expect with a highly-touted, four-star QB on the rise nationally, there are plenty of voices in Boley's ears. He visited Miami (FL) over the weekend and has plans to go check out what new head coach Deion Sanders is building at Colorado. Boley also intends to take trips to Florida State (sometime in May), Michigan, Penn State, Alabama, Clemson, and Georgia in the coming months. The final two of that group — Clemson and Georgia — have yet to officially offer, but communication is ramping up. He was at Tennessee earlier this month while Oklahoma is also highly interested.
At this early stage in his recruiting process, Boley isn't in any rush to make a decision. He recently announced a "First 18" and plans to cut that list down to around 12 or so once he inches closer to his junior season in the fall. That being said, there are still a handful of schools making more moves than others, with the 'Cats among the bunch.
"Kentucky, Michigan, Penn State, Tennessee, Florida State, and Miami (FL) are some of the top ones that I like right now that are recruiting me really well," Boley said.
Last week on Thursday, the UK staff added an additional recruiting pitch for Boley by bringing in one of his offensive lineman from LCA. Unranked '23 OL Max Ishmael announced his commitment to Kentucky as a preferred walk-on and will join the program in the fall. The 'Cats also went out and offered one of Boley's teammates at LCA last week, '24 DE Chase Couch, who is the son of program legend Tim Couch.
"Those two guys (Ishmael and Couch) work hard and they obviously deserve it," Boley said. "I'm really excited for Max. Max worked his butt off this year to get his body right and get his game right and that's why he got the opportunity he did at Kentucky. I'm super excited for those guys."