Watch the Tape: Southern Jaguars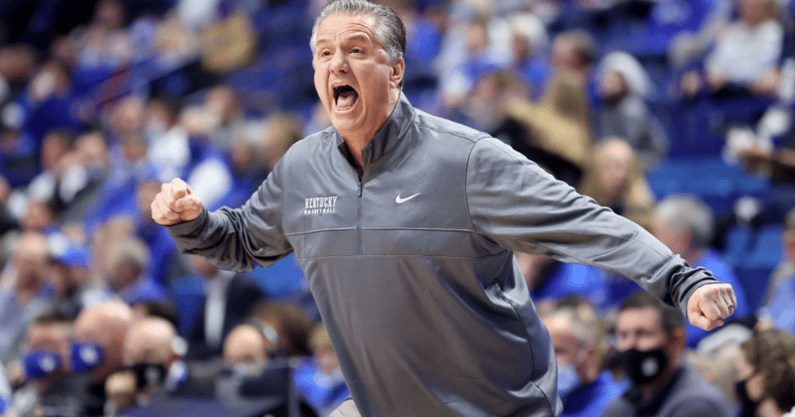 It wasn't the prettiest performance, but Kentucky still defeated the Southern Jaguars 76-64. The Wildcats finished off their seven game home stand with seven straight victories to move to 7-1 on the season. A slow start allowed the Jaguars to hang around early on and that confidence propelled them to 40 minutes of competitive basketball.
Despite returning to full strength for the first time since the Duke game, the Wildcats seemed a little sluggish after their time off. However, the full seven day layoff did at least allow Kentucky to get healthy which is most important. They will now have three days of practice and film study to prepare for a road trip to Notre Dame on Saturday.
In today's edition of watch the tape, we will begin by looking at how different lineups impacted Kentucky's offensive production. Then, we will breakdown Oscar Tshiebwe's development in the post and how that can help the 'Cats. Finally, we finish with a few random clips that deserve mention while we are in the film room. Let's take a look at last night's game against the Southern Jaguars.
Lineups vs. Southern: the good, the bad, the ugly
Going into Tuesday night's game against the Jaguars there was a lot of talk about Kentucky's various lineups and what the rotation would look like. Coach Calipari mentioned trying to play bigger, while many fans would prefer seeing more guard play. However, we got a little bit of everything on the Rupp Arena floor and they each played out with varying degrees of success.
This is a lineup that most everyone can agree is pretty solid. You have Sahvir Wheeler and Oscar Tshiebwe who, despite not being shooters, but a ton of pressure on the defense. Then, you have Kellan Grady and Davion Mintz on the wings who are both shooters that defenses will not leave. Lastly, with Keion Brooks, teams at least have to respect him to that 18-to-20 foot range.
As you'll see in the clip, having shooters space the floor leads to an easy basket inside for Tshiebwe. The Southern Jaguars switch the ballscreen leaving a guard on Tshiebwe. However, the Jaguars don't help onto the post because they won't leave Grady on the right wing. Had that been someone like Jacob Toppin on the wing this probably doesn't end in a basket.
As we talked about in an article on Sunday, there are ways for Kentucky to go bigger while still keeping things fluid on the offensive end. Daimion Collins at the "5" is a real weapon because of the way he can go up and catch a lob. In this Horns set, Collins rolls to the rim and catches a lob from TyTy Washington. Having Davion Mintz and Kellan Grady in the corners kept anyone from being able to help on the roll. This is actually an even better shooting lineup than the stating lineup because of Washington playing point guard instead of Sahvir Wheeler.
Now, for the ugly. This is quite simply a lineup that we should never see on the floor together. When you play Jacob Toppin alongside both Daimion Collins and Oscar Tshiebwe there is no room to operate on the offensive end. The play starts with a Toppin post up and he kicks it out to an open Davion Mintz. With this lineup in especially he has to let this fly because it is probably the best shot Kentucky can get with this lineup.
When Mintz gets the ball you can see Tshiebwe and Toppin asking for it while standing right next to each other. Then, when Toppin gets the ball, all five defenders have a foot in the paint. That means you don't have enough shooting on the floor.
Oscar Tshiebwe's Post Development
At no point this season will Oscar Tshiebwe be a back to the basket post threat that you throw the ball to dozens of times. However, he can continue to get better in that area to at least provide some offense on the block. Against the Southern Jaguars, Tshiebwe showed off his ability to score on the roll and in the post numerous times. That will be a real weapon added to the arsenal for Kentucky as he keeps improving.
We haven't really seen Oscar Tshiebwe make plays like this up to this point in the season. The big man ducks in hard after setting the pin down screen and is able to catch it on the block. Most impressively, without taking a dribble, he pivots to his left shoulder and finishes with the little right hand lay-in. Just getting a couple of these per game would be huge for the Wildcats.
Before checking out the next positive clip, take a look at how Tshiebwe began the game. This is why he traditionally hasn't been a big threat in the post. Despite being such a physical force on the glass, he isn't a guy that has typically banged around on the block. This is a pretty weak attempt to hold his man off and it leads to a turnover. That turnover is on Tshiebwe, not TyTy Washington. He clearly got the message and turned into a beast in the second half.
Compared to the last clip, Tshiebwe is much more physical and it results in two points as opposed to a turnover. His initial first step, the "duck in," is much more violent which gets his defender up the lane line. Then he goes and gets the ball with two hands. Once he catches it, Tshiebwe shows elite balance and body control to stop on a dime, pivot by the help defender, and finish at the rim. This is a very high level basket from Big O.
Other Clips vs. the Jaguars
To round out today's edition of watch the tape, let's take a look at a few more random clips from Kentucky's win over the Southern Jaguars. There will be both positive and negative points to be made as we look at Sahvir Wheeler's bad habit, Keion Brooks as a trial spot scorer, and more of Wheeler being a backcourt pest.
Sahvir Wheeler has been a total game changer for the Kentucky Wildcats. However, that doesn't mean he is without his flaws. He takes too many jump shots and does turn it over at a bit too high of a rate. Some of the turnovers are not an issue. For a point guard that pushes the pace and has the ball in his hands so much, you have to understand there will be turnovers. Plays like this though are where he needs to get better.
Far too often Wheeler drives the ball right into where all of the help defense is set up. Instead of taking the ball into all of the open space to the left, Wheeler crosses over to his right where all the traffic is. The poor decision leads to a turnover. Especially when the play is to drive it left, it is weird how Wheeler is so determined to drive it back to his right. However, once again, Wheeler has earned himself plenty of rope when it comes to turnovers.
So much of being good in transition is just running to the right spots. This lineup probably isn't one that screams offensive firepower. With Brooks, Toppin, and Tshiebwe in together there isn't a ton of shooting on the floor. However, by simply running to the right spots, the 'Cats are able to get a good bucket in transition.
After the Tshiebwe rebound, TyTy Washington pushes the ball up the floor. Big O, as usual, is great on the rim-run getting out ahead of the break to flatten out the defense. Additionally, you have Davion Mintz sprinting to one corner while Toppin doesn't quite get to his corner but is at least running wide. As he gets into the scoring area, Washington slices the floor (something Sahvir Wheeler needs to do more) and it opens up a play for Brooks. The junior forward knocks in a one dribble pull-up from the trail spot for an easy two points.
Plays like this are an every game occurrence for Sahvir Wheeler. After a Kellan Grady three, Wheeler picks up full court on the Southern Jaguars and he is able to steal the ball and lay it in to quickly put the 'Cats up five. It is such a luxury being able to get easy, quick baskets like this.