Where Kentucky MBB stands with class of 2023 recruits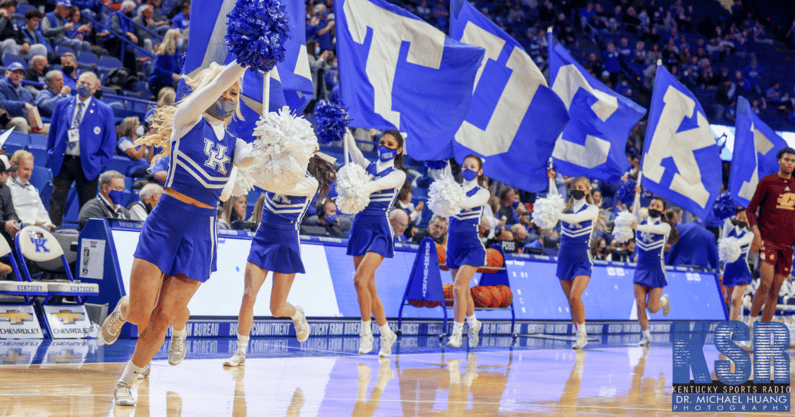 Kentucky already has one Top 25 player from the class of 2023 locked up in Reed Sheppard, but the Wildcat staff isn't even close to finished. The current batch of high school juniors is absolutely loaded with high-end talent, particularly on the wings. Head coach John Calipari hit the recruiting trail running this summer and has continued those efforts into the fall.
With Calipari and company focusing on putting together what could be the most talent-rich class he's ever had in Lexington, it's no wonder the Big Board is filled with some of the most recognizable names out there. Of the Top 10 players from On3's Consensus national rankings, eight of them are at least somewhat involved with the 'Cats. Half of them might even be considered Kentucky leans.
After news broke late Monday night that Kentucky is no longer the anticipated landing spot for five-star point guard Robert Dillingham, we figured now would be the perfect time to provide an update on everyone else. Even without the new Donda Academy enrollee, UK figures to shine with this class.
Now let's dive into who these recruits are, what we need to know about them, and where Kentucky stands in their respective processes. The number next to each player represents their On3 Consensus ranking.
Class of 2023, 5-star prospects
DJ Wagner: 6-3, 165-pound PG (Camden, NJ) [OFFERED]
Long considered the prize of the 2023 recruiting class, DJ Wagner has not let up from holding that status. There isn't much the combo guard can't do on the offensive side of the floor. He's been raised in a basketball family that holds significant ties to Calipari.
It's felt like a foregone conclusion that Wagner ultimately winds up choosing Kentucky. But the high school junior has done an unbelievable job of his keeping his recruitment quiet. There are hardly any leaks coming out of his camp. All we know is that, in addition to taking a trip into Lexington for Big Blue Madness, Wagner has also been down to Memphis.
Considering KSR's Jack Pilgrim reported Monday night that Robert Dillingham was potentially worried about his fit playing alongside Wagner at Kentucky, that sounds like a good indication the 'Cats are in solid shape to eventually secure a commitment from Wagner. The national media would agree, as well.
Predictions – 100% to UK: 3 Crystal Ball to UK; 5 FutureCast to UK
2. Kwame Evans Jr.: 6-8, 190-pound SF (Baltimore, MD) [OFFERED]
Taking his official visit to Kentucky in early November, Kwame Evans Jr. picked up an offer from the Wildcats immediately after. He'll team up alongside class of 2021 UK commit Skyy Clark at Montverde Academy (FL) this season. Southern California, Duke, Oregon, and Texas are also involved in Evans recruitment, but there is no clear-cut leader at this time.
Predictions – 100% to Oregon: 1 FutureCast to Oregon
3. Baye Fall: 6-10, 205-pound C (Parker, CO)
Arguably the most interesting prospect in the class, Baye Fall has a skillset that projects him as a very good modern NBA player. He's tall and skinny with an outside shooting game, ball-handling capabilities, and shot-blocking prowess. He's also one of just three five-star recruits in this article that doesn't hold an offer from Kentucky, but the interest from both sides is there.
Fall recently told On3's Joe Tipton that he's mostly hearing from Arkansas, Kentucky, Southern Califonia, Colorado, and Maryland. He's said on record multiple times how he wants a destination that will prepare him for the next level. Whether that's in college or the professional route is yet to be seen. But Kentucky sure could offer exactly what he's looking for in terms of future NBA development. Fall does intend on visiting Lexington once the new year begins, along with a few other schools. Until he does that, any leaders in his recruitment will remain a mystery.
Predictions – NONE
4. Mackenzie Mgbako: 6-7, 185-pound SF (Gladstone, NJ) [OFFERED]
An AAU teammate with DJ Wagner for the New Jersey Scholars, Mackenzie Mgabko picked up his UK offer a whole month before he could even make it to campus for Big Blue Madness. Considering Calipari has made it a habit this fall of offering players after they visit, that should tell you where UK has him on its Big Board. Mgbako joined both Wagner and Reed Sheppard on the BBM visit.
That being said, Duke appears to have the inside track as of right now. Kentucky is recruiting a ton of talented wing players from this class, so it's not necessary to land Mgbako. But with one of the highest NBA ceilings in this class and his connection to Wagner, UK will surely remain involved.
Predictions – 100% to Duke: 4 Crystal Ball to Duke; 3 FutureCast to Duke
5. JJ Taylor: 6-8, 180-pound SF (Chicago, IL) [OFFERED]
Admittedly, I'm going to remain worried about any recruit who signs up for Donda Academy, which JJ Taylor recently did. Not because of the Dillingham situation though. Mainly because I simply don't trust rapidly thrown-together projects that are funded by people who have a lengthy history of narcissism. But that's obviously more of a personal opinion and it might not matter if the right people are put in charge.
Taylor is an unbelievable talent, too, and we have no reason to believe he won't succeed at Donda. I'm just a skeptic that the Academy will do more good for its players than harm. Taylor was the very first class of 2023 recruit that Calipari offered, which was no coincidence. The staff has taken multiple trips to see him and Taylor was in Lexington last month for a visit. UK assistant Chin Coleman has a longstanding relationship with Taylor that stems from their Chicago roots. Kentucky is all-in on Taylor.
Predictions – 100% to UK: 1 FutureCast to UK
6. Mookie Cook: 6-6, 200-pound SF (Jefferson, OR) [OFFERED]
Another player who picked up his offer right after an official visit was Marquis "Mookie" Cook. Michigan, Gonzaga, and Texas are other recent schools to extend an offer, as well. Cook plays his high school ball at Compass Prep, which is where current UK point guard TyTy Washington attended down in Arizona. When Cook came to Lexington in late Oct., Washington was actually his host for the trip. Oregon is also in the mix.
Predictions – 100% to UK: 1 FutureCast to UK
7. Omaha Biliew: 6-8, 200-pound PF (Waukee, IA)
With visits to Iowa, Iowa State, Kansas, Nebraska, and Oklahoma State completed over the summer, plucking Omaha Biliew from that area of the country might be difficult for Calipari and company. But Chin Coleman was in to see him during the middle of September and there were rumors floating around back in May that Biliew wanted to visit Kentucky.
That has yet to happen and he does not hold an offer from the 'Cats at this time, but UK is still in the mix with Biliew.
Predictions – NONE
9. Justin Edwards: 6-6, 160-pound SF (Philadelphia, PA) [OFFERED]
A product of the elite AAU program Team Final, Justin Edwards has been hearing constantly from the Kentucky staff. His offer from Calipari came on Nov. 19, immediately after his official visit. Edwards also holds scholarships from the likes of Auburn, UConn, DePaul, Georgetown, Marquette, and Penn State.
Calipari has been in to visit Edwards, as well, and the sense is that Kentucky will continue to prioritize the five-star wing.
Predictions – 100% to UK: 1 FutureCast to UK
10. Matas Buzelis: 6-8, 175-pound SF ( Wolfeboro, NH)
The most recent high school junior to schedule an official visit to Kentucky, Matas Buzelis saw his stock rise this summer more than almost anyone else from 2023. He doesn't hold an offer from UK just yet, but with an OV setup for the in-state rivalry showdown against Louisville in late Dec., expect one to come shortly after.
Originally from Chicago, Buzelis already has a strong relationship with Chin Coleman that extends to their days with the Mac Irvin Fire AAU team. Calipari has made multiple trips to watch Buzelis play in recent months, too. Duke is also expressing heavy interest, while Florida State and Wake Forest have been able to get him on campus.
Predictions – NONE
Class of 2023, 4-star prospects
20. Aaron Bradshaw: 7-0, 210-pound C (Roselle, NJ)
A current teammate of DJ Wagner at Camden High School (which is also Lance Ware's alma mater), Aaron Bradshaw is one of just two center prospects Kentucky is after right now. Calipari made sure to check in on both Wagner and Bradshaw when he was out recruiting in September, although the latter does not yet hold a scholarship offer. That was seemingly the start of Kentucky's budding relationship with Bradshaw; it'll be interesting to see if he can make it to campus in the near future.
Predictions – NONE
24. Elijah Fisher: 6-6, 195-pound SG (Toronto, ON) [OFFERED]
Despite his four-star status, Elijah Fisher was actually the third class of 2023 prospect to pick up a UK offer when coaches could officially do so back in June. Taylor was first, then center Jalen Lewis (who has since signed with the G League) before Fisher came along in July.
Calipari has done well in recent years with Canadian guards and he appears eager to repeat that with Fisher. The likes of Florida, Florida State, Kansas, Ole Miss, Oregon, Syracuse, Texas A&M, Southern California, and West Virginia have also offered him.
Predictions – NONE
36. Isaiah Miranda: 7-0, 200-pound C (Malvern, PA)
Joining Bradshaw as the other big man UK is recruiting, Isaiah Miranda might actually be a more serious target despite being a lower rank. Miranda intends to join Matas Buzelis in Lexington for the UL-UK matchup in late December. There is no offer yet for the 7-footer, but like the situation with Buzelis, a campus visit indicates one is likely on the way.
KSR's Jack Pilgrim reports that Miranda could even be a potential reclass candidate for the 2022 class.
Predictions – NONE