Where UK stands a week out from the withdrawal deadline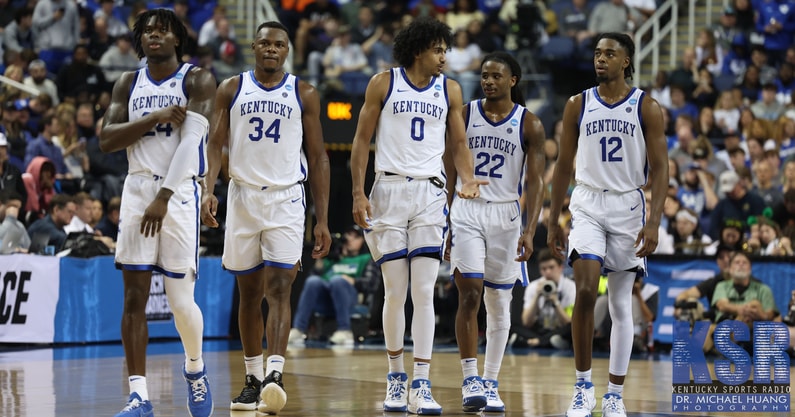 Seven days remain before the withdrawal deadline comes for players testing the NBA Draft waters and maintaining their college eligibility, arguably no team in the nation with as much riding on its stay-or-go decisions as Kentucky. With Oscar Tshiebwe, Antonio Reeves and Chris Livingston back for the Wildcats, it's hard not to get excited about the combination of blue-chip freshmen and returnees that also include Ugonna Onyenso and Adou Thiero.
Without the trio — well, things get tricky.
As things stand, just seven scholarship players are on the roster and Kentucky's efforts in the transfer portal have been minimal, at best. Michigan's Hunter Dickinson was a potential Tshiebwe replacement, but he signed with Kansas. San Diego State's Keshad Johnson was a potential Livingston replacement, but he signed with Arizona. Elsewhere, the Wildcats have yet to pick up any real traction with other high-profile options. They've kicked the tires on David Jones of St. John's, Cam Spencer of Rutgers, Isaiah Miranda of NC State and Grant Nelson of North Dakota State — the latter two currently testing the draft waters.
A new wave of grad transfers will become available following the withdrawal deadline next week, Kentucky banking on solid plug-and-play options to present themselves then. Or maybe some intriguing portal pieces currently exploring the draft decide to pull out, allowing John Calipari to put all his chips in then — Nelson, Tennessee's Julian Phillips or Creighton's Arthur Kaluma, perhaps? Ernest Udeh Jr. (Kansas), Caleb Love (North Carolina), RayJ Dennis (Toledo), Mike Sharavjamts (Dayton) and Olivier Nkamhoua (Tennessee) remain available, too.
You hope to shoot for the stars with a guy like Kobe Brown of Missouri, praying he withdraws and hits the portal as a grad transfer, immediately becoming the top available player in the nation. He's a difference-maker for any college basketball team next season, someone Kentucky would drop everything to pursue. The 6-foot-8, 250-pound forward is the clearest example of a game-changing grad transfer, but others can and will present themselves too.
That doesn't mean the Wildcats aren't in a tough spot, though, especially considering where things stand with Tshiebwe, Reeves and Livingston.
The winds have shifted with all three players at various points of the process, those ranging from likely to return, toss-up and likely gone for the entire trio. Reeves has been the most likely to return from the beginning and Livingston most likely to go, with Tshiebwe being the wildcard. As we inch closer to next week's deadline, though, the deck has been shuffled once again — and not necessarily in Kentucky's favor.
Reeves has shifted to the wildcard category, if not likely to leave. It's a change of tune the school wasn't anticipating, believing from the beginning the standout scorer would test the waters for feedback from NBA teams before ultimately announcing a return. Now, the grad transfer route is being explored, a path that could be opened by finishing his degree this summer to qualify for immediate eligibility elsewhere.
Keeping his name in the draft hasn't been ruled out, but a return to college is no longer Kentucky or bust. Why? It comes down to NIL and role. There is concern that the freedom Reeves was able to play with last year won't be the same with the incoming freshmen taking the majority of touches and spotlight. He wants to expand his role and brand in his final season of eligibility, not take a step back in favor of 18-year-olds. If he's not going to keep his name in the draft or pursue other pro opportunities now, he wants to make sure a return to college is worth his time as a soon-to-be 23-year-old.
Kentucky continues to recruit him back to Lexington, but optimism certainly isn't what it once was. Not to the point where serious backup options have been lined up — a potential 14 PPG, 40% 3PT void following the closing of the undergrad transfer portal.
Elsewhere, pessimism remains regarding Livingston's potential return. Klutch recently announced the freshman forward as a member of its 2023 NBA Draft class, joining the likes of Nick Smith Jr. (Arkansas) and Dereck Lively II (Duke). He's still going through the workout process and the door hasn't been closed completely on either side, but the expectation remains that he ultimately takes a shot on himself in the league now. His decision to opt out of five-on-five at the Draft Combine in Chicago was a head-scratcher, but the hope is Klutch can talk a franchise into selecting the Akron native.
And then there's Tshiebwe, who could pursue the grad transfer route, but recently announced his decision would be NBA or Kentucky — "Kentucky is my home," he told Ben Roberts of the Herald-Leader. "It's a dream place. I can't leave my home. That's my place, forever."
He also made it clear that his "dream is to play in the NBA" and hoped a team would take a chance on him, beginning his pro career now. And though he didn't do much to help his draft stock a ton at the Combine, he certainly didn't hurt it, and hope remains that he could slide in as a potential late second-rounder.
Here's where things get interesting, though. Those around Tshiebwe are growing more open to the idea of a potential return to Lexington and Kentucky has begun ramping up its efforts in hopes of bringing him back. In fact, the tentative plan is for John Calipari to meet with the standout center this weekend, working toward making progress on a decision one way or the other.
Could things flip back in Kentucky's direction with Tshiebwe? Real movement is expected this weekend, providing clarity for the coaching staff as it looks to finalize the 2023-24 roster.