Who Kentucky MBB is targeting following Chris Livingston's commitment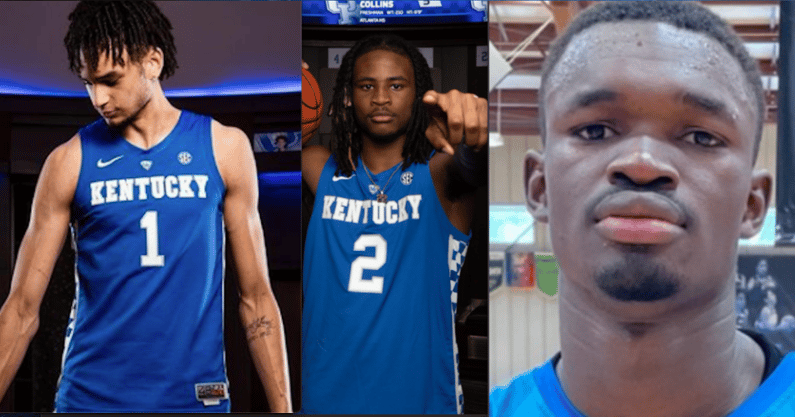 Three down. ??? to go.
Following Chris Livingston's commitment to Kentucky on Wednesday night, Kentucky and head coach John Calipari are on fire right now in the recruiting realm. Livingston, a five-star wing from Akron, OH, ranked by On3 as the 4th best player in the class of 2022, chose UK over the likes of Georgetown and Tennessee State.
With Livingston in the fold, Kentucky now has three commits for the class of 2022. Shaedon Sharpe (the consensus No. 1 player in the country) and Skyy Clark (who sits between four- and five-star status, depending on which outlet you use) help make up the star-studded trio. UK now holds the top-overall 2022 recruiting class, according to 247 Sports, just barely edging out North Carolina.
But Calipari and company are hardly finished. There are still three more 2022 prospects out there with serious Kentucky interest, to the point where they all three might be considered UK leans as of right now. Those players include five-star recruits Cason Wallace, Dereck Lively II, and Adem Bona. There's a chance that Cal builds a six-man class containing nothing but five-star talents, but let's not get too far ahead of ourselves just yet.
Let's dive into where Wallace, Lively, and Bona all stand in their recruiting processes as of mid-September.
Cason Wallace: 5-star CG
Ranked No. 7 in nation by On3: 6-foot-4, 185 pounds – Richardson, TX
Likely the next domino to fall, Cason Wallace has a commitment date scheduled for Nov. 7. The five-star combo guard was in Lexington at the end of August for an official visit and the UK coaching staff went to visit him in Texas last week. Over the last couple of months, Wallace has been trending heavily toward picking Kentucky. All four of 247 Sports' Crystal Ball picks and all four of Rivals' FutureCast predictions have him choosing the 'Cats.
"I think he really liked it (his official visit to Kentucky)," Wallace's head coach at Richardson High School, Kevin Lawson, told KSR this month. "Kentucky can give him the best and they got the best of everything, right? So I think his family was really impressed, I think Cason was really impressed, I think that they did a great job. He walked away from that saying wow, this is really really good. But he's got a couple of other places he wants to visit. As of right now he hasn't made a decision that he's told me yet."
Things have heated up for Wallace even more so since Nick Smith Jr. (another five-star guard) dropped Kentucky from his list of potential options not long ago. With Skyy Clark and Shaedon Sharpe already in the picture as backcourt partners and Chris Livingston filling in on the wing (or potentially as a fourth guard), the need for both Wallace and Smith became a tad unnecessary. Kentucky, led by UK assistant Jai Lucas, elected to zero in on Wallace and it's paying off so far.
Wallace is down to Kentucky, Texas, Tennessee, and UTSA, with an official visit to Tennessee this weekend. He was recently on Texas' campus for an official visit, too, but that has not done much to impact Kentucky's momentum. Kentucky is fully in the driver's seat.
Dereck Lively II: 5-star C
Ranked No. 2 in nation by On3: 7-foot-1, 220 pounds – Bellefonte, PA
The remaining prize of the 2022 class, Dereck Lively's recruitment could drag on well into the spring, which could have an impact on how Kentucky goes about recruiting Adem Bona, who we'll talk about more in a bit.
While there is no commitment date for either player set in stone, the expectation is that Bona will decide before Lively, potentially putting Kentucky in a "pick one, lose the other" scenario.
Lively, who is the definition of a basketball unicorn, took official summer visits to Lexington in addition to the campuses of Duke and North Carolina. Kentucky was in Pennsylvania to visit Lively last week, even. Penn State and Michigan continue to poke around, too. Other than that, no one truly knows who the leader is at the moment for Lively and it might be a while before anything of value leaks.
But conversations will be had among the UK coaching staff. Would Kentucky risk passing up on Bona in the fall if it meant having a better shot at Lively in the spring? Based on pure potential at the college level, it might be worth it, but it could easily backfire.
Ideally, Kentucky brings in both and builds a super-class, but it's yet to be seen if the players or coaches believe that can work out on the floor. Although it's tough to argue with the concept of taking the best talent available and working out the issues later. The talent wouldn't get much better than those two in the frontcourt. If that's the approach UK elects to take, the staff will absolutely have their work cut out for them.
Adem Bona: 5-star C
Ranked No. 13 in nation by On3: 6-foot-9, 225 pounds – Napa, CA
Now let's talk more about Adem Bona, who has four official visits scheduled for the fall: Kansas (Sept. 17), Baylor (Sept. 24), Kentucky (Oc.t 1), and UCLA (Oct. 22). He also went on an official to Southern California last week. It also was reported on Wednesday that John Calipari and assistant coach Chin Coleman will conduct an in-home visit with Bona on Thursday.
Kentucky is currently viewed as the favorite to land Bona of his services (there are four Crystal Ball picks and three FutureCasts in for Bona to UK), but Lively is clearly the preferred piece. If UK can lock in Bona, in addition to the other three commits–plus the potential of bringing in Cason Wallace–that's a hell of a five-man class on its own. Bring Lively to the mix and it might be the greatest collection of freshman in the John Calipari-era.
It's still too early to tell if Kentucky is going to be able to land both, although we should find out more as Bona takes his official visits in the coming weeks. Thursday's in-home visit could prove to be important down the road.
While it's not unreasonable by any means to think that both Bona and Lively could co-exist on the floor at the next level, that's something they would have to buy into–spacing could be tough if both are playing at the same time.
Regardless of whether or not Kentucky can land both Bona and Lively, securing one would still be considered a home run. With three top-20 commits already loaded and another in the top-10 likely on the way (Cason Wallace), UK just needs one of Bona or Lively to complete a masterclass.
Bring in both and we're looking at something historic.