Penn State transfer Noah Cain commits to LSU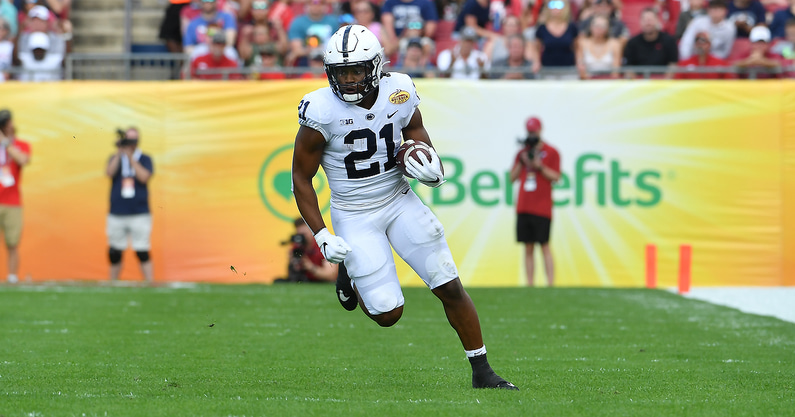 Penn State running back transfer Noah Cain committed to LSU, he announced on Twitter. A day after the former four-star prospect entered the NCAA Transfer Portal, he's bound for Baton Rouge.
In 2021, the 5-10, 208-pound back from Baton Rouge ran for 350 yards and four scores on 106 carries in 12 games.
His play in the 16-10 win to open the season at Wisconsin drew plenty of praise, including some from teammates.
"We know we have a great back in Noah Cain. Anytime we get the ball in his hands, we know anything can happen. A big play can happen every time we get the ball in his hands," star senior receiver Jahan Dotson said. "That's a big focal point for us, making sure he touches the rock because we know the type of weapon we have on our team."
"I think he's playing well. I think Noah can do even more," Nittany Lions head coach James Franklin added. "We've seen flashes, all of us have seen flashes of Noah doing some really good things. But again, that's all of it… But I think we've all seen what Noah has the ability to do.
"In terms of what he's working through, that's part of football. Everybody this time of the year, with the competition that we've played, is working through things. Noah always approaches those things the right way."
Not a subscriber? Follow LSU Football for $10 for a year and get a FREE Founders Club hat!
Cain's 2020 season was cut short on the first possession of the season when he injured his foot against Indiana. That caused him to miss the rest of the season.
Arriving to the Nittany Lions from IMG Academy in 2019, Cain emerged as a top option for Penn State during an 11-2 campaign that ended with a Cotton Bowl win. During the season, he scored eight touchdowns to set a Penn State record for a freshman, but missed four games due to injury in the final third of the season before returning in the bowl.
Coming out of high school, Cain had offers from LSU, Ohio State, Oklahoma, Auburn, Georgia, Baylor, Arizona State, Arizona, Miami, Michigan, Clemson, Florida, Texas A&M and Florida State.
According to the On3 Consensus, a complete and equally weighted industry-generated average that utilizes all four major recruiting media companies, Cain ranked as the No. 99 overall prospect in the country, No. 6 running back in the nation and No. 13 prospect in Florida.
Brian Kelly and his staff continue to add transfers in Cain, who joins players like Arkansas transfers Joe Foucha and Greg Brooks, Louisiana defensive back Mekhi Garner, Florida International offensive lineman Miles Frazier and East Carolina long snapper Slade Roy.
Stick with The Bengal Tiger for the latest on LSU's efforts to add talent via the NCAA Transfer Portal.