Jake Moody announces return to Michigan football for 2022 season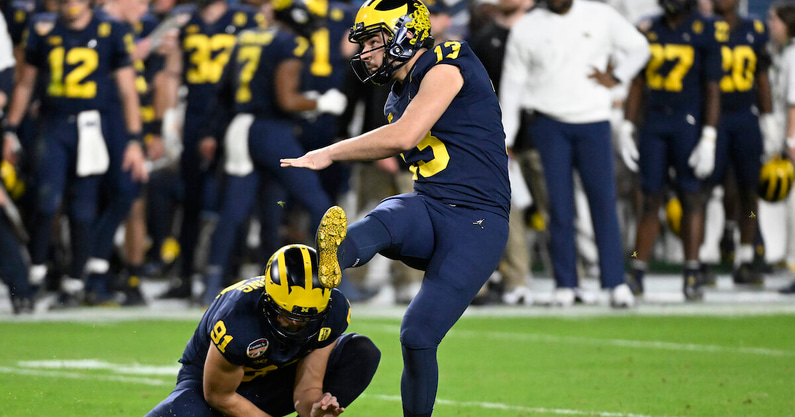 Michigan football is getting one of its most important pieces back for the 2022 campaign. Placekicker Jake Moody announced on Saturday afternoon he would return for a fifth season with the program.
RELATED: Michigan football 2021 offseason attrition tracker
Moody hit on 23 of his 25 field goal attempts this season and was perfect on extra points, hitting all 56 conversions. His career-long field goal of 52 yards set was during the team's 31-10 win over Washington on Sept. 11, 2021.
Moody's play at Michigan this season helped him earn Lou Groza Award honors, which is presented annually to the top collegiate placekicker in the country. His 125 total points are the second-highest in a single season in Michigan football history behind Desmond Howard's 138 in 1991.
"It means the world to me," Moody said in December after winning the award. "It means a lot to not only me but the coaches and everybody involved in it. My snapper, William Wagner, and holder Brad Robbins, they've done a phenomenal job this year. You can't get any better than that."
Moody's return to Michigan means Michigan will bring back all of its primary pieces on special teams. Earlier this offseason, punter Brad Robbins announced that he would return for a sixth year in Ann Arbor.
Teams tried to slow down and ice the stone-faced kicker throughout the season, but the pressure never got to him. Moody was clutch for Michigan throughout the year.
"He's not the guy you want to ice because it's not gonna affect him," head coach Jim Harbaugh said during the week of the Indiana game. "So composed, very confident in both Wags and Brad in terms of the snap and the hold. He's not really a guy you need to calm down or anything like that. He's really special."
Moody would likely be content never kicking another field goal in Ann Arbor as long as the team wins. However, Michigan football can take solace knowing that its elite placekicker is there when called upon in 2022.