Nebraska makes in-state offer to 2024 Omaha Central OL Caleb Pyfrom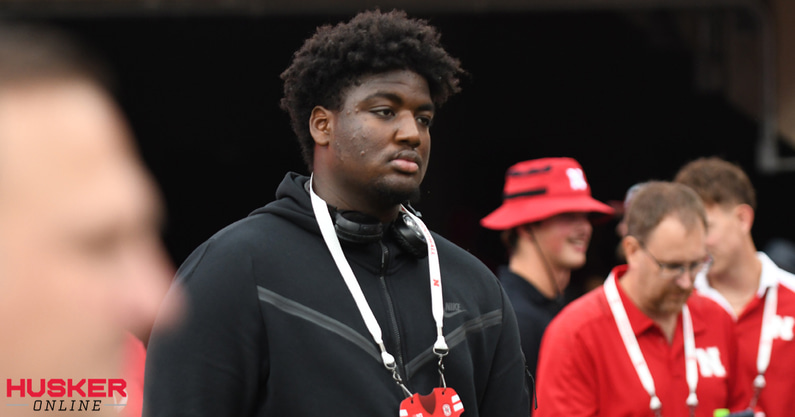 Nebraska interim head coach Mickey Joseph has wasted no time establishing his recruiting philosophy. Joseph has said since the beginning he wants to make recruiting top in-state talent a priority.
Joseph and the Huskers made the first offer to 2024 Omaha (Neb.) Central offensive line prospect Caleb Pyfrom on Thursday.
The 6-foot-6, 300-pound Pyfrom has been a standout at the varsity level in football and basketball for the Eagles since his sophomore year. Pyfrom is the son of former Creighton basketball player Livan Pyfrom, who played for the Jay from 1999-2001.
Click here for a limited time, register and get an unprecedented 12 months for only $10.00.
Nebraska offer was a shock to Omaha Central big man
It was just another day in school. Pyfrom was in a class and greeted by his coach who had Joseph on the line. The whole scenario was a shock to Pyfrom.
"It was a surprise," Pyfrom said. "I was in physics class and the coach took me out of class. He let me talk to Mickey and Nebraska offered me. It was great. It was great."
During the phone conversation Joseph also offered Pyfrom a few words of advice.
"Coach just told me to keep putting out the film that I am putting out and if I am doing something wrong, he's going to tell me," he said.
Pyfrom has been to Nebraska three times now with the most recent being the game against Oklahoma.
"Nebraska seems like a great program," Pyfrom said. "I finally met everyone there. The fanbase is amazing. The facilities and the coaching staff are amazing. It would be an honor to go there."
One sport lends itself to another
It's a fairly common story that an athlete sets out with one sport in mind only to find that he is better or happier playing another. It was that way for Pyfrom.
"Yeah, for most of my life I thought that I was going to play basketball," Pyfrom said. "But in these last couple of months, I really figured out that I love football and that I am going to be playing it for the rest of my life."
Playing basketball has helped Pyfrom and has served as a sort of an enabler. Moving his feet is something that he has had to do in both sports.
"Basketball has helped me a lot. I pick up things easily because it's the same stuff in basketball because I have to move my feet."
There is also some film out there on Pyfrom against some of the best defenders that the Omaha area has to offer.
"I played good against Tyson Terry and Maverick Noonan," Pyfrom said. "They are both really good players, and it was a challenge."
Pyfrom was at junior day in Lincoln this past March and he was there again for Big Man camp this summer and the Oklahoma game a week ago. From March to September, Pyfrom has gained three inches in height and 50-pounds.
"At the junior day I was 6-foot-3 and 250-pounds and now I am 6-foot-6 and 300-pounds. I could grow up to 6-foot-7 or 6-foot-8. My dad is 6-foot-10."
More on the offer of Caleb Pyfrom
The Oklahoma vs. Nebraska game was the third time NU's coaching staff had a chance to lay eyes on Pyfrom since March. He visited campus for a junior day in the spring and took part in the Huskers Pipeline Camp in June.
"He went down to the Oklahoma game and their camp over the summer," Omaha Central head coach Jay Landstrom said. "He got bigger since the summer. He's been playing really well this year. We've played a who's who of teams in the Metro with a lot of good defensive linemen.
"Vince Guinta called me and asked me some questions about him, and then he said Coach Joseph was going to call. Then he called me and we got Caleb out of class and they offered him. It is really exciting. Caleb is a fantastic kid and a hard worker and somebody I was just excited for to get this opportunity."
In the classroom, Pyfrom also carries a 3.6 GPA and takes all honor courses.
Pyfrom is a guy Landstrom always knew had the potential to be this type of player both physically and mentally, and things turned the corner for him over the off-season. Besides the Huskers, Landstrom said Iowa State, Iowa, Vanderbilt and North Dakota State have all expressed an early interest in Pyfrom.
"I think he really took a big step over the summer," Landstrom said. "He went to some camps and got bigger and stronger. He's gained confidence and he's just put in the work. We've played Gretna, Lincoln High, Elkhorn South and Omaha North. He's faced all of those guys' best linemen and we run behind him a bunch. He's done really well and has been able to put out some good film.
"Coach Joseph said they loved his film and they've been watching it, and they've been really impressed with what he's been doing. He's gained a bunch of confidence and he's playing at a high level right now."
Pyfrom is expected to be in attendance at Nebraska's game with Indiana on Saturday.