Turnovers plague Huskers in 72-56 loss at Illinois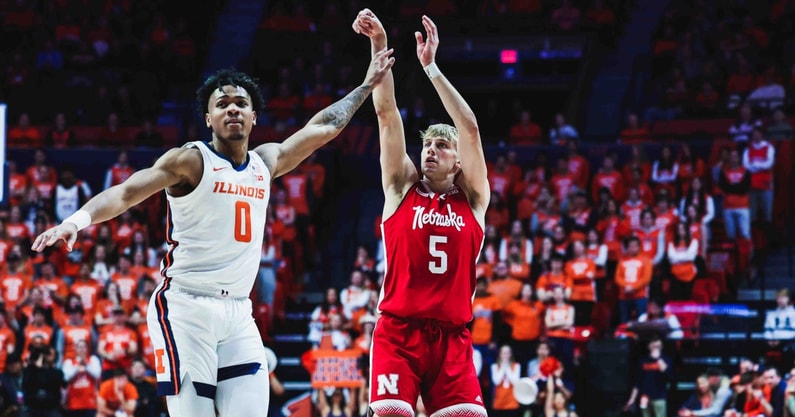 Playing its seventh starting lineup of the season and coming in as heavy underdogs, Nebraska gave Illinois more of a fight than most expected on Tuesday night.
In the end, though, the final outcome was all too familiar for the Huskers in a 72-56 road defeat at State Farm Center.
After rallying to take a 50-48 lead with 12 minutes to play, NU made just two more field goals the rest of the game. That propelled the Illini to end the night on a 24-6 run over the final 12 minutes.
As if the late-game shooting wasn't bad enough, the Huskers committed 13 of their Big Ten-high 19 turnovers in the second half. Illinois scored 20 points off of those giveaways and used nine offensive rebounds for an 11-3 edge in second-chance points.
Sam Griesel did his part with 21 points and six rebounds, but Keisei Tominaga was the only other Husker to score in double figures with 11 points off the bench. NU shot 40% for the game and 28.0% in the second half.
Illinois was far from perfect offensively in its own right, shooting 41.7% and just 5-of-29 (17.2%) from behind the arc. But the Illini made up for it by going 17-for-22 on free throws and out-scoring Nebraska 36-22 in the paint.
The loss drops NU to 10-13 overall and 3-9 in Big Ten play, having now lost six of its past seven games. Illinois improved to 16-6, 7-4.
Click here for a limited time, register, and get full access until the start of the next football season for only $29.99!
Griesel leads strong first half for Nebraska
The game started about as well as Nebraska could have hoped, as Illinois missed 11 of its first 14 shots and Griesel scored 15 of NU's first 17 points. 
The Illini finally got their offense going midway through the first half, though, using a 14-3 run to go up 19-15. Another 9-1 UI spurt pushed the deficit to 30-22 with five minutes left in the half.
But the Huskers came back swinging and hit their final six field goals to go into the break down just 38-37. NU shot 52.0% overall and 5-of-11 on 3-pointers in the first half, led by Griesel's 15 points.
Matthew Mayer scored 11 of his team-high 16 points to help Illinois to the halftime lead, but the Illini were just 38.2% shooting as a team.
Never miss breaking news or another HuskerOnline article again. Click HERE to sign up for HuskerOnline's Daily and Breaking News Newsletters.
Late-game collapse dooms Huskers
The second half didn't start off nearly as well for Nebraska, as it missed two shots and committed five turnovers in the first three minutes.
That allowed Illinois to open with an 8-2 run, and the Illini eventually went up 48-41 on a 3-pointer by Jayden Epps with 15:09 remaining.
But just when it seemed like the game was slipping away, the Huskers responded with three straight 3-pointers – two by Tominaga and one by C.J. Wilcher. That sparked a 9-0 run and gave NU its first lead in 18 minutes of game time at 50-48.
The momentum would quickly shift the other direction, though. Nebraska went the next four minutes without a point and Illinois capitalized with an 15-4 run. That gave the Illini their largest lead yet at 63-54 with 5:28 left.
It was all downhill from there for the Huskers, as they missed their final seven shots, committed three turnovers, and didn't score for the final 4:28.
Derrick Walker eight points on 4-of-6 shooting with six rebounds and four assists. But he also committed six turnovers and played just 23 minutes before fouling out with 3:33 remaining.