Four-star EDGE Loghan Thomas commits to Notre Dame football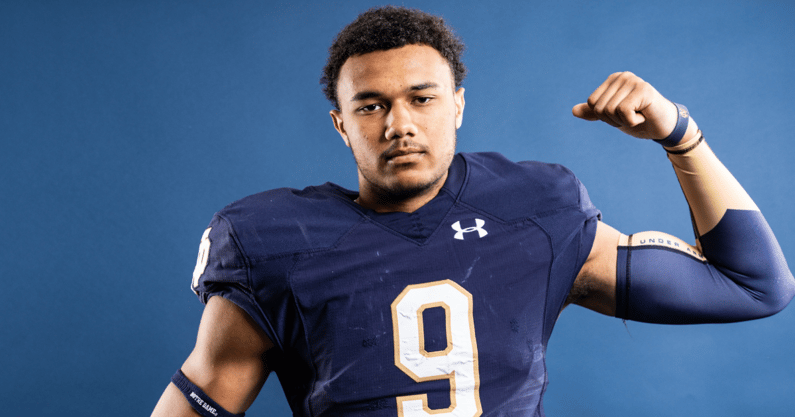 Notre Dame's spring hot streak of commitments continues, as Katy (Texas) Paetow class of 2024 EDGE Loghan Thomas announced his pledge to the Fighting Irish on Wednesday.
The four-star prospect picked up an offer from the Fighting Irish in January and visited campus in late March and last weekend. Thomas picked the Irish over Georgia, Oklahoma, Texas, Texas A&M, Texas Tech, Georgia, LSU, USC and others.
"What they have to offer for me on and off the field and the relationships I've built with Coach [Al] Washington and Coach [Al] Golden," Thomas told Blue & Gold when asked why he picked Notre Dame.
Thomas gives Notre Dame 16 commitments in its 2024 recruiting class and three defensive line verbals.
The 6-4, 213-pounder ranks as the nation's No. 169 overall recruit and No. 11 EDGE according to the 2024 On3 Industry Ranking.
On3's own rankings view Thomas higher than the Industry Ranking, listing him as the No. 101 prospect and No. 9 EDGE in America.
Including transfers and the 2025 class, Notre Dame has picked up 10 new commitments since late March.
Loghan Thomas details Notre Dame commitment
Going into Thomas' arrival at Notre Dame on May 19, committing to the Irish wasn't in the plans.
"It wasn't really on my mind," he said. "I wanted to go back up there to make sure I felt the same way about it as the first time I visited."
Notre Dame hoped that it could push the right buttons to earn a commitment from Thomas, and on Saturday, it hit him that South Bend was the right place for him.
"I just keep feeling that it's where I should be," he said. "There wasn't really a specific moment. It just felt right."
Thomas, who is an Akron, Ohio, native with family members still in the Midwest, first told Irish defensive line coach Al Washington of his decision to commit. Washington gave Thomas a big bear hug when he got the news.
"He was super happy," Thomas said. "Then I told [director of recruiting] Chad [Bowden] right after that and talked to Coach [Marcus] Freeman about it in his office before I left campus."
Thomas is looking forward to playing for Freeman.
"I'm super fired up," he said. "He's a defensive-minded coach and a special person.
"I'll play their vyper position, playing the boundary defensive end. It's also what I'm playing this year."
Thomas will return to South Bend for his official visit the weekend of June 9. He's planning to enroll early at Notre Dame and looks to be locked in with his pledge.
"No sir, I don't plan on it," Thomas said when asked if he'll visit any other schools moving forward.
Loghan Thomas shined at the All-American Bowl combine in San Antonio, Texas, in January of 2023, posting a 4.7 40-yard dash time and a 42-inch vertical. On3 named him its MVP of the event.
"I'll bring athleticism and competitiveness on the field, and I'm a nice guy off it," he said. "I want to help better my community and everyone around me."
Preorder Blue & Gold Illustrated's 2023 Notre Dame Football Preview magazine before June 12 and get free shipping! On3 subscribers should go to The Lou Somogyi Board for discounted pricing.