Notre Dame earns commitment from 2023 preferred walk-on kicker Marcello Diomede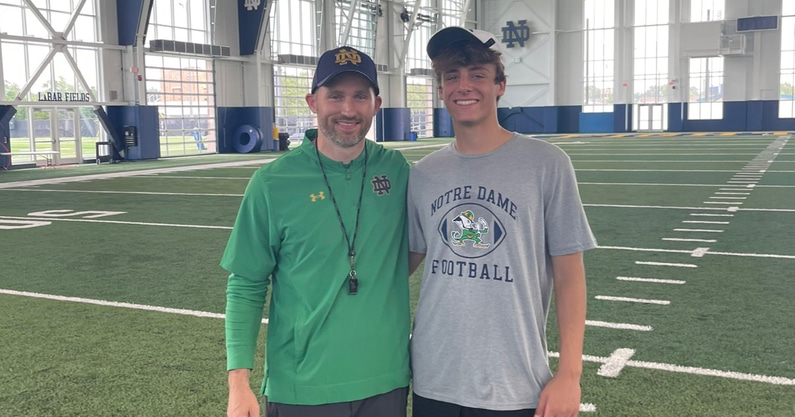 Notre Dame special teams coordinator Brian Mason is a big proponent of in-unit competition, and he continues to build out his position group to achieve just that.
On Wednesday, Mason and head coach Marcus Freeman earned a commitment from 2023 preferred walk-on kicker Marcello Diomede.
"I am extremely grateful to Coach Marcus Freeman, Brian Mason and Jesse Schmitt for affording me the opportunity of a lifetime," Diomede included in his commitment tweet. "I cannot thank you enough. This is a dream come true."
The 6-2, 180-pound prospect hails from outside of Chicago and attends Glen Ellyn (Ill.) Glenbard West. He recently visited Notre Dame on June 12 for a specialists camp and tweeted he had earned an offer to play for the Irish four days later. The rising senior added that he was recognized by the Irish coaching staff for having the best two kickoffs of the day and earned a second place finish in a last man standing kicking competition.
Diomede was also on campus for the Blue-Gold Game on April 23.
PROMOTION: Sign up for just $1 for your first year at Blue & Gold
CLICK HERE to order the 2022 Notre Dame Football Preview
In addition to camping at Notre Dame, Diomede's Twitter feed shows he participated in numerous other Power Five camps in recent months, including Tennessee, Indiana and Minnesota. He held a scholarship offer to play at Air Force.
Diomede works with famed kicking coach Chris Sailer, who ranks him as a five-star prospect and the No. 11 kicker in the 2023 class.
"He is a great looking athlete with one of the strongest legs in America," Sailer said, per his website. "Marcello does a fantastic job on field goals. He gets the ball up well off the ground and easily has 55+ yard range."
The Chicago native was a 2022 TOP 12 Camp Selection by Sailer and was the 2020 Illinois Spring Camp Field Goal Champion. He was also selected as a 2023 Adidas All-American Bowl on NBC kicking finalist by Sailer. The coach added kickoffs are a strength of Diomede's, and he is becoming a standout punter as well.
Diomede is the first specialist to commit to Notre Dame's 2023 class, which is currently ranked No. 2 in the nation according to the 2023 Consensus Football Team Recruiting Rankings.