Elite DL Jason Moore cuts list down to five, includes Notre Dame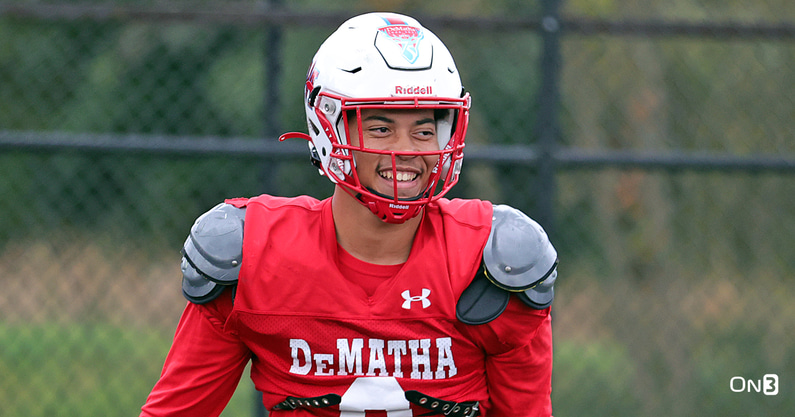 Fort Washington (Md.) DeMatha Catholic class of 2023 defensive lineman Jason Moore announced his top five schools list on Friday. Maryland, Michigan, Notre Dame, Ohio State and Penn State made the cut for the four-star recruit.
There are no surprises in Moore's top five.
Maryland is the local school that has been recruiting him for a long time. Notre Dame and Penn State have been considered the top two contenders for him by pundits — or at least that's been our opinion — for quite some time.
Michigan increased its odds when it hired Mike Elston away from Notre Dame as its new defensive line coach. Elston offered Moore back in August of 2020. Last but certainly not least is Ohio State, which offered him earlier this year and hosted him for a visit in April. The Buckeyes quickly moved up Moore's list.
Moore went in-depth with On3's Chad Simmons about his top five.
The On3 Recruiting Prediction Machine (RPM) reads that Notre Dame is the heavy favorite for Moore at 92.7 percent. It's so leaning towards the Fighting Irish so hard because of an insider prediction logged by Blue & Gold back on New Year's Day. While Moore has only visited Notre Dame once — which was for the North Carolina game last fall — we still like the Irish for Moore. But any of the contenders could ultimately land him.
Moore ranks as the nation's No. 39 overall prospect and No. 5 defensive lineman according to the 2023 On3 Consensus.
PROMOTION: Sign up for just $1 for your first year at Blue & Gold
Moore on the Notre Dame coaching staff
A reason for the perceived Irish lead is Moore's relationship with multiple Notre Dame coaches, including new defensive line coach Al Washington.
"He's a great coach," Moore said. "We keep in contact a lot – probably the most out of every coach."
Washington didn't start recruiting Moore until a few months ago when he started his new position in South Bend. The amount of contact is so frequent; it's as if Washington is trying to make up for lost time.
"Text, call, anything," Moore said of Washington's contact with him. "He tries to get me to call him as much as he can. It's every day. It's like we're close friends."
Irish head coach Marcus Freeman is talks often with the Moore and his family as well.
"A lot," Moore said of his contact with Freeman. "My parents love every time they get to talk to Coach Freeman. We have a good relationship as well – going beyond football. We can talk about anything in life."