WATCH: Notre Dame 2023 defensive line recruiting breakdown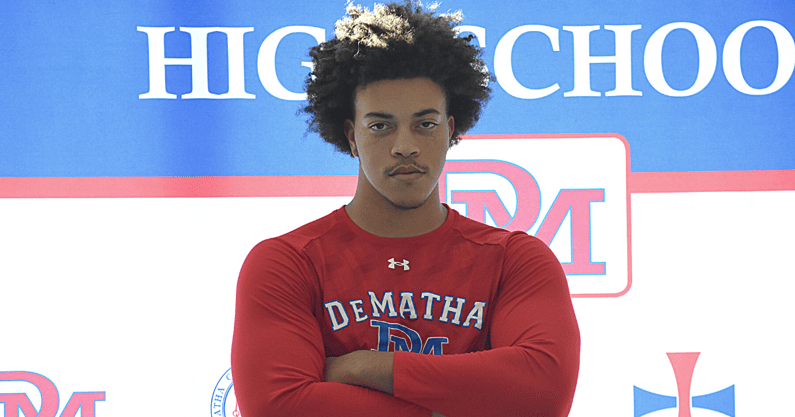 In a weekly YouTube live show that airs each Wednesday, BlueandGold.com's Tim Hyde and Mike Singer discuss and react to the latest news and notes in the world of Notre Dame football and recruiting.
Also, make sure to subscribe to the Blue & Gold YouTube channel for more video coverage of Fighting Irish football and recruiting.
It was another entertaining and informative show, with the guys debating recent Notre Dame football and recruiting headlines such as:
— Thoughts on recent NIL developments and what Kyle Hamilton's father said about NIL to Blue & Gold last week
— Just how good is Notre Dame's 2023 defensive line class, and how much better would it be if Jason Moore joined it?
— and more!
Sign up for Blue & Gold and On3 for the latest Notre Dame athletics coverage, insider recruiting notes, and more! It's just one dollar for one year. More information can be found on our subscriptions page.
RELATED: Will Notre Dame safety Brandon Joseph be off to the NFL after one season?
Notre Dame is in an interesting situation with Northwestern transfer Brandon Joseph. The Irish brought in the former All-American from the transfer portal with the intention of getting him back to that elite level. But if he once again rises to it, Joseph could be gone after just one season donning a golden helmet.
The NFL is going to come calling.
Pro Football Focus rated Joseph the No. 3 safety prospect and the No. 49 overall player in the 2023 NFL Draft. As we saw with all the buzz about Kyle Hamilton before, during and after the draft last month, safeties don't always get a lot of love when transitioning from college to the NFL. The fact that Joseph is already receiving a second round grade shows there could be something different about him. He has the potential to be the second Irish safety drafted in as many years.
And that's where the intrigue comes in as it relates to Notre Dame. Head coach Marcus Freeman, defensive coordinator Al Golden and safeties coach Chris O'Leary obviously want Jospeh to have an All-American season. It would behoove the entire team. But it would also likely cement a sendoff after just 12 months in South Bend. The same guys who want Joseph to be the best in the nation at his position would benefit from having him around to exhaust his remaining two years of eligibility in a blue-and-gold uniform.