By the Numbers: Comparing Ohio State and Michigan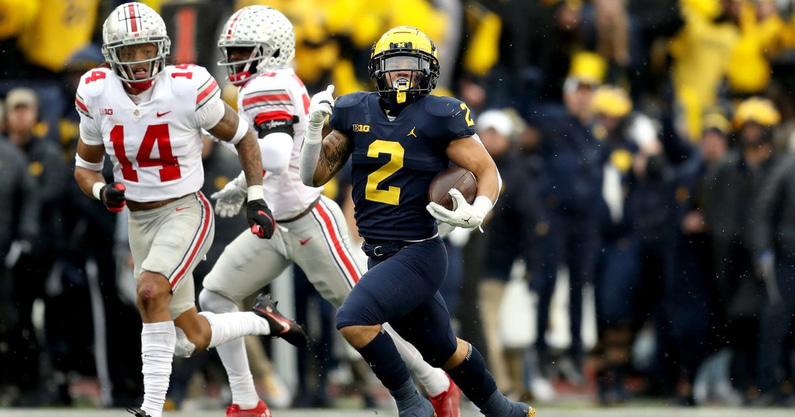 COLUMBUS — Ohio State and Michigan are No. 2 and No. 3 in both the AP Poll and College Football Playoff rankings heading into Saturday's highly-anticipated showdown.
But the Big Ten East rivals are No. 1 and No. 2, respectively, in an assortment of conference statistical categories.
READ: Previewing Ohio State's Week 13 matchup vs. No. 3 Michigan
WATCH: Tough, energized Buckeyes locked in on rivalry showdown
It's a clash of offensive styles. Michigan is the best rushing team in the Big Ten, and nobody throws the ball better in the league than Ohio State.
Ohio State has more balance offensively — and a significant theme of the Buckeyes' 2022 season has been about building "toughness," particularly in the run game — but it's hard to achieve that kind of balance against a Michigan team that's allowing fewer than 80 rushing yards per game.
It's one of the more interesting matchups on paper that we'll get this weekend. Lettermen Row has a complete stat breakdown of how Ohio State and Michigan compare, by the numbers.
Check it out:
Scoring Offense
Buckeyes: 46.5 points per game (T-1st nationally, 1st Big Ten)
Michigan: 39.4 points per game (9th nationally, 2nd Big Ten)
Total Offense
Buckeyes: 492.7 yards per game (T-8th nationally, 1st Big Ten)
Michigan: 452.6 yards per game (23rd nationally, 2nd Big Ten)
Passing Offense
Buckeyes: 289.2 yards per game (17th nationally, 1st Big Ten)
Michigan: 208.8 yards per game (99th nationally, 10th Big Ten)
Rushing Offense
Buckeyes: 203.55 yards per game (20th nationally, 3rd Big Ten)
Michigan: 243.82 yards per game (4th nationally, 1st Big Ten)
Scoring Defense
Buckeyes: 16.9 points per game allowed (10th nationally, 5th Big Ten)
Michigan: 11.7 points per game allowed (2nd nationally, 1st Big Ten)
Total Defense
Buckeyes: 283.4 yards per game allowed (9th nationally, 5th Big Ten)
Michigan: 241.3 yards per game allowed (1st nationally, 1st Big Ten)
Passing Defense
Buckeyes: 175.5 yards per game allowed (11th nationally, 5th Big Ten)
Michigan: 161.7 yards per game allowed (5th nationally, 1st Big Ten)
Rushing Defense
Buckeyes: 107.91 yards per game allowed (15th nationally, 5th Big Ten)
Michigan 79.55 yards per game allowed (2nd nationally, 1st Big Ten)
3rd Down Conversion
Buckeyes: 47.83% (T-15th nationally, 2nd Big Ten)
Michigan: 46.90% (18th nationally, 3rd Big Ten)
Opponent 3rd Down Conversion
Buckeyes: 29.19% (11th nationally, 3rd Big Ten)
Michigan: 30.41% (14th nationally, 4th Big Ten)
Red Zone TD Percentage
Buckeyes: 79.63% (2nd nationally, 1st Big Ten)
Michigan: 64.41% (59th nationally, 8th Big Ten)
Opponent Red Zone TD Percentage
Buckeyes: 59.09% (62nd nationally, 7th Big Ten)
Michigan: 47.37% (T-15th nationally, 5th Big Ten)
Sacks Per Game
Buckeyes: 2.82 (T-22nd nationally, T-2nd Big Ten)
Michigan: 2.82 (T-22nd nationally, T-2nd Big Ten)
Sacks Allowed Per Game
Buckeyes: 0.64 (T-2nd nationally 1st Big Ten)
Michigan: 1.09 (T-15th nationally, 3rd Big Ten)
Turnover Margin Per Game
Buckeyes: 0.82 (10th nationally, 1st Big Ten)
Michigan: 0.45 (T-32nd nationally, 5th Big Ten)
Time of Possession
Buckeyes: 30:29.09 (51st nationally, 7th Big Ten)
Michigan: 35:06.27 (3rd nationally, 2nd Big Ten)
Long Scrimmage Plays (20+ Yards)
Buckeyes: 73 (T-8th nationally, 1st Big Ten)
Michigan: 57 (T-43rd nationally, 3rd Big Ten)
Opponent Long Scrimmage Plays (20+ Yards)
Buckeyes: 36 (17th nationally, 5th Big Ten)
Michigan: 27 (T-3rd nationally, 2nd Big Ten)
Penalties Per Game
Buckeyes: 5.5 (T-43rd nationally, T-8th Big Ten)
Michigan: 4.1 (T-6th nationally, 3rd Big Ten)
Punt Average
Buckeyes: 45.43 (12th nationally, 2nd Big Ten)
Michigan: 40.94 (82nd nationally, 11th Big Ten)