Mycah Pittman defends Oregon quarterback Anthony Brown amidst criticism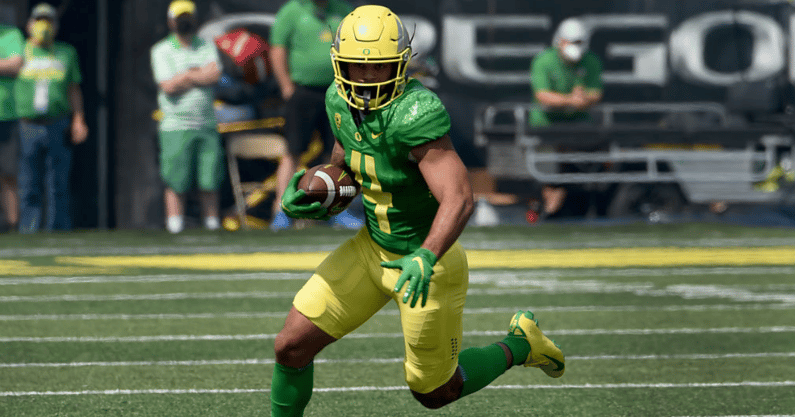 Mycah Pittman doesn't spend much time on Twitter. Oregon's sophomore receiver has a massive social media following across multiple platforms, but tends to stay away from the endless wave of replies that accumulate during the season.
Last Saturday evening, though, after Oregon's 31-24 win over Fresno State, Pittman took to the site and couldn't believe what he was reading.
Pittman stumbled upon a mountain of comments criticizing Oregon quarterback Anthony Brown, with many users calling for the senior's job.
"I go on Twitter to just handle what I have to handle with my NIL stuff and then I see some slander on AB's name," Pittman said. "It's kind of crazy to me, because he's super talented.
"Even if you guys don't think he had the best game, I'm telling you: he has so much potential to be one of the best quarterbacks in the nation."
Pittman knows better than anybody how vicious the social media cycle can be. No matter how well Oregon plays, somebody will always be unhappy and expect more out of the team.
He acknowledges that he was probably "roasted" for mistakes that he made during the Fresno State game — and admits there were plenty across the board.
"There's always little things. There's little errors that can be fixed," Pittman said. "Whether it's linemen, or receivers, or if you're getting three steps, four steps.
"It's just little things that make or break a game. It's a game of inches."
Pittman's defense of Brown doesn't sound like unabashed, blind loyalty, though. His production is entirely dependent on Oregon's quarterback putting the ball in his hands. It's a make-or-break season for Pittman; if he doesn't put up big numbers and put consistent performances on tape, his hopes of playing pro football are going to be slim.
Even in that context, he still trusts Brown to lead Oregon to great things.
"I laugh at it," Pittman said of the social media criticism. "It's something that is kind of funny to me, because not everyone is at practice. Not everyone is seeing what AB is doing."
Brown and Pittman nearly linked up on for a long pass late in the game, but Brown's delivery was just off. It was a frustrating mistake for both players in the moment; a completion likely would have sprung Pittman loose for a long touchdown.
It's also an apt summary of where Oregon's passing game at this point in the season. The Ducks appeared capable of busting the game open at time against the Bulldogs, but a few minor errors led to the offense sputtering for much of the afternoon.
Those mistakes will have to disappear quickly if the Ducks hope to escape with a win in Columbus. Pittman believes they will, and that the Oregon offense is extremely close to firing on all cylinders.
"I think if me and AB can fix this small of an error, I could have way more yards and so many other receivers would have so many more yards," Pittman said. "Everyone could be playing to their best ability and helping this team win. AB is a talented guy. I think you guys saw the smallest portion of him. 
"I think we're gonna let it loose against Ohio State and he's gonna show his true colors. Because he's very poised; he's a fifth-year senior. I trust him. I really do."