Oregon mid-term evaluation: Defensive back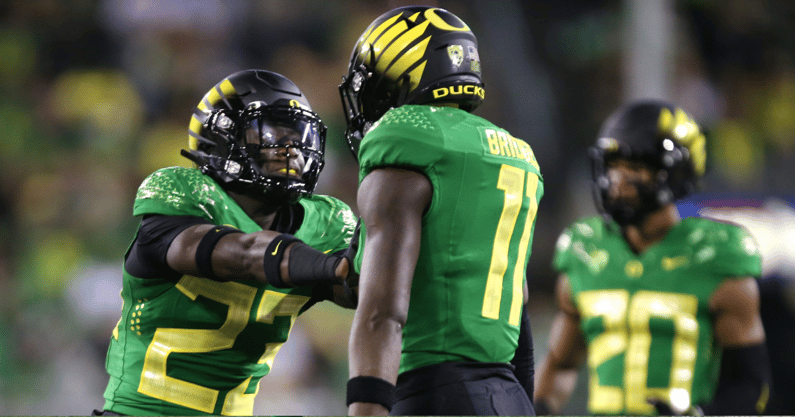 Oregon's bye week brings a chance to assess how it has performed in all facets of the game. The No. 9 Ducks will enter Week 6 with a 4-1 record and have plenty of soul-searching to do coming off their first loss of the season.

Throughout the week, ScoopDuck will be evaluating each Oregon position group and providing: overall grades, players whose stock is rising and stock is falling, and breakout candidates for the rest of the season. Next up, the defensive backs.
Overall grade: B-
Oregon's secondary is responsible for many of the Ducks' brightest moments this season. Verone McKinley III and Bennett Williams have both been turnover machines. That duo is the main reason why Oregon, statistically speaking, is one of the best teams in the country at generating takeaways.
But aside from McKinley and Williams, Oregon's cornerbacks and safeties have been a mixed bag. The Ducks were behind the 8-ball from the get-go after Jamal Hill and DJ James both missed preseason camp due to suspension. Those two have not been particularly good since rejoining the team and the Ducks are going to need to find a way to get the best out of them as the season goes on.
McKinley has four interceptions in 2021, and Williams has three. Those big moments have covered up a lot of flaws in the secondary and bailed the Ducks out of some dodgy situations. McKinley (70.6), Williams (75.4), and Mykael Wright (71.6) are the only Oregon defensive backs who Pro Football Focus grades as above-average or better through Week 5.
Of course, when you have three players who are that good, you can at least tread water in most situations. But PFF grades James at 58.7 in coverage, which is the worst of Oregon's nine cornerbacks who have played this season. That's a major concern since he's back starting opposite Wright on the perimeter.
Steve Stephens IV has been solid at boundary safety and is a major asset when it comes to stopping the run. Stephens (300 snaps) and McKinley (369) have hardly left the field this season. When they do, the players behind them simply haven't been very good.
Stock rising: Jamal Hill
This isn't necessarily indicative of Hill's 2021 performance. He's been bad this season after thriving at Oregon's STAR spot last fall. PFF grades Hill as a 48.2 in 148 snaps this year. That's one of the worst grades on Oregon's roster — at any position.
But Williams suffered a broken fibula last week and is out for the year. Oregon is suddenly without one of its best players, and Hill is going to step in to take his place.
Maybe he will see a return to form once he becomes the main guy at STAR again, and maybe he just came back rusty after missing most of preseason camp.
Regardless, the Ducks badly need Hill to quickly reemerge as the player he was in 2020. He's going to get the chance to do so, and there may not be much of a backup plan if he doesn't improve quickly.
Stock falling: DJ James
Maybe it isn't totally surprising that James got off to a sluggish start. Like Hill, he missed preseason camp. Oregon threw him back into the fire against Ohio State in Week 2, and frankly, not many cornerbacks are going to succeed against the tOSU's star-studded group of receivers.
But after a bright 2020 season, James has been really poor in coverage this fall. I mentioned his PFF grade earlier, and the film backs that up. Receivers are simply beating him too often. That might be partially due to teams opting to throw away from Wright, and the Ducks have faced good receivers in three of the four games James has played this fall.
Unfortunately, Oregon can't wait for James to find his footing. Trikweze Bridges and Dontae Manning have struggled this season, which is sort of to be expected, and Oregon can't really count on either of them to provide a significant upgrade over James at boundary corner — at least not yet.
The Ducks will have to hope the bye week helps their talented sophomore corner catch up quickly.
Breakout candidate: Dontae Manning
Yes, Manning has had an up-and-down season. But it isn't because he's outmatched physically. Manning, a former 5-star signee, has all the athletic tools required to thrive in the Pac-12.
Even at 5-11, he plays bigger than his listed height and has a massive wingspan. He's quick, strong, and hasn't been terrible in coverage — PFF grades him at 61.2 there, which is better than James and Bridges by a wide margin.
Since the start of the preseason camp, Oregon defensive coordinator Tim DeRuyter has challenged Manning — and the rest of Oregon's young corners — to play more aggressively in coverage. Sometimes, he's played a bit too aggressively. But there are signs that things starting to click for him.
Manning is the 13th highest-rated recruit to ever sign with Oregon. He has gotten a lot of growing pains out of the way this season. I wouldn't be surprised if he started to pop during the back half of the conference schedule.