Previewing Oregon vs. Oregon State: Players and storylines to watch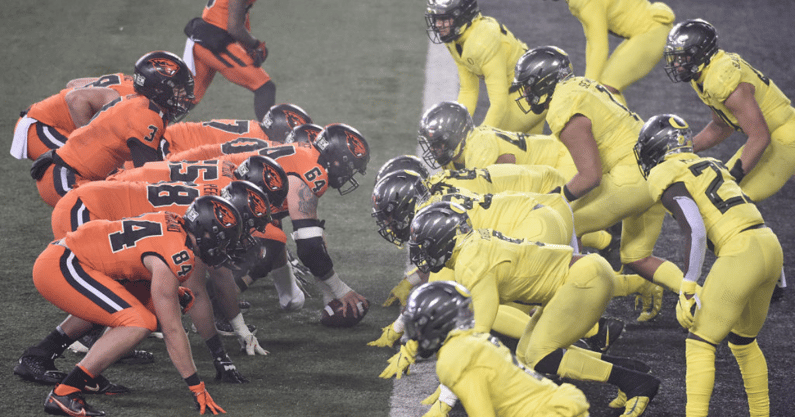 This year's rivalry matchup between Oregon and Oregon State has more at stake than any showdown in a long, long time.
A win for the Ducks guarantees redemption after last season's upset loss in Corvallis and keeps their Rose Bowl hopes alive. A win for the Beavers — plus a little help from Washington in the Apple Cup — would give them a shot at their first conference title since 2000.
Here's a quick glance at five Oregon State players to keep an eye on, and three storylines to watch this Saturday.
Oregon State players to watch
Avery Roberts
Oregon State's senior linebacker is a tackling machine. Only five players in the nation have more total tackles than Roberts' 110, and only 12 players have more solo stops than the middle linebacker.
That's partially a product of the Beavers' scheme; Roberts and Omar Speights both rack up tackles even when Oregon State's defense is playing poorly. Throughout this week, it will be worth paying attention to the status of Roberts' health.
He injured his ankle in Oregon State's win over Arizona State, and there's no word yet on how serious the injury is. If Roberts can't go, expect Kyrei Fisher, another solid tackler, to fill in for him.
Tre'Shaun Harrison
Trevon Bradford is Oregon State's most productive receiver, but Tre'Shaun Harrison is their most dangerous. A former top-100 recruit who spent his first two seasons at Florida State, Harrison hit the portal after his sophomore year and landed in Corvallis.
Harrison plays bigger than his 6-2, 192-pound frame and is a major deep threat. He got off to a slow start this season, partially because Oregon State's receiver room is so deep.
But Harrison is one of the most talented pure receivers in the conference and is a big-play threat every time he runs a route.
Jaydon Grant
Jaydon Grant is Oregon State's version of Verone McKinley III. He is the heart and soul of the Beaver's defense and typically shines in big games.
The son of former Portland Trailblazer Brian Grant, Jaydon is a really athletic, instinctive player. He was not a highly-touted recruit and arrived at Oregon State as a walk-on before quickly establishing himself as one of its most important players.
He typically plays the nickel spot, but will also occasionally jump over to safety. Grant is a ballhawk, hits like a truck, and is Oregon State's best defensive playmaker.
B.J. Baylor
In his first season as Oregon State's feature back, B.J. Baylor has been the most productive runner in the Pac-12. He has already rushed for 1,199 yards and 12 touchdowns and is part of a three-headed backfield that also includes Deshaun Fenwick and Trey Lowe.
There were plenty of questions surrounding Baylor's ability to thrive as a No. 1 back going into this season. Early in his career, he was the backup to former Oregon State star Jermar Jefferson, and he struggled with injuries.
But he put those doubts to bed quickly. Baylor has run for 100-plus yards six times this season and is a really well-rounded back who is in the midst of a great season.
Rejzohn Wright
If you're wondering where you've heard Rejzohn Wright's name before, the Oregon State cornerback was featured on the popular Netflix series, Last Chance U.
He's had a winding journey to Corvallis and is shining in his first season as a starter. Wright's brother, Nahshon Wright, was the Beaver's best corner last season and is now playing with the Dallas Cowboys.
Rezjohn has stepped up to fill his spot and has a skill set that is very similar to his brother's. At 6-2, 191, he has a massive wingspan and is really solid in coverage. He will likely spend most of Saturday going toe-to-toe with Devon Williams.
Key storylines
Can the Ducks stop the run?
They sure couldn't against Utah. Oregon State is going to try to run the ball down their throats just like the Utes did.
I didn't mention any of the Beaver's offensive linemen in my players to watch, but Oregon State might have the best O-line in the Pac-12. Sophomore left tackle Joshua Gray is a star and is going to play on Sundays. Sixth-year senior Nathan Eldridge starts at center is also very good. The rest of the line is filled with experienced, steady players, and the Beavers have depth and versatility in reserve.
Oregon State has the most productive rushing attack in the Pac-12 and bullied the same Utah defense that neutralized Oregon last weekend.
The Ducks are going to have to figure things out on the defensive side of things quickly, or they're going to be in for a long day.
Can Anthony Brown beat the Beavers through the air?
Oregon State's pass defense is one of the leakiest in the Pac-12. The Beavers give up 238 yards-per-game through the air, the fifth-worst mark in the conference, and they just fired long-time defensive coordinator Tim Tibesar.
Oregon State has a lot of individual talent in the secondary but is still not all that effective as a unit. The Beavers have been better since Trent Bray took over as interim DC and seem to be a more inspired bunch.
If there was ever a game for Anthony Brown to shine as a passer, though, this would be it. He had another sub-par day throwing the ball in Salt Lake City but spent much of the evening running for his life.
The Beavers aren't good at pressuring opposing quarterbacks, and they don't have many dynamic pass rushers. Brown will have time to throw, and the Ducks are going to need him to play well if they want to win.
Will Oregon bounce back after a crushing loss?
This is the million-dollar question. Oregon's players were crestfallen after the Utah loss.
The Ducks knew the tremendous opportunity they had in front of them, and they know they let it slip. But they still have so, so much to play for. Is a chance at the Pac-12 title and a spot in the Rose Bowl enough motivation for them to bounce back?
Oregon has so many players dealing with injuries and may have lost a few more key contributors for the season last weekend. It shouldn't take long to tell on Saturday to tell if the Ducks' hearts are in it.
They will also need a win to avoid becoming the first Oregon team since 2007 to lose back-to-back games to Oregon State.