Watch: Dan Lanning discusses Ducks' rivalry showdown at Oregon State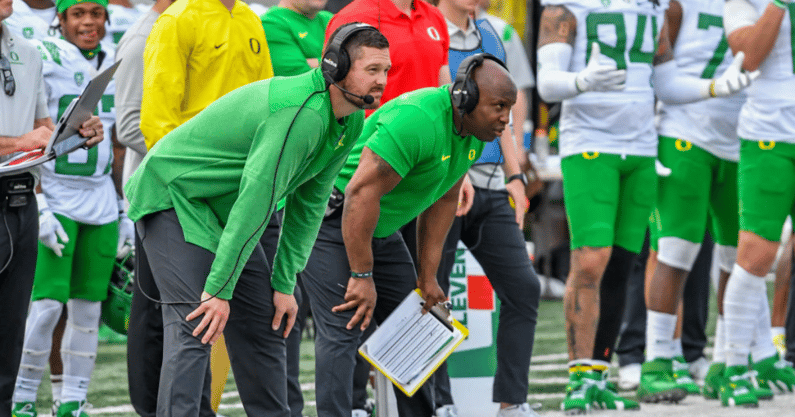 Oregon head coach Dan Lanning met with reporters on Wednesday to discuss the No. 9 Ducks' upcoming showdown with No. 22 Oregon State in Corvallis.
Catch his full interview and a handful of key quotes below.
Key quotes
How are you feeling about Alex Forsyth and Chase Cota playing this week?
"I'm not talking about injuries but I feel good about where we're at from a practice prep standpoint."
On offensive coordinator Kenny Dillingham being a Broyles Award semifinalist
"He's done a great job in a leadership role, obviously, there for the entire offense. And I think Kenny will be the first one to tell you when you get those awards, that's really a credit to everybody on that side of the ball, every one of those players, every one of those coaches.
"But Kenny does a phenomenal job day in and day out and preparing his side, really collaborating with his coaches. He would tell you it's a group effort. Whenever you get an award like that, or up for an award like that, it's really an indication of the job you've done, but also the job of the people around you.
"He'd be the first one to tell you it helps to have great players and great coaches that have helped get him there."
On what he's seen from Oregon State quarterback Ben Gulbranson
"You see a lot of visible checks where he's able to get them in the right play, checking runs away from rotation, doing a lot of different things from a systematic standpoint to put them in a good place. Obviously, he's understanding their system and it's a tough system. They do a lot of different stuff. So being able to operate that the way he operates is impressive."
On whether he's met and talked with Oregon State coach Jonathan Smith in the past
"I bumped into him a few times at conference meetings and stuff. I have a lot of respect for the job that he's done. I think he's a really good coach. Obviously, he's done a great job with this team."
On whether or not he was more involved in the defensive playcalling last weekend
"Our defensive staff does a great job of being ready to roll each game, going out there and operating. Coach Lupoi does a great job leading that group and our guys. They played well. They played like they were capable of.
"Again, you go back and look at that game, there are so many mistakes and so many things that we could do a whole lot better."
On the Ducks' plans for Thanksgiving
"We're gonna have a Thanksgiving meal with our team here and I think some of the players will make their way over to coaches' after that. Then we'll probably have to do weigh-ins after that to see where guys are at."