Key 2024 target set to transfer to high school with strong Penn State ties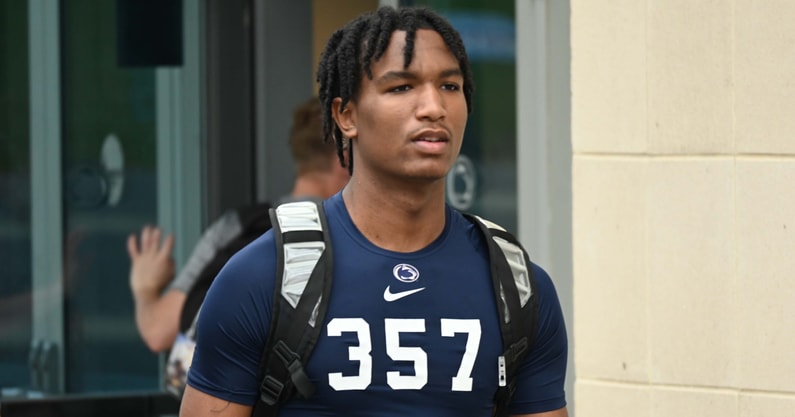 Penn State still has plenty of work to do in its 2024 recruiting class. With 14 players currently committed, key positions like wide receiver and the defensive line remain major priorities for the staff with official visits set to begin in just over a week from now.
At wide receiver, South Jersey native Jaylan Hornsby has long been considered one of Penn State's top targets at the position. The 6-foot-1, 200-pound pass catcher has been on campus three times since last summer, most recently in April for a one-on-one visit with the staff.
Now, it looks as if Penn State may have another potential edge in this recruitment emerging. According to sources, Hornsby is set to transfer from Camden High School to nearby Winslow Township for his senior season. Winslow is coached by former Penn State running back Bill Belton and quarterback Christian Hackenberg. Belton became the head coach last year, while Hackenberg is the team's offensive coordinator.
The Nittany Lions may hold a massive edge in On3's Recruiting Prediction Machine – they currently hold an 81.3% chance of landing his commitment – but it should be noted that Hornsby currently doesn't have an official visit set with Penn State for next month.
Currently, Hornsby has just two official visits set, beginning with Rutgers in just over a week from now, June 2-4. He'll then go to Texas A&M two weeks after that, June 16-18.
Hornsby holds a 90 overall rating by On3, making him a four-star prospect. He's the 48th-ranked wide receiver nationally and No. 6 overall in New Jersey for his position.
Penn State has official visits set with five wide receivers currently for June. St. Thomas Aquinas prospect Chance Robinson and IMG Academy's NiTareon Tuggle are both expected to visit Penn State June 2-4. Those visits will be followed by Michigan native Nick Marsh visiting June 9-11. The Nittany Lions are expected to then host New York's Josiah Brown and West Virginia native Jerrae Hawkins the final weekend, June 23-25.