How are Penn State's committed players performing this season?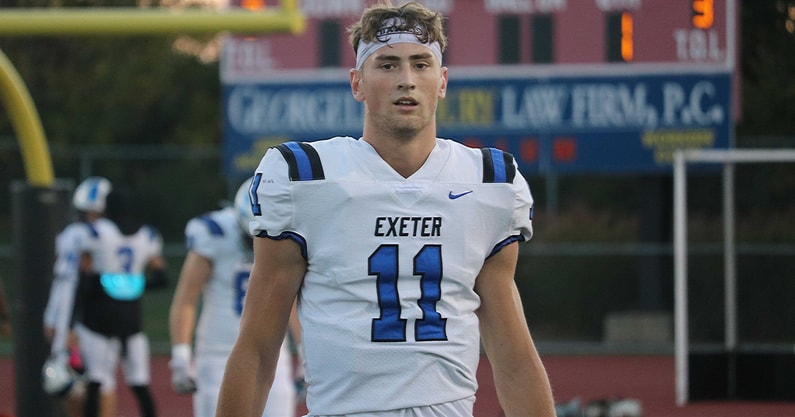 Penn State sits at 5-1 halfway through the 2022 season. Yes, they're coming off a brutal loss, but the Nittany Lions have plenty to play for in the second half of the season. A return to a New Year's Six Bowl for James Franklin's team, even with another loss, is still realistic.
Most of those who are committed to play for Penn State in the years to come also have a lot to play for, as high school playoffs will begin in just a few weeks. We recap where they stand statistically below.
QB Jaxon Smolik – Dowling Catholic (Iowa)
Quarterback Jaxon Smolik has led Dowling Catholic to a 7-1 record so far this season. Following a season-opening loss to defending state champion Southeast Polk, the Maroons had won seven straight heading into their regular season finale against Waukee. After missing most of his junior season with a collarbone injury, Smolik has played well, completing 122 of 188 pass attempts for 1,493 yards, 14 touchdowns and just four interceptions. His quarterback rating was 131.6. Smolik has also made plays with his feet, totaling 23 carries for 109 yards and one touchdown.
WR Carmelo Taylor – Patrick Henry (Va.)
Carmelo Taylor, who committed to Penn State just before the season in August, has led Patrick Henry to a 5-2 record so far this season. He's performed well all over the field. Offensively, Taylor has totaled 31 receptions for 440 yards and 11 touchdowns. Defensively he has two interceptions on the season, while on special teams Taylor has racked up over 250 return yards. As long as they don't lose all three of their remaining games, Patrick Henry should make it back into the playoffs in November. 
WR Ejani Shakir – Winslow Twp. (N.J.)
Winslow Twp. is being led by former Penn State running back Bill Belton this season. The former offensive coordinator took over as head coach when Kenny Scott announced in June that he'd be stepping down as head coach for personal reasons. After advancing to the NJSIAA Group 4 championship last season, Winslow has taken a bit of a step back this season, currently sitting at 3-3. 
Ejani Shakir missed Winslow's most recent game against Burlington Township, but in five games this season, the four-star receiver has totaled 32 receptions for 281 yards and one touchdown.
TE Joey Schlaffer – Exeter Twp. (Pa.)
After last year's upset win over Nick Singleton and Governor Mifflin in the District 3A championship, Exeter Twp. has picked up right where they left off going 8-0. The Eagles have been dominant, too, winning by an average score of 43-10.
Playing tight end, Joey Schlaffer has totaled 24 receptions on the season for 518 yards and 8 touchdowns. He's averaging 21.6 yards per catch. The four-star tight end also has seven carries for 80 yards and a score. Exeter Twp. will finish its regular season with a massive game at Manheim Central Oct. 28. It'll determine the league winner, with both teams currently undefeated. 
TE Andrew Rappleyea – Milton Academy (Mass.)
Like most schools in New England, Milton Academy didn't begin its season until the final week of September. Through four games now, the Mustangs are 2-2, including a win against Buckingham Browne & Nichols, one of the region's top schools. Andrew Rappleyea has looked very good in limited opportunities, totaling 315 yards receiving on just 14 receptions. He also has two receiving touchdowns. Rappleyea is getting it done on the ground, too, totaling 120 yards and two touchdowns on just three carries. Defensively he's totaled 17 tackles and an interception. 
OL Jven Williams – Wyomissing (Pa.)
Wyomissing is on pace for another league and district championship, as the Spartans are 8-0 on the season. As long as both teams win this weekend, the game against Lampeter-Strasburg (7-1) next weekend will determine the league championship. Penn State fans can watch OL Jven Williams' midseason highlight film below.
OL Alex Birchmeier – Broad Run (Va.)
It's been a bit of a rebuilding year for Broad Run. Following last year's appearance in the state championship game, the Spartans are now 2-5 with three games remaining. It looks unlikely that they'll make the playoffs. OL Alex Birchmeier just released a midseason highlight film on Wednesday.
OL Anthony Donkoh – Lightridge (Va.)
Anthony Donkoh and Lightridge began their season 3-0, but they've since lost four straight. With three games remaining, they can still make the playoffs, but they have tough matchups against Loudoun Valley and Tuscarora the next two weeks.
OL Cooper Cousins – McDowell (Pa.)
McDowell will be back in the playoffs this year, as they're currently 6-2 on the season with two games remaining. Penn State's lone 2024 commit, OL Cooper Cousins, just released his updated midseason film on Tuesday. Check it out below.
DL/OL Mathias Barnwell – Riverbend (Va.)
Riverbend sits at 6-1 on the season with just a few games remaining in the regular season. All signs point to the Nov. 4 regular-season finale against Mountain View as the game that'll likely decide the league championship, as both schools are 6-1 currently. Mathias Barnwell continues to contribute as a tight end, totaling 11 receptions and 174 yards and two touchdowns this season. Playing defensive tackle, he's totaled 16 tackles, including 5.5 tackles for loss. He also has two pass deflections, 1.5 sacks and a forced fumble. 
DL Tyriq Blanding – Christ The King (N.Y.)
It's been a rough season so far for Christ the King, as the Royals are currently 1-6. However, future Penn State DT Tyriq Blanding has put up some pretty good numbers through seven games, totaling 31 tackles, including three tackles for loss. Blanding also has 13 quarterback hurries, three forced fumbles and two sacks.
DE Jameial Lyons – Roman Catholic (Pa.)
Jameial Lyons and Roman Catholic's defense is a major reason why Roman is set to have its first winning season in a decade. Currently 6-1 on the season, Roman is allowing just 7.5 points per game. They also have quality wins over teams like Wilson and Archbishop Wood. A game against powerhouse St. Joseph's Prep lies ahead on Oct. 28. Playing mainly defensive end, Lyons has totaled 36 tackles so far, including 11 tackles for loss. He also has three sacks, two pass deflections and one forced fumble.
LB Tony Rojas – Fairfax (Va.)
Tony Rojas has led Fairfax to one of its best seasons in the past decade, going undefeated, 7-0 so far this season. Rojas will play linebacker at Penn State, but he's doing a little bit of everything for Fairfax currently. He's had his biggest impact on offense so far, totaling 947 yards on 75 carries, and scoring 18 touchdowns. He's had an impact catching the ball, too, totaling nine receptions for 211 yards and two more touchdowns.
On defense, Rojas has predominately played defensive end. Rojas has 18 tackles, four sacks and two forced fumbles. Fairfax has a massive game against Lake Braddock this upcoming weekend. Both teams are undefeated and Braddock was the only team to defeat Fairfax during the 2021 regular season.
CB Elliot Washington – Venice (Fla.)
Elliot Washington and his Venice teammates had their season interrupted after Hurricane Ian hit the Gulf Coast of Florida. Games in the beginning of October were canceled, with play resuming Oct. 14 against Sarasota. Through five games, the Indians are 3-2, with both of their losses coming against elite competition – Northwestern High School in Miami and St. Frances Academy in Baltimore. Washington hasn't been targeted much defensively, but he has totaled 14 tackles and two interceptions. He's also averaging about 45 yards returning the ball on kick returns each game. 
CB Lamont Payne – Chartiers Valley (Pa.)
Chartiers Valley is 1-7 on the season with two games remaining against Aliquippa and Ambridge. CB Lamont Payne has totaled 16 tackles on defense and one interception. Offensively, he's caught 19 passes for 379 yards and three touchdowns.
DBs King Mack & Conrady Hussey – St. Thomas Aquinas (Fla.)
St. Thomas Aquinas has one of the top defenses in Florida this year, and King Mack and Conrad Hussey have had big roles in that. After giving up 37 points to another elite program, St. Joseph's Prep, in a nationally televised game week one, the Pirates are allowing an average of five points per game in the six games since. Both of Penn State's commits have been excellent. Mack has 32 tackles with three pass deflections and one tackle for loss. He's also performing well on special teams, adding two blocked punts and one punt return touchdown. Hussey has 21 tackles and one forced fumble.
Saf. DaKaari Nelson – Selma (Ala.)
Selma is on pace for one of its best seasons over the past decade, sitting at 7-2 currently. They've already lost to the first-place team in the league, Demopolis, but Selma has already clinched a playoff spot with two games remaining. Defensively, Dakaari Nelson is having a very good year, totaling 57 tackles and six interceptions in nine games. He also has five pass deflections, one forced fumble and one recovery. He's actually a pretty good punter, too, averaging 38 yards per kick.