How Tyler Rudolph's exit affects Penn State: BWI Daily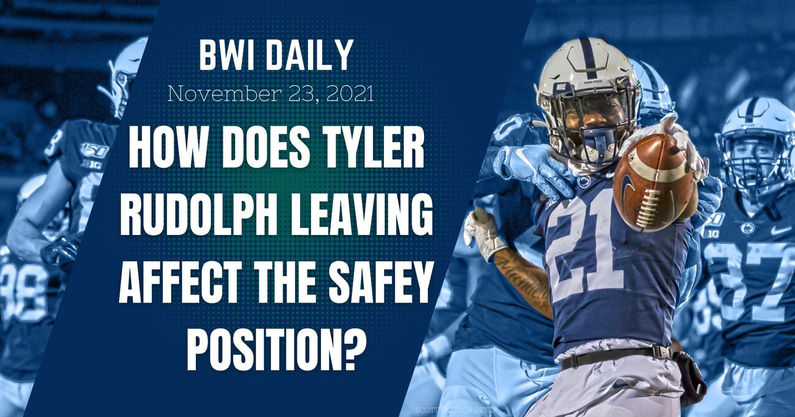 On Wednesday, Penn State football had its first transfer of the upcoming offseason when former four-star safety Tyler Rudolph entered his name into the transfer portal. Host of the BWI Daily Edition, Thomas Frank Carr, looks at the impact of Rudolph's exit on the safety position and how the transfer portal affects mid-level programs in college football.
Penn State's Approach
He starts by setting a baseline of how Penn State head coach James Franklin prefers to deal with the portal from an influx and exit standpoint. Then, he plays Franklin's comments to BWI's Nate Bauer during this week's Tuesday press conference. Finally, Franklin explains how recruiting, transfers and the NFL make the situations challenging to predict.
After that, T-Frank addresses the reason that Rudolph is likely exiting the program; playing time. He shows just how little the redshirt sophomore has gotten since the start of the season based on the expectations set by the Penn State staff and his progress this summer. Rudolph has likely been jumped on the depth chart by a younger player in Jaylen Reed, but T-Frank doesn't think that necessarily means that the Connecticut native would be stuck there heading into 2022.
T-Frank also thinks this announcement signals the conclusion of one other situation for 2022 at the position.
What portal Does to positional depth
The transfer portal presents the real issue for programs that recruit multiple four-star players at one position each year. First, T-Frank explains how it puts pressure on younger Penn State players that did not exist before. Then, he lists the likely players that will have to contribute going forward and how razor-thin the margin of error is for the safety group as it stands.
He wraps up by exploring all the possible options for Penn State to add depth to the position outside of the portal. Finally, he gives the notable players on the roster and the players incoming in the class of 2022.
Talk about this in the Lions Den: https://www.on3.com/boards/threads/how-the-transfer-portal-affects-penn-state-after-tyler-rudolph-leaves-program-bwi-daily.287859/