Penn State Recruiting Podcast: On300 rankings & Rutgers recruiting list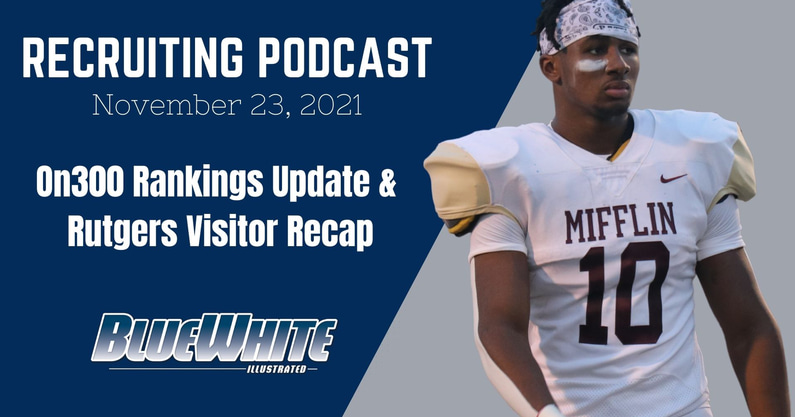 While Penn State fans wait to hear the outcome of a Board of Trustees meeting that's expected to confirm a contract extension for James Franklin this afternoon, there's still plenty to recap over the past week on the recruiting trail.
The big news this week is the updated On300, which saw two Penn State commits, QB Drew Allar and RB Nick Singleton, earn a five-star rating. Hosts Greg Pickel and Ryan Snyder get into their rise, especially Allar, who has jumped from outside the top 15 at his position to the No. 1 quarterback in just 11 months.
Subscribe to On3 today for just $1 for a yearly subscription to BWI
The list also includes top Penn State prospects like DE Dani Dennis-Sutton, LB Abdul Carter, RB Kaytron Allen, CB Cam Miller and Saf. KJ Winston, among others. Ryan and Greg get into some of the reasons they're ranked where they are.
Ryan also feels as if future Penn State WR Kaden Saunders, who's down at No. 231 overall, needs to be someone On3 looks at closely when he participates in the Under Armour All-America game in January.
The pair finish up the podcast discussing a few notable recruits who attended the game against Rutgers this past Saturday. Notable names include Saf. Dakaari Nelson, OL Sam Pendleton and LB Kamar Archie.
BWI's Penn State podcast schedule:
Monday
– BWI Live
– BWI Daily with Thomas Frank Carr
Tuesday
– Penn State recruiting podcast with Ryan Snyder and Greg Pickel
– BWI Daily with Thomas Frank Carr
Wednesday
– BWI Daily with Thomas Frank Carr
Thursday
– BWI Daily with Thomas Frank Carr and Nate Bauer
Friday
– BWI Daily with Thomas Frank Carr and Ryan Snyder
Saturday
– BWI Live postgame show