Penn State transfer officially lands at new school; latest Lions Junior Day updates: Newsstand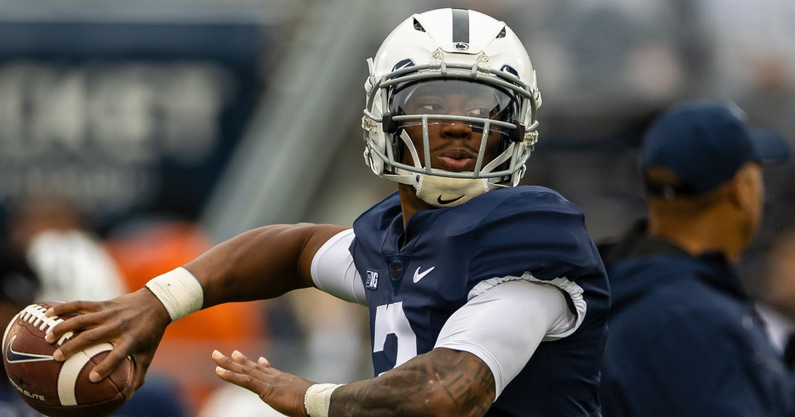 Penn State is rolling through the early portion of another offseason week.
The Nittany Lions already hosted on junior day event that also featured other underclassmen recruits this month. They are set for another one this weekend. Before that, however, the coaching staff has hit the road to check in on prospects across the country.
Elsewhere, a one-time Penn State player has officially landed at his new home.
Let's get to the top tweets and headlines about PSU and college football on Jan. 18.
Penn State tweets of the day
We start with roster news.
Penn State released its latest version online Monday. Some players who could have been on it were missing. Quarterback Ta'Quan Roberson was not one of them, however. After all, the passer ended up in the transfer portal before the Outback Bowl and picked Connecticut fairly quickly.
The Huskies then, who are now led by new coach Jim Mora, officially announced Roberson as a member of the roster on Monday.
As for PSU, it has four scholarship quarterbacks at the moment. The room is led by Sean Clifford and includes Christian Veilleux, Drew Allar, and Beau Pribula.
In other news, there were many recruits on campus over the weekend. Most dropped social media pictures of their official photoshoot in a Penn State uniform Monday.
We'll highlight two of the players who did so below. One is four-star Massachusetts offensive tackle Samson Okunlola. The other is four-star Pittsburgh linebacker Ta'Mere Robinson.
Sign up for Blue-White Illustrated and On3 for just $1. That's a single dollar for the first year of access to insider notes, a premium message board, and other benefits. Click here to learn more.
Headlines of the day
Which Penn State players with eligibility remaining declared for the 2022 NFL Draft?: Gallen, PennLive
Penn State scholarship chart: Where things stand after latest roster update: Eckert, BWI
Penn State Football Set to Hire Director of Football Equipment: Jones, Statecollege.com
PSU roster movement clarifies standing for 2022 season: Bauer, BWI
Penn State's New Roster Includes Some Notable Changes: Wogenrich, SI
New PSU football roster shows freshmen heights and weights plus other changes; who is no longer on the team?: Pickel, BWI
An Early Look At Penn State Football's 2022 NFL Draft Projections: Onward State
PSU target Moussa Kane on Manny Diaz, what position he'll play and more: Snyder, BWI
Jesse Luketa OLB | NFL Draft Scouting Report: Pro Football Network
Lions Recruiting: News & Notes from Saturday's junior day: Snyder, BWI
Quote of the day
"At first, it was mainly just about introducing ourselves. Later on in the day, we started talking about how Miami's defense is similar to Penn State. We watched a lot of clips from Penn State's defense because it's not really going to change all that much. I liked how he broke down their defense."
–PSU 2023 defensive target Moussa Kane on his interactions with new Lions defensive coordinator Manny Diaz during last weekend's Junior Day event.