Penn State Football National Signing Day Central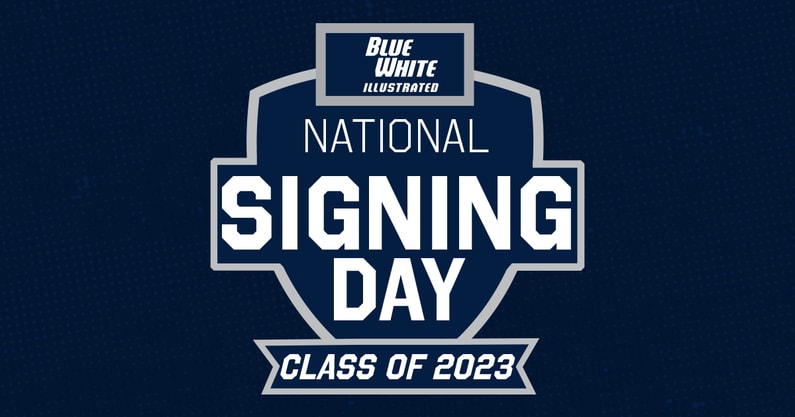 The early signing period has arrived Penn State fans. Beginning at 7 a.m. eastern time this morning, James Franklin and his assistants will start receiving signed letter of intents via email from the nearly two dozen players who are committed to play for the Nittany Lions.
Penn State wasn't able to crack the Top 10 nationally this year like last, but the Nittany Lions will sign another Top 15 class, with PSU currently sitting at No. 13 overall in the On3 Consensus Team Rankings.
For those unfamiliar with the On3 Consensus Team Rankings, it's the only rating that ranks all four services – On3, Rivals, 247 and ESPN – equally. It also solves the problem of varying class sizes during the recruiting cycle, compiling the highest-rated commits for each team up to a total based on a rolling average of current total commitments among Power 5 schools. Currently, that number sits at 19.
About half of this year's class is also expected to enroll early when classes resume in State College next month. Offensively, that includes quarterback Jaxon Smolik, tight end Joey Schlaffer, athlete Mathias Barnwell and all three offensive linemen: Alex Birchmeier, J'ven Williams and Anthony Donkoh. Defensively, there are five early enrollees: linebacker Tony Rojas and Ta'Mere Robinson, as well as defensive backs Lamont Payne, Elliot Washington and Zion Tracy.
Nittany Lion fans, follow along throughout the day to stay up to date on everything you need to know.
You can also watch Penn State's live stream from the Lasch Building via the link below.
Key Links for Penn State fans
Latest rumors inside The Lions Den
On3's National Signing Day Blog
Notable Times & Events
7 a.m. – 11 a.m. – Penn State's Live Stream from the Lasch Building
2 p.m. – James Franklin's press conference
2:30 p.m. – Terry Smith, Taylor Stubblefield, Andy Frank, Kenny Sanders & Alan Zemaitis meet with media.
8 p.m. – BWI's Live Show on YouTube to recap the day.
Signing Day Updates
11:34 AM – Penn State signs Pittsburgh four-star linebacker Ta'Mere Robinson
Ta'Mere Robinson
LB, 6-3, 225
Pittsburgh, Pa.
Brashear
Robinson was long considered one of Penn State's most important targets in the 2023 recruiting class. A native of Pittsburgh, he has been ranked among the state's best prospects dating back to when he was an underclassman. He finished his career at Brashear High listed as On3's No. 5 player in Pennsylvania.
Robinson earned an offer from the Nittany Lions following his sophomore season. He had visited campus once as a freshman, then was forced to wait until the summer of 2021 to take any visits due to the pandemic. Robinson traveled to State College four times in a four-month span, prompting many to speculate that the Lions were the team to beat.
The four-star prospect had a setback midway through his junior season, however, tearing his anterior cruciate ligament. The injury forced him to postpone any additional visits until the spring of 2022.
While Robinson was recovering from his injury, Penn State defensive coordinator Brent Pry left to become head coach at Virginia Tech. That, too, factored into the timing of his decision; Robinson needed to get acquainted with Pry's successor, Manny Diaz.
After getting to know Diaz better, Robinson chose the Nittany Lions in July. Miami and Virginia Tech were the two main schools that Penn State beat out.
Due to his injury, Robinson decided to sit out his senior season. Listed by On3 as the No. 267 overall prospect nationally and No. 26 linebacker, he will enroll at Penn State in January.
11:27 AM – Philly four-star Jameial Lyons signs with Penn State
Jameial Lyons
DE, 6-5, 245
Philadelphia, Pa.
Roman Catholic
Lyons burst onto the scene in the summer of 2021 when he put together a very strong workout at one of Penn State's summer camps, turning in a 4.8-second 40-yard dash and 4.5-second shuttle. James Franklin and defensive line coach John Scott decided to offer immediately, kickstarting a recruitment that always favored the Nittany Lions.
By the spring of 2022, the Philadelphia native had already taken five visits to State College in a 10-month span. He ultimately narrowed his list to five schools: Penn State, Cincinnati, Illinois, Pitt and West Virginia. Of those five, West Virginia was the only other school he visited. Following back-to-back trips to PSU last spring, Lyons decided not to prolong the inevitable, committing to the Nittany Lions on April 22.
During his senior season at Roman Catholic, Lyons finished with 36 tackles, including 11 tackles for loss. He also had 3 sacks, 2 pass deflections and a forced fumble, helping lead the Cahillites to a 9-3 finish, their first winning season in a decade.
Lyons holds a four-star rating from On3. He's ranked No. 125 nationally, 15th overall at defensive tackle and is the second-ranked prospect in Pennsylvania for the 2023 class.
11:17 AM – Penn State inks Florida four-star safety King Mack
King Mack
Saf., 5-10, 175
Ft. Lauderdale, Fla.
St. Thomas Aquinas
Penn State broke through at St. Thomas Aquinas landing defensive back King Mack from Fort Lauderdale, Fla. The Nittany Lions did so by establishing early relationships with up-and-comers like Mack, who played a reserve role behind four FBS prospects as a junior before breaking out as a senior.
The hybrid defensive back, who could end up as a nickel cornerback in the mold of current Penn State redshirt junior Daequan Hardy, picked the Nittany Lions over Michigan State.
"Penn State was just a different vibe," Mack said. "Happy Valley, once I got there, I knew that was the place to be. The way Coach Franklin cares for the kids, he sees bigger than football, but he doesn't settle for a bachelor's degree. He wants you to get your master's degree. That separates and makes a difference between being mediocre and being great. That just stood out for me. What they're building, it's wonderful."
Mack will bring verified speed with him to Happy Valley, with a 100-meter time of 10.64 seconds and a 400-meter time of 46.68 seconds that won him a state title in Florida. He helped lead St. Thomas Aquinas to a state football championship as a senior.
A four-star prospect as rated by On3, Mack is the No. 99 overall player in the 2023 class and the No. 8 safety prospect nationally.
11:10 AM – Virginia Speedster Carmelo Taylor signs with Penn State
Carmelo Taylor
WR, 5-11, 155
Roanoke, Va.
Patrick Henry
Taylor didn't earn an offer from Penn State until nearly June. A native of Roanoke, Va., he posted some impressive times as a track athlete last spring, covering 100 meters in 10.59 seconds. Yet, because there was very little film from his football season the prior fall, college coaches were initially hesitant to extend offers.
In May, the interest began to surge. South Carolina, Virginia Tech and Penn State all offered within a few days of each other, with Maryland, Wake Forest and West Virginia soon joining the pursuit of the Patrick Henry High standout.
When it came time to plan official visits, Taylor chose the Gamecocks, Hokies and Nittany Lions, checking out all three in June. Penn State was the third and final school he visited, but Taylor was in no rush to decide, waiting until Aug. 10 to make his announcement.
"After I pushed back the first commitment, I talked it over with my parents," he said. "We all really liked Penn State. My mama felt good that if I went to Penn State, I would be in safe hands. We have a few friends up there, so she felt like I'd be in a safe spot if I go up there. My dad was just excited because his favorite college team was Penn State."
Taylor holds a three-star rating from On3. He's the No. 82 wide receiver nationally and the No. 11 prospect in Virginia.
10:30 AM – PA native London Montgomery signs with Penn State
London Montgomery
RB, 5-10, 185
Scranton, Pa.
Scranton Prep
Penn State extended a scholarship offer to Montgomery in March. Many expected PSU to pursue the Scranton (Pa.) Prep more aggressively. After all, he had put together a very impressive junior season, totaling 2,356 rushing yards and 36 touchdowns.
When the offer did come, Montgomery made it clear that he would give it serious consideration, but the four-star running back took his time, visiting Boston College, Rutgers and Syracuse in the spring. Boston College got him back on campus in June for an official visit, as did Virginia Tech and Penn State. Once those visits were finished, Montgomery took a few weeks to think it over, eventually committing to the Nittany Lions on July 11.
"It's definitely a dream come true," he said. "Watching TV, watching Saquon [Barkley] and all that — I always wanted to play in front of 107,000 fans at Penn State."
Montgomery was forced to miss his senior season this past fall after tearing his ACL in Scranton Prep's final preseason game. Nevertheless, On3 rates him as the No. 21 running back nationally and No. 8 overall prospect in Pennsylvania for the 2023 class.
10:20 AM – Zion Tracy officially signs with Nittany Lions
Zion Tracy
CB, 5-11, 170
Hempstead, N.Y.
St. Thomas More
Tracy's path to Penn State is one of the more unique stories of the 2023 recruiting cycle. A native of Hempstead, N.Y., he played at Long Island Luthern in 2021, earning a handful of FBS offers as a senior and even spending some time as a Temple commit. However, following a coaching change with the Owls, he decided to go the postgraduate route, ending up at St. Thomas More in Connecticut.
Penn State hosted Tracy for a camp in 2021, and when he returned this past July, he put together one of the strongest workouts of any player, running a 4.3-second 40-yard dash. On top of that, he was excellent during one-on-one sessions, locking down receiver Ejani Shakir, who was committed to the Nittany Lions at the time.
Tracy ended up earning an offer from Penn State a few weeks later. An official visit quickly followed on the weekend of PSU's home opener against Ohio.
That was all Tracy needed to see. He committed that weekend, choosing Penn State over Rutgers and Syracuse.
Tracy now holds a four-star rating from On3. He's listed at No. 200 nationally in the 2023 class and is the 23rd-ranked cornerback and top-ranked recruit in Connecticut.
10:04 AM – Another four-star LB signs in Kaveion Keys
Kaveion Keys
LB, 6-2, 190
Richmond, Va.
Varina
Keys earned an offer from Penn State in January. A Richmond, Va., native and standout at Varina High, he took an unofficial visit to State College in the spring but didn't truly emerge as a realistic option for the Nittany Lions until the end of June when he came for an official visit.
By that point, Penn State and North Carolina were the favorites, and Keys deliberated for nearly two months before choosing the Tar Heels.
The Nittany Lions kept pursuing him, however, eventually getting Keys back on campus for the Minnesota game in October. He stuck with the Tar Heels up until Dec. 8, just under two weeks from the start of the early signing period.
Although Virginia Tech did convince him to take an official visit, Keys opened up his recruitment knowing that Penn State was going to be the school that earned his signature. He privately committed to James Franklin during an in-home visit Dec. 11 and made a public announcement five days later during a ceremony at his school.
Ranked No. 177 nationally, Keys holds a four-star rating from On3. He's the 15th-ranked linebacker for his class and the third-ranked player in Virginia.
9:55 AM – Joseph Mupoyi officially signs with Nittany Lions
Joseph Mupoyi
DE, 6-4, 235
Washington, D.C.
St. Thomas More (Conn.)
A native of the Democratic Republic of the Congo, Mupoyi came to the United States to pursue a basketball scholarship. Enrolling at Archbishop Carroll in Washington, D.C., he played that sport for one year before his size and athleticism grabbed the attention of head football coach Robert Harris Jr. and his staff.
Playing alongside five-star prospect Nykoles Harbor, Mupoyi grabbed the attention of multiple Power Five schools. In addition to Penn State, he received offers from Miami, Michigan, Michigan State and Ole Miss shortly after his first season.
Ahead of his senior year, Mupoyi transferred to St. Thomas More in Oakdale, Conn. By then, Auburn, Louisville, Ole Miss and Virginia Tech were the main schools pursuing him, but Penn State's academic offerings and proximity to his host family in Washington, D.C., played big roles in Mupoyi committing on Dec. 12.
On3 has graded him as a four-star prospect.
"He's just an all-around amazing athlete," said former NFL wide receiver Josh Morgan, who coached Mupoyi at Archbishop Carroll. "He's eager to learn, physically gifted, athletically gifted, and he doesn't have any bad habits, because he's just learning."
9:39 AM – Penn State signs Alabama safety Dakaari Nelson
DaKaari Nelson
Saf., 6-3, 194
Selma, Ala.
Selma
When Nelson made the 14-hour drive on his own dime from his home in Selma, Ala., to State College to watch Penn State shut out Rutgers in November 2021, his interest in the Nittany Lions was evident. He joined the class in June 2022 after his second trip to Happy Valley. Despite late charges from Auburn and Ole Miss, Penn State was able to sign the versatile defensive back, who could eventually be a linebacker.
To start out, Nelson will fill the role of a big safety. He was a first-team Class 5A all-state selection following his senior season at Selma High and was chosen to play in the Alabama-Mississippi All-Star Game in December. He picked the Nittany Lions for a few different reasons.
"For one, the way they treated my family both times I went up there. I've got three little sisters from ages 4 to 12, and both times I went up there they made sure that they got what they wanted or needed, no matter what," he said. "Then, for two, the way that Coach [Anthony] Poindexter produces and develops athletes my size and at my position, that played a big factor in my decision."
Nelson is a three-star prospect according to On3. He's the No. 58 safety nationally and the No. 28 prospect in Alabama in the 2023 class.
9:27 AM – Mason Robinson keeps McDonogh pipeline strong
Mason Robinson
DE, 6-3, 230
Owings Mills, Md.
McDonogh
A three-star prospect from Baltimore, Robinson surprised many observers in May when he committed to Northwestern following an official visit. At the time, Penn State was considered a heavy favorite for the McDonogh School prospect, with Robinson having traveled to State College four times in a 10-month span.
This past fall, the Wildcats went 1-11 and addressed that disappointing performance by firing three assistants after the season, including their defensive coordinator and defensive line coach.
Robinson began having second thoughts and decided to give Penn State another look. He took an official visit Dec. 9-11 and ended up flipping his commitment to PSU just a few days later, on Dec. 13.
Robinson had a very impressive senior season at McDonogh, totaling 83 tackles, 15 tackles for loss and 9 sacks. Even before that showing, though, he had the attention of some big-time schools, including Georgia, Miami, Michigan, Oklahoma, Oregon and Tennessee. His top five leading into his original commitment had been Penn State, Northwestern, Pitt, South Carolina and Virginia Tech.
Robinson is the fifth player from McDonogh to commit to Penn State in the past five years, joining linebacker Curtis Jacobs, defensive end Dani Dennis-Sutton and defensive tackles PJ Mustipher and Dvon Ellies.
9:11 AM – Penn State signs Georgia speedster Cam Wallace
Cameron Wallace
RB, 5-10, 170
Mount Vernon, Ga.
Montgomery County
Running back Cameron Wallace was Penn State's final addition leading up to the early signing period, committing on Dec. 19. A late-riser, Wallace picked up his first Football Bowl Subdivision offer from Washington State at the end of September, Wallace went on to earn over a dozen offers total. In addition to James Franklin and his staff at Penn State, Georgia Tech, Indiana, Michigan State and West Virginia were among the more notable programs.
But once he took an official visit to Penn State in November the weekend of the Maryland game, the Nittany Lions were always the team to beat. Florida State and Georiga both showed interest, hosting him for unofficial visits, while Georgia Tech also hosted him for an official visit a few days prior to him signing. 
This past season, Wallace rushed for 1,221 yards, averaging 9.6 yards per carry and scoring 13 touchdowns. He earned a host of awards, including All-Region Player of the Year. He also grabbed the attention of coaches back in the spring, running the 100-meter in 10.56 seconds. 
On3 ranks Wallace as a three-star prospect. He's the 44th-ranked running back in the country.
8:53 AM – Penn State signs second-ranked TE Andrew Rappleyea
Andrew Rappleyea
TE, 6-4, 230
Millbrook, N.Y. 
Milton Academy
If you're looking for a player who could potentially make an early impact, look no further than Rappleyea. He's one of the most physically gifted players in the class, and his performance as a senior at Milton (Mass.) Academy illustrated that he has big-play potential. Rappleyea, a native of Millbrook, N.Y., totaled nearly 500 yards receiving and 6 touchdowns on just 23 receptions this past fall.
But even before he climbed to No. 2 at the tight end position in On3's national rankings, Rappleyea had the attention of top programs. Dozens of schools extended offers, including Florida, Michigan, Ohio State and Tennessee.
While Rappleyea always had high interest in the Lions, tight end prospects Mathias Barnwell and Joey Schlaffer were already committed, seemingly filling Penn State's needs at the position. Because of that, Rappleyea committed to Michigan in January.
In the spring, Penn State began showing an increased interest in Rappleyea. After multiple discussions, he switched his commitment to PSU, admitting that it was the school he originally wanted to play for.
In addition to being the second-ranked tight end in the country, Rappleyea is now at No. 80 overall in the On300. That makes him the third-ranked player in the class, according to On3.
8:45 AM – Penn State gets its five-star in OL J'ven Williams
J'ven Williams
OL, 6-5, 290
Reading, Pa.
Wyomissing
Penn State has landed more than its share of top prospects over the decades. Last year, the Nittany Lions welcomed three five-star players, and James Franklin has signed plenty of additional top-100 recruits since taking over the PSU program. However, one area at which the Lions have had difficulty landing elite talent is along the offensive line.
That all changed this year.
In addition to Alex Birchmeier and Anthony Donkoh, assistant coach Phil Trautwein picked up his highest-ranked prospect yet in Williams of Reading, Pa. Currently the sixth-ranked prospect in the nation according to On3, the Wyomissing High standout offers a rare combination of size and athleticism.
That was evident on the gridiron, of course, but also in track and field. Williams won the PIAA shot put and discus state championships, breaking a state record in the first of those two events.
As a football prospect, Williams earned offers from numerous top programs, including Michigan, Oklahoma, Oregon, Tennessee and USC. Rutgers and Virginia Tech were able to get him on campus in 2021, but Williams committed to the Nittany Lions early in the process, ending his recruitment on Feb. 5, 2022. An Adidas All-American, he'll enroll at Penn State in January.
8:32 AM – Penn State gets its QB in Jaxon Smolik
Jaxon Smolik 
QB, 6-1, 205
West Des Moines, Iowa
Dowling Catholic
A native of Des Moines, Iowa, Smolik emerged on Penn State's radar in July. Committed to Tulane at the time, the Dowling Catholic quarterback earned a late invitation to the Elite 11 Final in Los Angles and put together a very strong showing, one that earned him top-performer honors from multiple media outlets.
With three-star quarterback prospect Marcus Stokes having recently decommitted from Penn State, offensive coordinator Mike Yurcich shifted his interest to Smolik almost immediately. At the end of the month, Smolik traveled to State College to participate in PSU's final prospect camp. Competing against a few other 2023 quarterbacks that night, he exceeded expectations both athletically and as a passer.
Smolik left campus with an offer that evening but kept it quiet initially due to his commitment to Tulane. On Aug. 11, he backed out of that pledge and ended up switching to Penn State the following day.
After missing much of his junior season with a collarbone injury, Smolik wrapped up his high school career by winning first-team all-state honors as a senior. Completing 64 percent of his passes, he finished the year with 1,967 yards and 19 touchdowns.
Smolik holds a three-star evaluation from On3, ranking No. 36 overall at quarterback. He will enroll at Penn State in January.
8:23 AM – New York DT Tyriq Blanding makes it official
Tyriq Blanding
DL, 6-2, 265
Middle Village, N.Y.
Christ The King Regional
Penn State extended an offer to Blanding, a Middle Village, N.Y., native, in February. By then, the talented defensive tackle already held offers from 10 Power Five programs, a list that included Miami, Michigan, Oregon, Pitt, South Carolina and West Virginia.
By the spring, it looked as though he was less interested in Penn State than some other schools; he had visited seven schools in addition to PSU, all of which were further away from home than State College.
That started to change in May. Then, on the weekend of June 10-12, he took an official visit to Penn State. Blanding left campus without committing, but he didn't make the Lions wait very long, publicly announcing for PSU on June 17.
"I just like the environment there," he explained. "When I got to really see Penn State, it left a good impression on me. I wouldn't say I'd really been there until this last trip. I've been around Penn State, but seeing it this last time, I learned a lot. I thought it was just a bunch of farmland, but it's not like that. [Downtown] is great. The campus is great. It's the right place for me."
Blanding holds a three-star rating from On3 and is the second-ranked prospect in New York coming out of Christ The King Regional.
8:13 AM – CB Lamont Payne officially signs with Penn State
Lamont Payne
Saf., 6-0, 190
Bridgeville, Pa.
Chartiers Valley
One of the first to jump on board back in September 2021, Payne committed to James Franklin on the field before the Nittany Lions' win over Auburn. Penn State was the longtime favorite for the Bridgeville, Pa., prospect, who earned an offer during the spring of his sophomore year. He picked the Lions because of the combination of academics and athletics, as well as the coaching staff.
"It's a real close family up there, everything is a close-knit group," he said. "They show love and hospitality every time. You can tell that they care about you as a person and the type of player you are. They're not just the type of team and school that says they want you just to say it. They care about your values. Coach Franklin is amazing, and Coach Terry [Smith]. I established a great bond with them and just fell in love with the school."
Payne played on both sides of the ball at Chartiers Valley. While he was originally pegged as a cornerback by the Nittany Lions, he will likely play safety at the college level.
He had 524 yards and 3 touchdowns playing wide receiver this past fall and added 4 interceptions. He's a three-star prospect according to On3, checking in as the No. 77 cornerback nationally and the No. 16 prospect in Pennsylvania.
7:55 AM – Nittany Lions lock up Top 10 TE Joey Schlaffer
Joey Schlaffer
TE, 6-5, 215
Reading, Pa.
Exeter Twp.
The half-brother of former Penn State offensive lineman Michal Menet, Schlaffer knew as soon as he received his offer that he would end up signing with the Nittany Lions. There was, however, a point at which the Reading, Pa., native wondered if that offer was forthcoming.
By June 2021, Schlaffer had earned a number of quality offers. Arizona State, Maryland, Michigan State, Pitt, Tennessee and West Virginia were just a few of the more notable schools that were pursuing him. The Terrapins and Vols both had his attention, and he made trips to College Park and Knoxville prior to the start of his junior season.
But just a week after he checked out Maryland, Schlaffer attended Penn State's win over Ball State and left Beaver Stadium with an offer. He readily admitted at the time that it was a game-changer for him. He committed to PSU just six weeks later.
A four-star prospect according to On3, Schlaffer is the 10th-ranked tight end in the country and places No. 187 overall nationally. He played on Exeter Township's varsity team all four years and finished his career with 121 receptions for 2,502 yards and 30 touchdowns.
Schlaffer is set to enroll at Penn State in January.
7:43 AM – Four-star OL Anthony Donkoh officially signs
Anthony Donkoh
OL, 6-5, 315
Aldie, Va.
Lightridge
When Donkoh committed to the Nittany Lions back on Jan. 28, there wasn't much information to be found about the Aldie, Va., native. The Penn State coaching staff had hosted him for just one visit about two weeks prior to his announcement. His high school, Lightridge, had opened only a few years earlier, making him the first FBS prospect to come out of the school's football program.
Fast forward to the present day, and Donkoh appears to be one of Penn State's most impressive scouting jobs. Recruited by assistants Ja'Juan Seider and Phil Trautwein, he went from a little-known three-star prospect to a top-20 offensive lineman nationally by the time he signed.
"In terms of the actual ability level and improvement, I think he's got some pretty good upside and is showing signs of being an ascending player and just continuing to progress," On3 scouting director Charles Power said. "He's in the early stages of starting to really put it together as a player, which I think is really encouraging for Penn State."
Donkoh has a four-star rating from On3 and is the No. 273 prospect nationally, No. 20 interior offensive lineman and No. 5 player in Virginia. He is set to enroll at Penn State in January.
7:36 AM – Penn State signs four-star CB Elliot Washington
Elliot Washington
CB, 6-0, 195
Venice, Fla.
Venice
Elliot Washington's flip from Alabama to Penn State in July didn't exactly come from nowhere, but plenty of people were surprised when the four-star prospect from Venice, Fla., changed from the Crimson Tide to the Nittany Lions.
Washington visited State College the month prior and the Penn State staff was dogged in its approach to landing Washington.
"Penn State checked all the boxes for me and my family, on or off the field," Washington said. "The PSU staff has recruited me from day one. Coach Terry Smith has been in to visit me at Venice High School more than any college coach. I was able to evaluate and compare during my time with college coaches. I felt most comfortable with the Penn State coaches. Their entire staff recruited me, not just a position coach. They're just real genuine people, and my family felt the same as well. Me and my family are on the same page, so the time is now. That's why we decided to be a part of the Penn State family."
The Under Armour All-American came up one game short in a quest for a state title as a senior, but he finished the year with 56 tackles, 4 interceptions and 2 fumble recoveries. He will bring speed on the outside to Happy Valley, having finished third in the state in the 100-meter dash last spring with a 10.69-second effort.
Washington is a four-star prospect according to On3. He's the No. 144 overall prospect and the No. 16 cornerback nationally. He'll enroll at Penn State in January.
7:25 AM – Top defensive prospect Tony Rojas signs
Tony Rojas
LB 6-2, 195
Fairfax, Va.
Fairfax
There weren't too many verbal commitments that received the kind of fanfare that Rojas got when he announced for the Nittany Lions.
Just like classmate Jameial Lyons, Rojas attended Penn State's Beast of the East camp on July 30, 2021, and instantly became a coveted prospect for the staff, running a 4.4-second 40-yard dash and a 4.2-second shuttle.
Rojas said the Nittany Lions were the team to beat from that point on, but their supremacy was challenged this past spring when Clemson and Georgia both extended offers. Those two schools joined Penn State and Miami in his top four, but it ultimately came down to the Lions and Bulldogs.
After he took an unofficial visit to Athens, Ga., on June 13, speculation arose that the defending national champs could end up outdueling PSU for Rojas' commitment. Penn State was able to put that uncertainty to rest in the weeks that followed, though. Rojas took an official visit June 17-19 and committed on July 14.
A four-star prospect, Rojas had a monster senior season at Fairfax (Va.) High, totaling 2,239 yards rushing and 35 touchdowns. He also totaled more than 50 tackles, 18 tackles for loss and 13 sacks.
The Adidas All-American is set to enroll at Penn State in January.
7:18 AM – Top 100 OL Alex Birchmeier officially signs
Alex Birchmeier
OL, 6-5, 280
Ashburn, Va.
Broad Run
It's rare to see a player commit 18 months before he's able to sign his letter of intent and then actually stick to that pledge for the duration of the recruiting cycle. Plenty of players make their decisions early in the process, but most end up visiting other schools at some point.
That's not the case with Birchmeier.
An On3 four-star prospect from Broad Run High in Ashburn, Va., Birchmeier announced for Penn State in July 2021, becoming the first prospect to join the Nittany Lions' class. Considering that he's the fourth-ranked interior offensive lineman in the country and a top-100 recruit overall, assistant coach Ja'Juan Seider and Phil Trautwein deserve plenty of credit for keeping him in the fold; there were plenty of schools trying to steal him away.
Having earned more than two dozen offers, Birchmeier could have attended just about any school he wanted. Florida, Georgia, LSU, Michigan, Notre Dame and Ohio State were just a few of the schools that pushed hard, but by the summer of 2021, it was clear to Birchmeier and his family that Penn State was the school for him.
He was an Adidas All-American and was named to USA Today's All-USA Team. In addition to ranking among the top offensive line prospects in the country, he's an accomplished wrestler, having won the Virginia state championship his sophomore and junior years at heavyweight. He'll enroll at Penn State in January.
7:10 AM – Mathias Barnwell the first to sign
Mathias Barnwell
TE, 6-6, 245
Fredericksburg, Va.
Riverbend
A native of Fredericksburg, Va., Barnwell made history when he became the youngest player to ever commit to Penn State back in June 2020. Just a sophomore at the time, the Riverbend High prospect knew early on how well he fit in with the Nittany Lion football program, but pressure from other schools to look around, coupled with the departure of NFL-bound assistant coach Tyler Bowen, prompted Barnwell to reopen his recruitment in January 2021.
In the months that followed, he saw his offers nearly double. Michigan State, Notre Dame, Ohio State and Oregon all extended offers, but it was Virginia Tech that challenged Penn State the most. The Hokies hosted Barnwell on campus four times.
In the end, his ties with Penn State's coaching staff proved too strong to overcome. Barnwell recommitted to the Nittany Lions in September 2021.
Listed as an athlete by On3, Barnwell could play tight end or somewhere on the offensive or defensive line. He's the 23rd-ranked athlete nationally and holds a three-star rating. Barnwell will enroll at Penn State in January.