Penn State in the mix with dozens of prospects in latest 2024 On300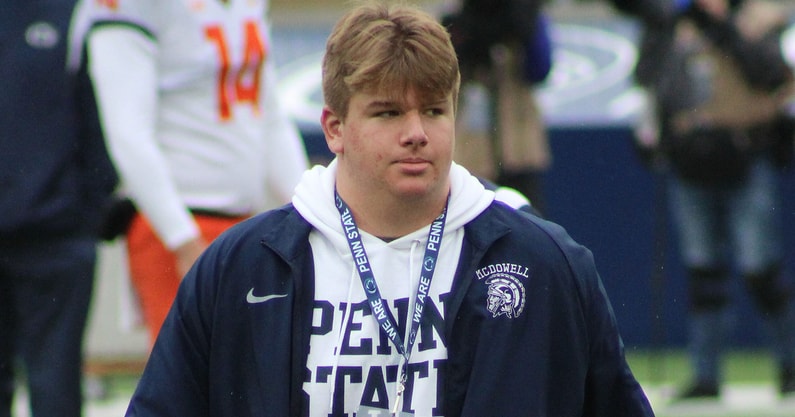 Penn State still has plenty of work to do in its Class of 2023, but James Franklin and his assistant coaches have been aggressively building relationships with prospects in the Class of 2024, too.
According to On3's database, the Nittany Lions have extended 184 scholarship offers so far in next year's class. That's among the highest in the nation, with Penn State on pace to hand out more than 300 scholarship offers in the class before it's all said and done.
But that aggressiveness has also led to plenty of visits. Since the start of January, Penn State has hosted over 100 potential scholarship prospects in the 2024 class. That number nearly triples if you go back to last June when visits were allowed again following the COVID-19 pandemic.
The quality of talent that they're after is also impressive.
That became even more evident Monday with the release of the updated On300 for the 2024 class. By our count, there are 54 prospects who are either located within Penn State's recruiting footprint or have already visited at one point who made the list.
The On300 includes Penn State's lone commitment in the Class of 2024, offensive lineman Cooper Cousins. The Erie, Pa., native ranks No. 220 nationally following the most recent update. Cousins did take a sizeable drop though, down 62 spots from his previous ranking of No. 158.
The top 100 includes many of Penn State's most important players in the class. There are a few Pennsylvania prospects as well, including Ath. Quinton Martin (No. 19 overall), WR Tyseer Denmark (No. 46) and DL Deshon Dodson (No. 91). Martin is from Belle Vernon in Western Pennsylvania, while Denmark and Dodson both play for schools in Philadelphia.
Two of Penn State's top quarterback prospects for 2024 also rank high on the list in IMG Academy's Jayden Bradford (No. 40) and Charlotte native Jadyn Davis (No. 75). Both Bradford and Davis have been on campus multiple times dating back to last summer.
Other notable top 100 prospects who have visited previously include DE Dylan Stewart (No.4), CB Ellis Robinson (No. 6), DL Jordan Thomas (No. 68), TE Brady Prieskorn (No. 69), Ath. Josiah Brown (No. 78), OL Liam Andrews (No. 82) and CB Braydon Lee (No. 87).
Penn State fans can check out the complete list of top prospects below.
Notable Penn State Prospects in 2024 On300
2) CB Desmond Ricks (Previously No. 2)
4) DE Dylan Stewart (Previously No. 5)
6) CB Ellis Robinson (Previously No. 9)
9) CB Bryce West (Previously No. 7)
12) OL Guerby Lambert (Previously No. 14)
19) Ath. Quinton Martin (Previously No. 16)
31) QB CJ Carr (Previously No. 35)
40) QB Jayden Bradford (Previously No. 28)
46) WR Tyseer Denmark (Previously No. 36)
47) QB Julian Sayin (Previously No. 44)
58) Saf. Vaboue Toure (Previously No. 83)
63) RB Stacy Gage (Previously No. 55)
68) DL Jordan Thomas (Previously No. 29)
69) TE Brady Prieskorn (Previously No. 61)
70) DL DD Holmes (Previously No. 53)
74) OL Jiavani Cooley (Previously Unranked)
75) QB Jadyn Davis (Previously No. 62)
78) Ath. Josiah Brown (Previously No. 107)
82) OL Liam Andrews (Previously No. 70)
83) OL Cam'Ron Warren (Previously No. 74)
87) CB Braydon Lee (Previously No. 52)
91) DL Deshon Dodson (Previously No. 67)
106) DL Caden Brown (Previously No. 89)
111) LB Aaron Chiles (Previously No. 45)
116) DE Makai Byerson (Previously No. 130)
119) OL Fletcher Westphal (Previously No. 171)
123) OL Luke Hamilton (Previously No. 124)
138) DE Dominic Nichols (Previously No. 119)
139) DE Jaylen Harvey (Previously No. 126)
152) Ath. Damarion Witten (Previously No. 140)
153) LB Kris Jones (Previously No. 146)
160) TE Tayvion Galloway (Previously No. 192)
161) QB Michael Van Buren (Previously unranked)
170) DE Brian Robinson (Previously unranked)
172) RB DeJuan Williams (Previously No. 191)
179) Ath. Emanuel Ross (Previously unranked)
183) WR Nick Marsh (Previously No. 189)
188) Saf. Jaylen McClain (Previously No. 232)
203) CB Kaj Sanders (Previously No. 195)
209) WR Keylen Adams (Previously No. 199)
218) WR Jonathan Paylor (Previously No. 203)
220) OL Cooper Cousins (Previously No. 158)
221) CB Ify Obidegwu (Previously No. 259)
234) OL Andre Weeks (Previously unranked)
240) TE Jahide Lesaine (Previously No. 269)
251) TE Luca Puccinelli (Previously No. 252)
254) QB Jacqai Long (Previously No. 160)
258) WR David Washington Jr. (Previously No. 227)
260) OL Peter Jones (Previously No. 228) 
262) WR Rico Scott (Previously No. 230)
270) DE Ernest Willor (Previously No. 179)
271) RB Tre McLeod (Previously No. 208)
277) CB Kenneth Woseley (Previously No. 250)
281) DE Anthony Reddick (Previously No. 215)
286) WR I'Marion Stewart (Previously No. 241)