What Penn State commitment to James Franklin means: BWI Daily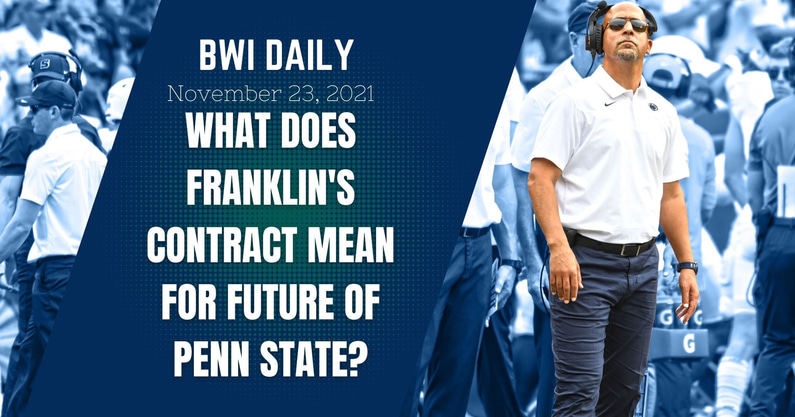 On Tuesday, Penn State University made a significant investment when the Board of Trustees agreed to a 10-year contract extension of football coach James Franklin. But, outside of the numbers, what does that mean for the trajectory of Penn State football? Host Thomas Frank Carr and senior editor of Blue White Illustrated Nate Bauer discuss just that.
Penn State's commitment to Franklin
T-Frank and Bauer focus on a portion of the press release issued by Penn State for the majority of the podcast. It reads,
"…we've been able to create a roadmap of the resources needed to address academic support, community outreach, Name, Image and Likeness (NIL), facility improvements, student-athlete housing, technology upgrades, recruiting, training table and more."
T-Frank starts by asking Bauer what each of those individual areas means to him and what projects may be implemented sooner rather than later. Bauer thinks an intentional list of items shows how this contract and Franklin's visions go just beyond facilities upgrades.
With the landscape of modern college football such as it is, T-Frank asks Bauer if there's a future for the Blue and White that is competitive but doesn't include over-building of facilities and luxury.
T-Frank also lists some facts and figures about the Nittany Lions head coach, including his recruiting resume, bowl record, NFL players, and recent win-loss record. Finally, he asks the question many Penn State fans have afterward; Is Franklin worth this investment?
What does this mean historically?
With all of the talk about investments, competition, and pushing the program into the future, T-Frank and Nate wrap up with a conversation about where this moment fits in Penn State football history.
Blue-White Illustrated podcast/video schedule:
Monday
BWI Live
BWI Daily edition with Thomas Frank Carr
Tuesday
Recruiting podcast with Ryan Snyder and Greg Pickel
BWI Daily edition with Thomas Frank Carr
Wednesday
BWI Daily edition with Thomas Frank Carr
Thursday
BWI Daily edition with Thomas Frank Carr
Friday
BWI Daily edition with Thomas Frank Carr and Ryan Snyder on latest recruiting news, best bets, and more
Saturday
BWI Live postgame show following Penn State football games