Will Penn State land a 2023 recruit today? Previewing Jameial Lyons' announcement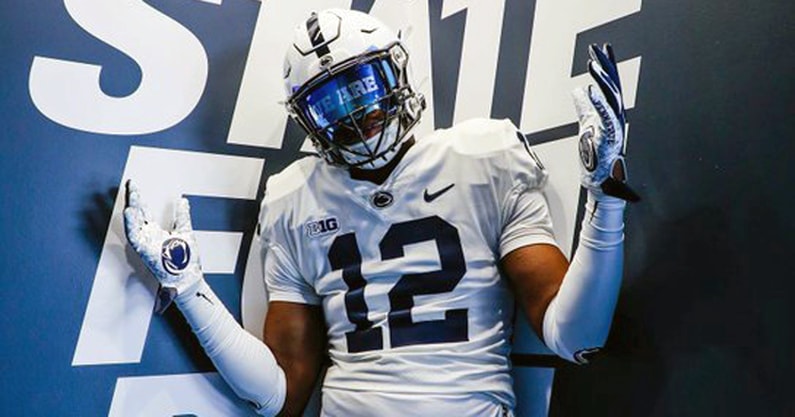 Penn State football is hoping to make its latest spring recruiting splash today.
The Lions have already picked up commitments from four-star tight end Andrew Rappleyea and three-star quarterback Marcus Stokes in the Class of 2023 in addition to transfer Demeioun Robinson.
Now, they are hoping to add Philadelphia Roman Catholic defender Jameial Lyons to that list.
Lyons was originally set to decide in August. However, last weekend, he shared on social media that he would make his college choice public much sooner than that. An announcement is expected at 1 p.m. ET Friday afternoon.
Here's everything you need to know to get ready for the day ahead.
Where Penn State stands in the Class of 2023 entering the day
Penn State has nine Class of 2023 commitments as of Friday morning. However, only one of them might play defensive line in the future. And, that really just depends on whether or not the Lions believe Mathias Barnwell should play offensive line or defense in college.
In other words, Lyons could be the first true defensive end to pick head coach James Franklin's program in this cycle. In fact, only one commit is a sure-fire defender at the next level: Chartiers Valley corner Lamont Payne.
Who are the contenders for Lyons?
The 6-foot-4, 255-pound On3 Consensus three-star has offers from all over. But, West Virginia and Rutgers were seemingly the only two true contenders besides Penn State.
What he's said about Penn State
Lyons recently shared with BWI a part of the conversations he has had with Penn State head coach James Franklin.
"Every time I'm there, we have a talk before I get on the road," Lyons said. "His message is always that the best in PA stay in PA.
"Me personally, I think that's the truth. You can see that a lot of their key players, especially from this last class, the 2022 class, there are a lot of really good Pennsylvania guys there. We also talk about academics, me as a football player and what I want to be in life."
On3 Recruiting Prediction Machine has a clear favorite
The On3 Recruiting Prediction Machine makes Penn State the runaway favorite to land Lyons. BWI recruiting insdier Ryan Snyder has had a pick logged for the defender to pick PSU since March. And, he has visited the Lions a handful of times as a recruit, including twice in April.
For those unaware, here's an explainer of what the On3 RPM is from On3 senior recruiting editor Jeremy Crabtree:
"The On3 Recruiting Prediction Machine was released to the public in December. The On3 engineering group teamed up with Spiny.ai to create the industry's first algorithm and machine learning-based product to predict where athletes will attend college.
It factors in machine learning, expert predictions, social sentiment, visits, and historical trends. However, expert predictions are still a big piece of the RPM equation."
Final word
Penn State looks primed to reel in another top target in the Class of 2023 today. Everything, from the RPM predictions to the visit counter and just about everything in between points in the Lions directions for Lyons.
Stay tuned to Blue-White Illustrated for continuing coverage before, during, and after the scheduled 1 p.m. announcement.