Live updates: Shane Beamer weekly press conference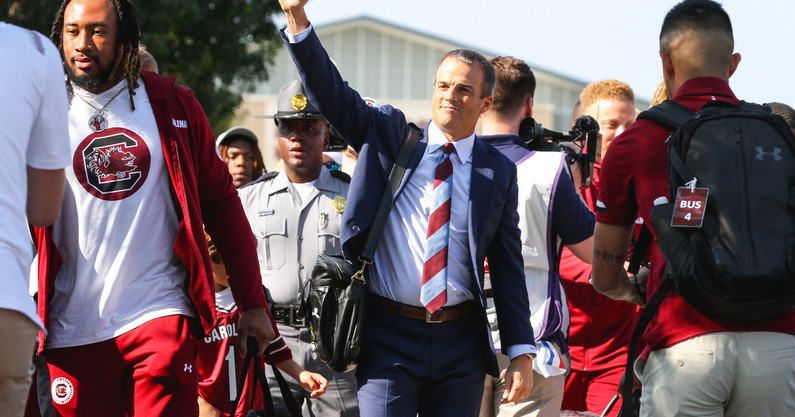 After consecutive losses, South Carolina enters week four looking for a win against Charlotte.
The first part of game week is Talking Tuesday, which the Gamecocks will start at 1:30 p.m.
Head coach Shane Beamer will meet with the media starting then with full coverage coming up on GamecockCentral.
Follow along with live updates here.
South Carolina State game time announced
The final game of South Carolina football's three-game home stand officially has a kickoff time.
WIN! Framed picture of Williams-Brice Stadium signed by George Rogers
The Gamecocks' Oct. 1 game against South Carolina State will kick off at noon and it will be aired on SEC Network, the SEC announced Monday.
This is the first time in over a decade these two programs have met on the football field. The Gamecocks are a perfect 2-0 against the Bulldogs. South Carolina won 39-3 in 2007 and the most recent game was a 38-14 win in 2009.
The Gamecocks are 0-2 in noon ET kicks, albeit both of those came against teams currently ranked in the top 10. The Gamecocks is currently 1-0 in night games with a 21-point win over Georgia State.
The Gamecocks lost by 14 at Arkansas and 41 to Georgia this weekend.
Special: Get a year of Gamecock Central for $10 or a month for $1!
Before that, though, South Carolina will host Charlotte at 7:30 p.m. this Saturday. The 49ers started off with three straight losses this year, all of which were by double digits.
Charlotte got its first win of the season this past weekend, going on the road and toppling Georgia State 42-41.
After South Carolina State, though, the Gamecocks have seven games against Power 5 competition with six straight SEC games. They head to Kentucky Oct. 8 with the bye week after that.
Click here to follow the Gamecock Central YouTube page!
Then come home games against Texas A&M and Missouri before road tilts at Vanderbilt and Florida. The Gamecocks' final home game is Nov. 19 against Tennessee before rounding out the regular season at Clemson.