How it Happened: Jared Dickey & Chase Dollander lead Vols to easy 12-2 win over Dayton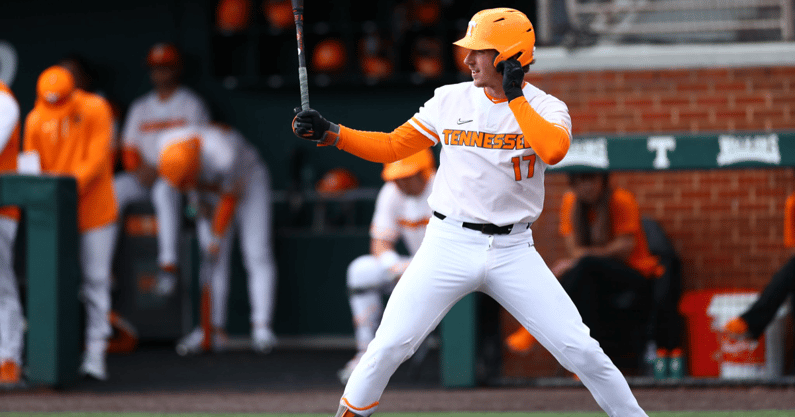 Tennessee played well through distractions on Friday night, handling the Dayton Flyers 12-2 for the first in a three-game weekend here in Knoxville. The Vols have now won four games in-a-row, outscoring their opponents 52-3 in the process.
The Vols finished the outing scoring 12 runs on 12 hits, taking advantage of five defensive errors from Dayton on the night. Tennessee was without head coach Tony Vitello – who was announced to be suspended for the entire series prior to first pitch – and short stop Maui Ahuna.
Still, there were no issues on the diamond. How did it all play out on the field? Find out below.  
Scoring Summary
Top 1st: Chase Dollander struck out Keagan Calero and Michael Adair for two quick outs. Walked Ben Jones and then surrendered a two-run home run off the bat of Marcos Pujols.
2 R, 1 H, 1 E, 0 LOB — Score: Dayton 2, Tennessee 0
Bottom 1st: Jared Dickey and Christian Moore reached on consecutive walks. Blake Burke singled to right and Jared Dickey is thrown out at home for the first out. However, video review showed Dickey safe at the plate, so runners remained at the corners with the Vols on the board. Zane Denton followed with a sacrifice fly to right field, brining in Moore from third base.
2 R, 2 H, 0 errors, 2 LOB — Score: Tennesse 2, Dayton 2
Bottom 3rd: Griffin Merritt walked with one out. Cal Stark doubled down the left field line to put both in scoring position. Kyle Booker struck out. Austen Jaslove singled in two with a hit to left field. Charlie Taylor doubled in Jaslove with a missile to center field. Jared Dickey followed with a two-run home run to straight-away center field. Christian Moore walked, stole second base. Blake Burke another deep flyout to center field.
5 R, 4 H, 0 E, 1 LOB – Score: Tennessee 8, Dayton 2
Bottom 4th: Griffin Merritt launched a solo home run, his first in a Tennessee uniform, with one gone.
1 R, 1 H, 0 E, 0 LOB — Score: Tennessee 9, Dayton 2
Bottom 7th: Charlie Taylor walked and then later stole second base. Jared Dickey reached on a fielding error by the first baseman and Taylor comes around to score on an errant throw from right field. Christian Moore struck out swinging. Blake Burke grounded out to the short stop. Zane Denton tripled to the center field wall, scoring Dickey from third. Griffin Merritt struck out to end the frame.
2 R, 1 Hit, 2 Errors, 1 LOB – Score: Tennessee 11, Dayton 2
Bottom 8th: Jake Kendro added a pinch-hit solo home run down the left field line.
1 R, 1 H, 0 E, 0 LOB – Score: Tennessee 12, Dayton 2
The Final Stats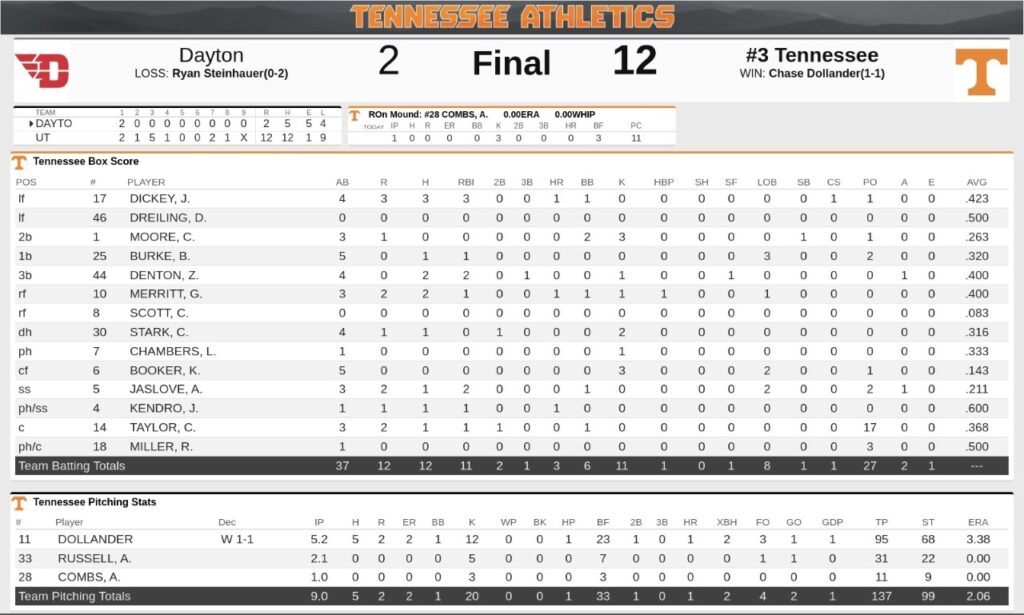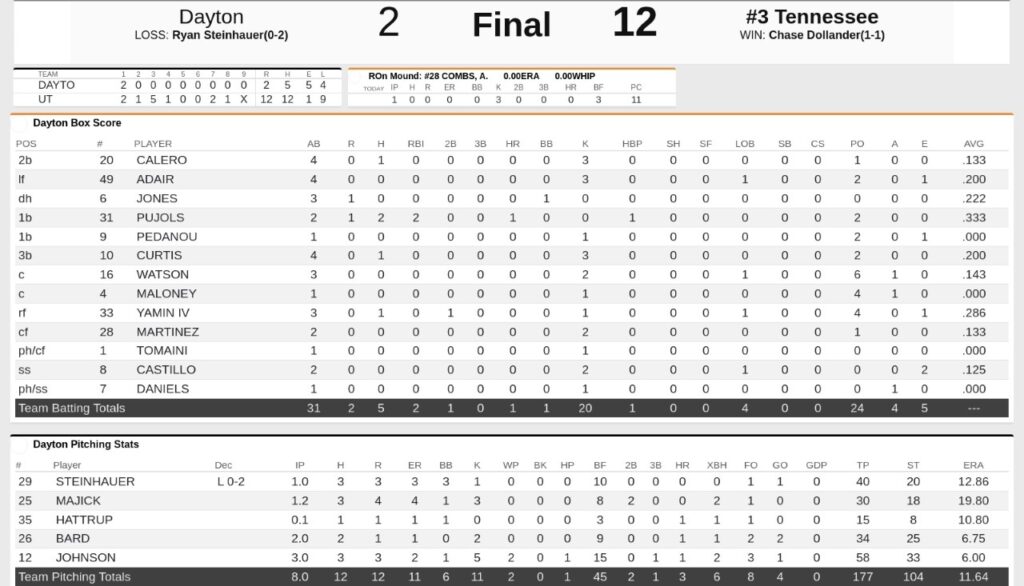 Postgame Video
Tennessee's game schedule this week
Tuesday: No. 3 Tennessee 10, Alabama A&M 0 | 8 innings | Box Score | How it Happened | Four Takes
Wednesday: No. 3 Tennessee 23, Alabama A&M 1 | 7 innings | Box Score | How it Happened | Four Takes
Friday: No. 3 Tennessee 12, Dayton 2 | Box Score
Saturday: No. 3 Tennessee vs. Dayton | 2 pm ET | SEC Network+
Sunday: No. 3 Tennessee vs. Dayton | 1 pm ET | SEC Network+
Tennessee in the polls this week
D1 Baseball – No. 3
Perfect Game – No. 5
Baseball America – No. 6
Collegiate Baseball – No. 11
NCBWA – No. 11