As Texas enters its final Big 12 slate, Steve Sarkisian emphasizes the need to be in 'attack mode'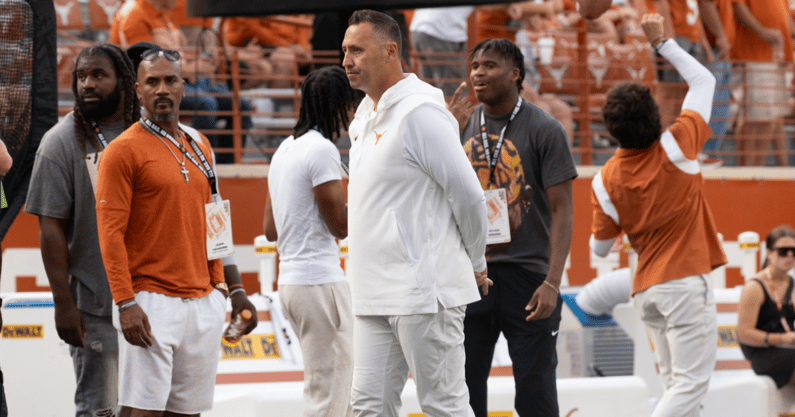 The last few years of "talking season," the part of the college football calendar that is just before the beginning of training camp, has been filled with stories about conference realignment. Considering Texas' 2024 move to the Southeastern Conference, the Longhorns have been a central figure in those accounts.
[Join Inside Texas and get ONE MONTH of Longhorn intel for just $1!]
Texas' upcoming move has been covered in a variety of ways, with much of the attention critical in nature. Many have laid responsibility for the seismic shifts in the sport at the feet of the Longhorns, both justifiably and often unjustifiably. Parties that have taken this route include schools who will remain in the Big 12 once the Longhorns (and the Oklahoma Sooners) leave for the SEC in 287 days.
Baylor is one of those schools, and Baylor will be the first Big 12 program to have a chance to knock No. 3 Texas off its current pedestal this week. Texas head coach Steve Sarkisian knows the reception for the Longhorns' first night game in Waco in 20 years won't be a friendly one.
"Now more than ever are there horns down," Sarkisian said Monday. "Now more than ever are there 'who cares about Texas? Let's take one more shot at them on the way out.' We can't sit here and be a punching bag. We have to walk in there, be in attack mode, and make sure we're built for the environment."
This Saturday's matchup with Baylor is the final scheduled game between the two schools. The Longhorns have a number of out-of-conference games scheduled out to 2033, but none of them are with teams that are part of the Big 12's current or future membership.
That decision isn't one Sarkisian has authority over. But because of that decision, Sarkisian knows McLane Stadium will be boisterous when the Longhorns and Bears kick off under the lights in Waco.
"I think we just need to understand what we're walking into," Sarkisian said. "We're going to go into Baylor here Saturday night on the road. It's been well-documented that as of right now, (that's) the last time we're going to play Baylor and the last time we're going to go there. We understand the environment we're walking into, and we can't be fearful of that. We have to embrace it, we have to walk in there and be ourselves, and play our brand of football, but understand what we're going into."
After the matchup with the Bears, Texas will have eight more games in conference play and potentially nine if the Horns make the Big 12 title game. Six of those games will be versus longtime members of the league. Three will be against former members of the Southwest Conference.
All of those teams have great reason to get their last and best shot in on the Longhorns.
"Like I touched on with the team, the Big 12 doesn't care that we're 3-0," Sarkisian said. "The Big 12 doesn't care that we're ranked No. 3 in the AP poll. We are 0-0 in Big 12 play. This week, we've got to do everything in our power to try to get to 1-0 in a hostile environment against a really well coached team, a veteran team. It's going to take a lot of poise and composure, and we're going to need to play a complete game."
DJ Campbell
Sophomore offensive lineman DJ Campbell has started at right guard in all three of Texas' games this season. Cole Hutson spelled him and even appeared in more snaps versus Alabama after not playing versus Rice, but he left the most recent contest versus Wyoming due to an injury.
Sarkisian said Monday that Huston would miss a few weeks. That means Campbell will get the call all game at right guard, and Sarkisian hopes the former five-star will be able to shore up his play and reduce the number of miscues he has made.
"There's been some really good moments and there's been a handful of games each game where we watch with him and there's that level of frustration of 'you're better than that,'" Sarkisian said. "I think the challenge as always for young players (is) to play with consistency. It's not about talent. It's not about want-to. DJ is a physical guy. He's imposing on the interior offensive line. He can really move people but we're just trying to minimize those one-off errors that pop in every once in a while."
[Sign up NOW for the Inside Texas newsletter for Texas Longhorns daily updates and breaking news in your inbox!]
Turnover margin
Texas is tied at No. 8 in the country in turnover margin thanks to six turnovers forced and only one turnover lost. The Longhorn defense has recorded six takeaways in the first three games, with Jerrin Thompson accounting for the most recent one with his pick-six versus Wyoming.
Quinn Ewers and the running backs almost made it through the first three games of the season without giving the ball to the other team, but Jaydon Blue's late fumble with six minutes left versus Wyoming marked the first giveaway of the year.
The Cowboys failed to score any points off of that turnover. Aside from Blue's fumble, Sarkisian has been pleased with how his quarterback and his offense has protected the football.
"I know we had the one turnover really late, but inevitably we're really taking care of the ball," Sarkisian said.
Where Texas is excellent in creating turnovers, Baylor is almost as proficient in giving the ball away. The Bears are tied at No. 79 in turnover margin having given away the ball five times and turning over opponents like Texas State, Utah, and Long Island on four different occasions.
Starting Baylor quarterback Sawyer Robertson, who steps in for Blake Shapen this week, has thrown three interceptions this season. The Longhorns look to make it four (or five, or six…).