Get to know 2023 Texas commit Connor Stroh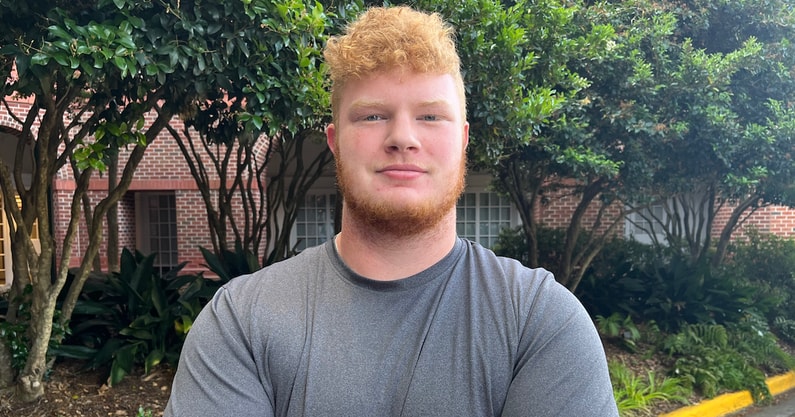 Whether you're a diehard recruiting fan in need of a refresher or a casual fan in need of only the particulars, this will be the series for you. 
[Get FOUR MONTHS of Inside Texas Plus for $1!]
The first national signing period for college football runs from December 21-23. That puts it a week later than normal, which allows you even more time to familiarize yourself with the next class charged with helping restore Texas back to national prominence. 
The preceding 2022 class is already off to a good start, but the way to win at a consistently high level is to stack talented class after talented class. At all times you need young players developing, creating competition, and providing valuable depth before becoming quality starters. 
The top 5 contending 2023 class is just what Texas needed after the top 5 2022 class.
In the lead-up to NSD1, Inside Texas will offer profiles of each member of the 2023 signing class.
First up, Connor Stroh.
The Player: Connor Stroh, OL, Frisco (Texas) Wakeland
The Rating: 88.25, On3 Consensus three-star
The Ranking:
The Recruitment: Texas got an early jump on this recruitment as Stroh's first offer. Arkansas was also in the picture. Those two data points are big as Kyle Flood and Sam Pittman are two of the best O-line coaches in the country. What made things interesting is Stroh is an Aggie legacy, though the Aggies offered late in the process. Although he camped and took an official visit to A&M, he committed to Texas soon after.
The Projection: Stroh is a mammoth, built similar to a tall powerlifter (another sport he partakes), so he clearly fits Texas offensive line coach Kyle Flood's size preferences. What makes his projection a little difficult is his trend line. Normally guys with his size trend toward sure-fire guards, however he has been dropping weight from a high of about 380 pounds accumulated while injured. Multiyear interior starter after a couple of years of strength and conditioning is still the best bet, however S&C can be the difference maker that blows up the eval and projection and makes him a right tackle.
The Reasoning: "I picked Texas for a variety of reasons but the main reasons include my connection with the coaches – all of them – but especially Coach Flood and Coach Sarkisian. They were my first offer and it was always very clear they wanted me and saw my potential. Coach Sark was at one of my games early my junior season – he was there to see Anthony Hill but he saw me too and I was offered shortly after. I was just getting back to football after a very long injury. The recognition of potential is important to somebody who is not 100 percent yet but they took the time to really take a look at me. I also really like Austin and the entire program makes me feel like I am home. Texas will be known as offensive line U soon." – Connor Stroh
The Relationship: "Coach Flood understands how to relate to recruits in a way that makes you feel comfortable and confident that you will be developed to your potential – whatever that is. You know he can be demanding, direct and truthful but in all the right ways. I want a coach like that." – Stroh
The Education: "I will be pursuing a degree in business finance." – Stroh
The Final Word: We believe the tide began turning during this April weekend. When Arch Manning and commits from 2022 and top 2023 OL targets watched practice on Saturday morning, Stroh knew being a bodyguard for the nation's No. 1 overall prospect began looking brighter.