Preliminary notes and thoughts on Texas Tech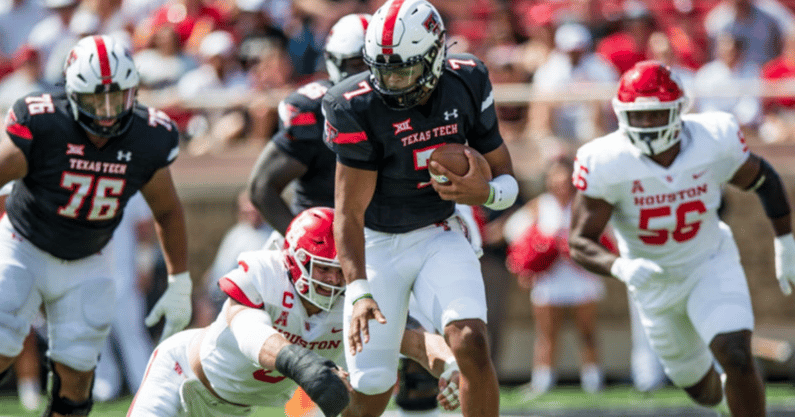 This sets up as an interesting contest — in part because it's UT's first road test — but one Texas should win. Texas Tech has some good things going for it, but also some glaring, debilitating issues.
[Get ONE MONTH of Inside Texas Plus for $1!]
The most important thing a head coach does is assemble a staff and first time college head coach Joey McGuire did that when he hired veteran defensive coordinator Tim DeRuyter and Zach "The Next Big Thing on Offense" Kittley. Rather than coaching, their issues are one many new head coaches face, roster talent.
What Tech lacks in talent they make up for in experience, except at the most important position on the field — quarterback.
Sophomore Donovan Smith, filling in for injured senior Tyler Shough, sets the floor and ceiling for the program. He is talented with a physical and athletic presence but he's also mistake prone to say the least. He's already thrown five interceptions with two being returned for touchdowns. That's the same number of pick-sixes Texas has on the season. The Texas defense will routinely test his decision-making, internal clock, and processing speed, but he'll also make some throws that will raise your eyebrows. We talk about Quinn Ewers and the potential for both WTF? and WTF! throws. That is more aptly applied to Smith. He will in turn test UT's discipline against a mobile quarterback, the fourth one the defense will have faced in a row. While he makes mistakes, he'll also work the whole field and string together good passes. Besides his relative inexperience (he started four games last year), his biggest issue is lack of surrounding talent.
Tech's O-line has experience, especially with senior left guard Weston Wright returning, but they are not good at run blocking or in pass protection. Left tackle Caleb Rogers was absolutely abused by Houston's Derek Parrish to the tune of 4.5 sacks and 6.5 tackles for loss. I can't for sure say all that work came against Rogers but most of it did. Rogers makes mistakes the Texas coaching staff will be pointing out this week. Tech's O-line gave up four more sacks to NC State this past Saturday, one on a bad slide protection that reminded me of the Herb Hand days.
The Red Raiders run game is off to a sluggish start. Tahj Brooks has been more productive, but Sa'Rodrick Thompson looks to be the more dangerous back. He has more wiggle, and is more of a threat to bounce it outside. Both run with power and effort, but Brooks is stiffer and more of a North-South runner who depends on predictable running lanes that will be hard to come by. Brooks does have pretty good feet. They will throw to both backs. This should be a fun game for the Jaylan Ford and Diamonte Tucker-Dorsey in the triangle. Wrap up fellas, these dudes run hard.
The wide receivers and tight ends are huge, but not all that dangerous. I wrote in my notes they have a couple of Casey Cains but that's probably a little unfair to Jerand Bradley. Bradley is a quality, big target. Myles Price is solid and Loic Founji has some tools. They just don't appear terribly dynamic and given issues elsewhere they don't always have time to get open. Tech opponents have created some coverage sacks, too. UTSA's wide receivers are as good.
Where as the O-line seems to lack cohesion, the defense is on the same page early in DeRuyter's tenure. It helps having 10 seniors starting.
I like Tech's defensive line. They're stout at the point of attack. That make sense, two of them, Jaylon Hutchings and Tony Bradford are in the 6-foot, 300 pound range. That's not an easy body type to move. They also have some depth. One-time Texas target Phillip Blidi is active in the interior.
If Texas could trade for one Big 12 player I'd want it to be Edge Tyree Wilson. He lines up on both sides so he'll work against new-and-improved Christian Jones and future freshman All-American Kelvin Banks. He's big, powerful and uses his length to his advantage. He also bends well which he turns into power in what often amounts to a very straightforward rush. After an 11 tackle outburst versus NC State he leads the team in that category. He looks the part and plays the part. He made two clear NFL plays last Saturday. One was a long-arm he used to discard NC State's quality left tackle on his way to the quarterback, and another time he knocked the offensive tackle backwards, forcing a tackle on the running back with OT's back side.
At linebacker, super senior Krishon Merriweather seems to be the leader on defense. He's solid, but unspectacular. Ditto for fellow super senior Kosi Eldridge. Tech lost promising junior Bryce Ramirez to a horrific leg injury last week. That seemed to have shaken up the team. That's unfortunate for obvious reasons but in limited viewing he seemed to be a quality player coming off the edge so that's a loss as they need someone to complement Wilson.
The secondary is very experienced but is missing corner Adrian Frye. Both corners are listed at 6-foot-3. These guys aren't going to beat themselves but I think there are plays to be made down field if receivers are given a chance.
Safety Dadrion Taylor-Demerson is the second best player on defense. He doesn't really have a weakness that I've seen. He both covers and tackles well. He has good field awareness and had a big forced fumble last week that led to a touchback and a PBU in the end zone the previous week against U of H. Good player, possible pro.
After watching 7 or so quarters of Tech football, I think the new staff has done a solid job of working with what they have but they definitely need more consistency from quarterback and to improve baseline talent pretty much across the board.