Replacing rushing production a key task for Texas this spring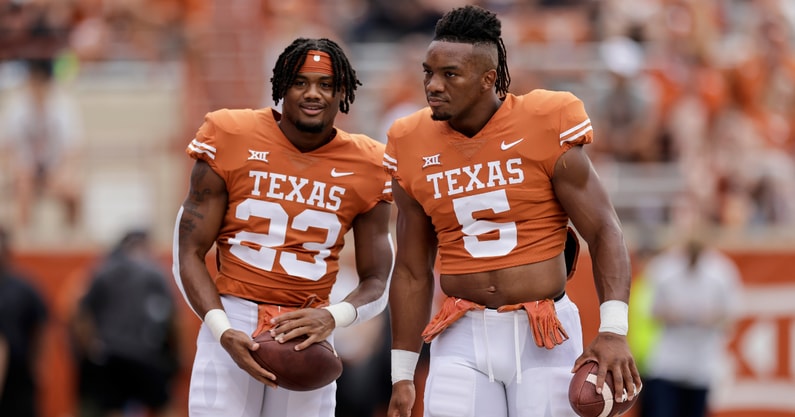 As former Texas running backs Bijan Robinson and Roschon Johnson prepare to hear their names called in the 2023 NFL Draft, Longhorns head coach Steve Sarkisian and running backs coach Tashard Choice are using spring practices as a way to determine how to replace the combined 6,851 career yards and and 57 total touchdowns that will no longer be in the position group.
[Get Inside Texas Plus until 8/31 for just $29.99!]
Robinson and Johnson leave not only a sizable leadership void, but a production void as well. Robinson, the 2022 Doak Walker Award winner and a unanimous first-team All-American, tallied 1580 yards and 18 touchdowns on the ground last season. Johnson himself rushed for 554 yards and five scores.
Those two were responsible for almost 90 percent of the Longhorn rushing yards in 2022. Texas is left to find their successors from the players who produced the remaining 10 or so percent.
"We had a real luxury with Roschon and Bijan," Sarkisian said on March 6. "Those guys were natural route runners, could catch the ball, and were very smart and could line up all over the field. We like that in our offense. We have to generate that, we have to recreate that in different ways and that's one of the ways that we can."
Several times during his sessions with the media, Sarkisian claimed he's had a 1000-yard rusher every year as a college football play-caller. There are two holes in that claim but there's no doubting the overall trend that Sarkisian's offenses are conducive to counting stat production for running backs.
"At the end of the day, somebody is going to carry that ball and the team's going to believe in that guy to carry the ball," Sarkisian said.
But with the departure of Robinson and Johnson, who that player is remains unclear, at least at the current juncture.
Jonathon Brooks and Keilan Robinson, two backs who were in the room last season, are thought to be the top candidates to step into that featured back role. Brooks was the third-leading rusher on the team, tallying 197 yards on 30 carries with five touchdowns, and catching a single touchdown pass. Robinson wasn't utilized as a standard down running back save for the Alamo Bowl or blowouts. His 45 touches last year were split almost evenly between receptions and carries.
However, both of those players were on the mend during the first week of spring practice, with Brooks recovering from an offseason hernia surgery and Robinson nursing a groin issue.
In their place, Jaydon Blue has received first-team reps with true freshman CJ Baxter functioning as the second-team rusher. That duo has garnered praise from players and coaches alike.
"Our running backs are extremely talented," Texas offensive lineman Christian Jones said on March 8. "They're learning the playbook really fast. They're hitting the ground running and they're looking really good out there, all of them."
Said linebacker Jaylan Ford on the same day, "Blue has been killing one-on-ones. Ced is looking good out there running the rock."
[Sign up NOW for the Inside Texas newsletter for Texas Longhorns daily updates and breaking news in your inbox!]
In their opportunities, Ford did notice something likely obvious to the casual observer while providing praise.
"They're not as developed as Bijan and Ro were, but I think you can definitely see the improvement, the steps they're taking, and the mentorship of Coach Choice is definitely rubbing off on them," Ford said.
Sarkisian mentioned on March 6 he feels good about Blue and his development. He further elaborated on March 10 about the progress made by the second-year player who rushed 15 times for 33 yards last season and is growing more accustomed to between-the-tackles work.
"I've been pleased with Jaydon, not only the physical maturity but I think the mental maturity of how to attack every day," Sarkisian said. "I thought he did a really good job last year of really learning from two great guys to learn from in Bijan and Roschon, but also Keilan and Jonathon Brooks. Now, as we're monitoring Keilan and Jonathon, Jaydon is getting a lot of the first-team reps. You can see a lot of the things that we've been working on a year ago come to life."
Baxter was hyped up by Sarkisian as well following March 6's practice: "I think CJ has provided a real mature mindset to everything that he does. He doesn't feel like a freshman right now. He works hard in winter conditioning. He's got a 4.0 GPA. He went out and practiced no-nonsense today. All those things are positives are the things we thought he would be in recruiting."
In addition to that top four that only had two players as full participants in spring practices, Texas moved Savion Red from wide receiver to running back.
That move was made in search of a player who not only can carry the ball and get tough yardage in inside zone or power plays, but who can also catch a wheel route out of the backfield or run a route split out wide. That doesn't apply solely to Red; it applies to the whole room.
"The goal is we have a guy that can do both, that maybe we can put some pressure on defense when he's on the field," Sarkisian said March 6.
Bijan Robinson accumulated 277 total touches last year, while Johnson added 107. There was a clear No. 1a and No. 1b in the running back room thanks to the duo's leadership ability and skill set that let them attack defenses in multiple ways.
Is Sarkisian looking for a similar set up?
"If it feels like one guy can be the feature guy, that would be great," he said on March 10. "If we use two or three guys in there that play and complement one another, I think we'd be okay with that."
Running back is the only offensive position not returning a starter from the 2022 Longhorns. Upcoming practices are key to seeing if there is a player who can do some of the things Robinson and Johnson were tasked with.
Luckily for Texas, there's no rush to find out who that player is quite yet.
"Time will tell, and we have time to get to that point," Sarkisian said.