A New Year Brings a New Result in USC - UCLA Crosstown Showdown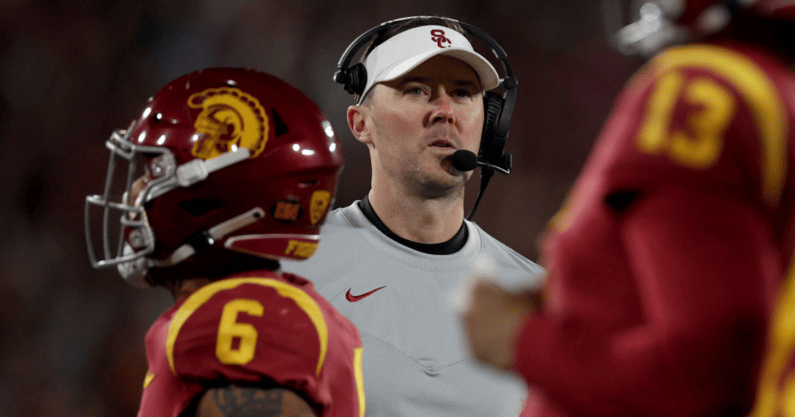 It's been a long time since the USC Trojans posted a win with more meaning behind it than this one against the UCLA Bruins. With the 48-45 win over UCLA, USC posted its first 10-win season since 2017, booked a spot in the Pac-12 Championship Game and announced itself as a real competitor for a spot in the College Football Playoff.
On November 20, 2022, WeAreSC is writing stories about a team one win away from a conference championship, about to be ranked among the top six teams in the country. On November 20, 2021, the headline on WeAreSC read: "USC has no answers for UCLA in another historic loss."
What a difference one year, a head coach, 20 transfers and a new culture can make
USC center Brett Neilon said after this win against UCLA he didn't imagine after last season that the Trojans would be playing in the Pac-12 Championship game in 2022. But the opportunity to do so helped him push a little harder for 60 minutes against the Bruins.
"Putting ourselves in a position to clinch a trip to Vegas against our rivals in the Rose Bowl and a sold-out crowd," Neilon said. "What's better than that? That's why I signed with 'SC many years ago, for games like this…I love this school. I love this team. And I'm really proud."
USC head coach Lincoln Riley has taken time over the past few weeks to call attention to just how much this program has improved in just one year. He stops short of slamming where this program was in 2021, but it's clear he did not take over a turnkey situation.
Riley said bagging the 10th win this season and going to the conference championship game is "very, very meaningful."
Riley refers to conference road wins as being like gold. This one might be more like a diamond.
"This is one of the toughest things to do in football, is beat a good football team on senior night at their place," Riley said. "And with all that was riding on it on top of it, for us to find a way to get it done. It was a clutch performance by our team and a big-time win."
Same New Trojans
If you've seen a USC game this season, you likely weren't surprised by what you saw from the Trojans on Saturday night. This is one of the best offenses in the country. It's a leaky but opportunistic defense. And it's an entire team of players that does not get down and will not give up.
USC got absolutely clobbered in the first quarter. The Trojans got stuffed on a 4th-and-1, missed a short field goal and threw an interception. UCLA had a 14-0 lead on a 14-play, 80-yard drive and a one-play lightning strike after the turnover.
The Trojans didn't cower. Riley said he loved how the team responded to that early adversity.
"Being down 14-0 and not even flinching, not even thinking about flinching," Riley said when asked what stood out about his team in this one.
Riley actually semi-predicted that situation. At least, he specifically prepared his Trojans for the possibility. Riley said he spoke to the team Friday night and told them about a game last year at Oklahoma where he and the Sooners trailed 28-7 at halftime.
"We're capable of being down," Riley said he told the Trojans. "We can make a lot of great plays. But we can make some mistakes, too…You can't write the script first. You just have to be ready to respond, and respond with discipline. And for us to respond like that over and over…"
Riley trailed off and immediately shifted into shoving credit for the win onto players who hadn't been yearlong starters or massive contributors this season. Yes, Caleb Williams and Jordan Addison carried a huge portion of the offensive load. And Shane Lee led the team with nine tackles and both he and Mekhi Blackmon logged interceptions.
But Austin Jones came into this game with 335 rushing yards and three touchdowns. He piled up 120 rushing yards, 57 yards receiving and two scores. Kyle Ford had 12 receptions in eight games and then made three huge plays against the Bruins, including an impressive and important touchdown grab. Running back Darwin Barlow has been relegated to blowout time all season before coming in with a long run and tough touchdown run. And Korey Foreman hadn't had a true signature play this season before becoming a huge figure in this USC – UCLA rivalry with a game-winning interception.
"We keep talking about the closeness, culture, togetherness of this team and I think it was on full display tonight," Riley said.
Talking the Talk
USC players downplayed any thought of trash talk this week. Several said they hadn't heard UCLA quarterback Dorian Thompson-Robinson say the Bruins wanted to put 60 points up against the Trojans again this season. While some USC players might not have heard it, Neilon did.
"We heard all their stuff," Neilon said. "You can tell those teddy bears we beat them. They can say whatever they want, do whatever they want. We run LA. So, I'm happy."
Ford specifically remembered Thompson-Robinson signing a fan's hat after a touchdown run in the Coliseum last season.
"That's not fun," Ford said of the 62-33 defeat last year. "It's not fun to lose at home and have people signing hats during the game."
Ford credited the Trojans for keeping their poise throughout the game and delivering a win in a game that means so much to him and the other players who grew up in Southern California.
"I used to be seven years old, crying if we lost this game, and I wasn't even on the team," Ford said. "But I mean, we're not crying today."