Jordan Addison Gets First-Round NFL Draft Grade from ESPN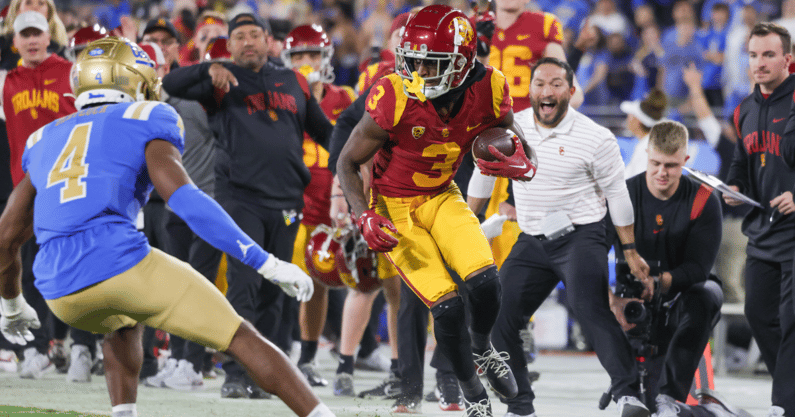 If USC's streak of three-straight seasons with a first-round NFL draft pick is to continue, it'll likely be wide receiver Jordan Addison who is selected. He's shown up in first-round mock drafts ever since winning the 2021 Biletnikoff Award as the nation's top wide receiver. And now he's included in an ESPN list of every NFL draft prospect who earned a first-round grade from them.
The list is put together by ESPN's Matt Miller and includes 20 college football standouts. The first round is a slightly more exclusive club this season. The NFL forced the Miami Dolphins to forfeit its first-round pick after an investigation found the team violated league policies "pertaining to the integrity of the game."
While there are 32 first-round picks (31 this season), teams don't assign first-round grades to 32 prospects. Miller said his own criteria for this list was evaluating "whether each player would have been a first-round pick in every one of the past five draft classes."
Addison Evaluation
Addison checks in as one of three wide receivers with first-round grades. And the USC receiver is his No. 14 overall prospect. The NFL comparison Miller has for Addison is wide receiver Keenan Allen of the Los Angeles Charges.
As for Addison's attributes, Miller says:
"Addison transferred from Pitt to USC after winning the 2021 Biletnikoff Award for best wide receiver in college football. And he quietly put together an outstanding year playing on Pacific Standard Time, with 59 catches, 875 yards and eight touchdowns. Addison isn't a big receiver (6-0, 175 pounds), but he plays with great power after the catch and has the footwork to create separation in his route tree."
Addison led the Trojans with 59 receptions for 875 yards and eight touchdowns in 2022. He did that despite missing three full games and most of a fourth.
He is one spot behind Ohio State wide receiver Jaxon Smith-Njigba in this list. The Buckeye receiver comes in at No. 13 and is the No. 1 receiver on this list.
USC will assuredly raise its number of draft picks in 2023 compared to last year's draft. Just three Trojans were selected in 2022.
Defensive lineman Tuli Tuipulotu, offensive guard Andrew Vorhees, cornerback Mekhi Blackmon, running back Travis Dye, center Brett Neilon, defensive end Nick Figueroa, offensive tackle Bobby Haskins and others could be selected in addition to Addison.
USC Wide Receiver History in the NFL Draft
Addison could make it the second year in a row the first receiver taken is from USC. Drake London was selected No. 8 overall by the Atlanta Falcons in 2022.
Addison could also become the fifth USC wide receiver taken in the first round since the 2000 draft, joining R. Jay Soward (No. 29 by the Jaguars), Mike Williams (No. 10 by the Lions), Nelson Agholor (No. 20 by the Eagles) and London.
There was a stretch where USC receivers earned a bit of a reputation for underperforming their draft slots. But that hasn't been the case of late.
Second-round pick Michael Pittman had a 1,000-yard season in 2021 and caught 99 passes this year for the Colts. Fourth-round pick Amon-Ra St. Brown set an NFL record this season with at least eight receptions and a touchdown in six-straight games. He has 196 receptions in just two seasons.
USC ranks No. 2 all time with 519 draft picks. Notre Dame's 522 are the most. Addison will likely add to USC's 84 all-time first-round picks. The Trojans are No. 2 in that category to Ohio State's 87. That gap will likely grow again this year as the Buckeyes have at least three potential first-round picks in Smith-Njigba, quarterback C.J. Stroud and offensive lineman Paris Johnson Jr.