Kickoff Times, Channels Set for Four USC Football Games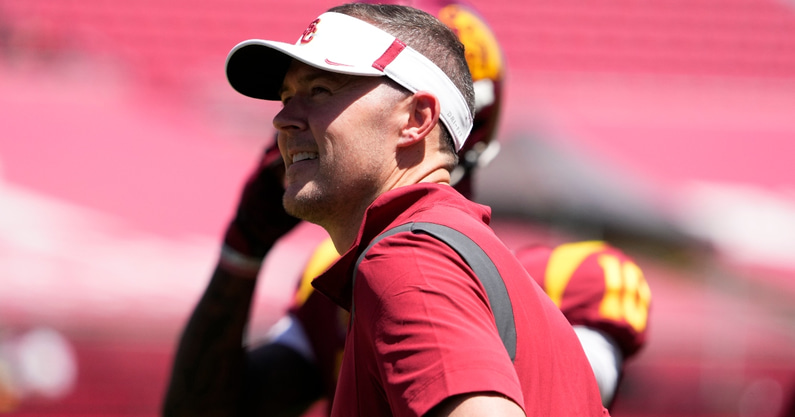 USC announced the kickoff times and channels for four of the Trojans' 2022 football games on Thursday. Those dates include the first three games of the season as well as USC's lone midweek game.
USC will start its season against Rice in the Coliseum on Saturday, September 3. That game will kick at 3 pm PT and air live on Pac-12 Networks. USC will undoubtedly work hard to sell that game out and serve up a raucous atmosphere in the first game of the Lincoln Riley era. Attendance should see a bump considering the demand to see quarterback Caleb Williams and company in action paired with the scarcity of televisions equipped with Pac-12 Network.
USC's second game of the season will once again feature the first Pac-12 contest of the 2022 slate. The Trojans will travel north to take on the Stanford Cardinal in a 4:30 PT contest. That game will air on ABC. ESPN announced that game will be ABC's Saturday Night Football Presented by Capital One.
That's a huge game for this USC program to figure out exactly how much progress its made in one season. The Cardinal welcome back a healthy chunk of the team that whipped USC in the Coliseum last year, including quarterback Tanner McKee.
USC fans will also remember that game as the final time former head coach Clay Helton led the Trojans out onto the field. Helton was relieved of his duties two days later.
USC's third game will take place September 17 at home against Fresno State. The Trojans will kick off against the Bulldogs at 7:30 PM in a game that will air on FOX.
USC last beat Fresno State 31-23 to open the 2019 season.
The fourth game announced on Thursday is USC's lone non-Saturday game. USC will host Colorado on Friday, Nov. 11, at 6:30 pm PT in the Coliseum. That game will air on FS1. That game will be held on Joint Forces Day.
USC has never lost to Colorado. The Trojans are 15-0 against the Buffaloes and won 37-14 in Boulder last season. Two of Colorado's best players entered the transfer portal and made their way to USC this offseason. Wide receiver Brenden Rice and cornerback Mekhi Blackmon look to be significant additions for the Trojans. Blackmon is a likely starter at corner, while Rice drew positive reviews this spring.
USC's 2022 Football Schedule
Sept. 3 — Rice – 3 p.m. PT (Pac-12 Networks)
Sept. 10 – at Stanford – 4:30 p.m. PT (ABC)
Sept. 17 —Fresno State – 7:30 p.m. PT (FOX)
Sept. 24 — at Oregon State
Oct. 1 — Arizona State
Oct. 8 – Washington State 
Oct. 15 — at Utah
Oct. 22 – BYE
Oct. 29 — at Arizona
Nov. 5 — California 
Nov. 11 — Colorado – 6:30 p.m. PT (FS1)
Nov. 19 — at UCLA
Nov. 26 – Notre Dame