Offensive lineman Landen Hatchett announces his top five schools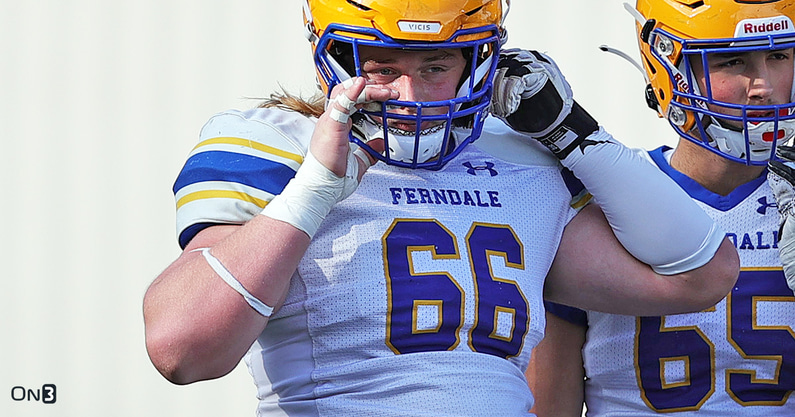 Offensive lineman Landen Hatchett took to Twitter on Thursday afternoon to announce his top five schools.
It's a group that includes Michigan, Oregon, Texas A&M, USC and Washington.
The 6-foot-3, 292-pound Hatchett is a three-star interior offensive line prospect from Ferndale (Wash.) High School. He's the younger brother of Washington offensive lineman Geirean Hatchett. He signed with the Huskies as a four-star, top-200 national prospect in the 2020 recruiting class.
In announcing his top five schools, Landen Hatchett added that he will take official visits to these five. His hope is to take them all in the next few months in order to announce a commitment prior to his senior season.
As of now, Hatchett said he will take an official visit to Oregon this weekend (May 13). He'll visit Texas A&M on June 10, Michigan on June 17 and Washington on June 24. He said he is still working out a visit date with USC.
Hatchett is a standout center and an absolute mauler in the run game. He also possesses enough athleticism to pull and get into the second level against linebackers. In a Lincoln Riley offense that asks its linemen to get out and move, it's easy to see why Hatchett is a target.
Hatchett and the Trojans
Hatchett was on the USC campus last month when he attended a spring practice. He walked away from the trip having earned an offer from the Trojans.
The Pacific Northwest schools might be in a strong position for Hatchett. But the Trojans could have an opportunity to impress Hatchett with another visit.
USC signed one interior offensive lineman in the 2021 recruiting class and didn't add a prep offensive lineman at any position in the 2022 class. In fact, only one of USC's 16 transfer portal additions this offseason is an offensive lineman. That makes the position a priority in the 2023 class. And Hatchett is one of a few targets for the interior of the line.
That group also includes four-star Markis Deal, three-star Micah Banuelos and three-star Alani Noa.
USC's 2023 Recruiting Class
USC has just six 2023 commitments. But there is enough talent at the top to warrant the No. 2 recruiting class in the country.
It starts with Five-Star Plus+ quarterback Malachi Nelson, the nation's No. 2 overall prospect. He has two top targets in five-star receiver Zachariah Branch and four-star pass-catcher Makai Lemon.
Should Hatchett or any other offensive lineman join the class, he'd be blocking for two four-star running backs in A'Marion Peterson and Quinten Joyner. The lone defensive commit for the Trojans is three-star safety Christian Pierce.