Transfer portal breakdown: Projecting the 10 most impactful transfers in the Big Ten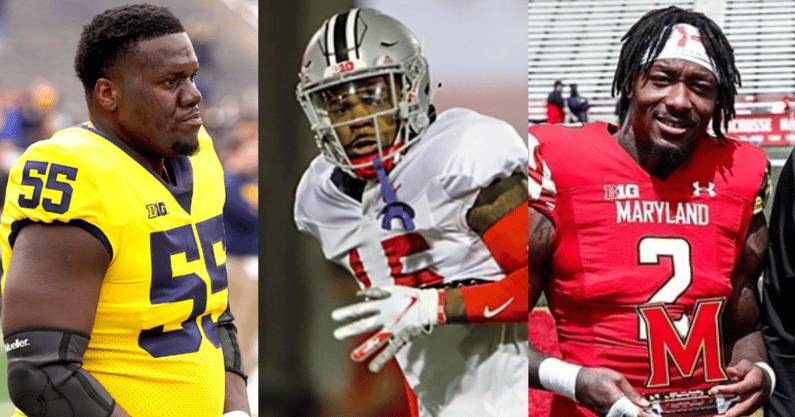 Let's dive back into the transfer portal pool on a league-by-league basis. With preseason camps opening in earnest this week, here's a projection of the 10 most impactful transfers in the Big 12 this season. (We already have looked at the most impactful ACC, SEC, Pac-12 and Big 12 transfers.)
With these 10 transfers, this is not a measure just of sheer talent. Instead, the most important aspect is expected production. And it's fair to say that if these guys do not produce, their teams as a whole will suffer.
10. EDGE Khris Bogle, Michigan State
The particulars: Transfer from Florida
The skinny: Michigan State had 43 sacks last season, which ranked sixth nationally, but lost two of its top three sack men. Khris Bogle, a former national top-60 recruit in the 2019 signing class, has the potential to be a big help in that facet. He started seven games in his three seasons at Florida and had 6.5 sacks and 11 tackles for loss in his Gators career. Bogle, who lacked consistent opportunities at Florida, has the athleticism to thrive in the Spartans' aggressive defensive scheme.
9. WR Jacob Copeland, Maryland
The particulars: Transfer from Florida
The skinny: Maryland is going to have a high-powered passing attack, and Jacob Copeland's arrival gives the Terps an intriguing trio at wide receiver. He joins a group that includes premier targets Rakim Jarrett and Dontay Demus Jr. But Demus is coming back from a torn ACL and may not be 100 percent when the season begins. Copeland was a two-year starter at Florida and always served as a complementary piece. Can he be more if needed? Inconsistency has been an issue – forget drive-to-drive consistency; he had issues play-to-play. But he can make the contested catch, has good speed and now is in an offense that will throw the ball a lot more than the Gators did last season.
8. WR Charlie Jones, Purdue
The particulars: Transfer from Iowa
The skinny: Charlie Jones is an interesting intra-division transfer; he figures to be a much bigger part of his new team's offense. Jones is going from a team that wants to run the ball and has a popgun passing attack to a team that throws the ball a lot and has a much more sophisticated passing attack. He began his career at Buffalo before leaving and walking-on at Iowa, where he eventually earned a scholarship. Jones is not suited to be a go-to receiver, but given Purdue's issues at receiver (David Bell is in the NFL and Milton Wright, who would've been the go-to guy, is academically ineligible), he still figures to be a frequent target for QB Aidan O'Connell. Jones, whose short-area quickness makes him a good fit in the slot, had 21 receptions last season; he should easily double that this fall. His return ability – he was one of the best return men (punts and kickoffs) in the Big Ten last season – is a bonus for the Boilermakers.
7. QB Casey Thompson, Nebraska
The particulars: Transfer from Texas
The skinny: Nebraska coach Scott Frost has remade his offensive staff, taken a pay cut and changed his buyout terms. That means there is a lot of pressure on Casey Thompson, who replaces Adrian Martinez as the Huskers' starting quarterback. Thompson started the last 10 games of the 2021 season for Texas after taking over for Hudson Card, and led the Big 12 with 24 touchdown passes. He threw for 2,113 yards and nine interceptions, and also ran for 157 yards and four scores. One issue: He had better surrounding skill-position talent at Texas. Thompson also needs to cut down on his interceptions. (A quarterback who is turnover-prone? Unfortunately, that is something Huskers fans are familiar with.) Thompson chose Nebraska after Mark Whipple was hired as offensive coordinator. Whipple worked wonders with Kenny Pickett – but also worked with him for more than one year.
6. S Tanner McCalister, Ohio State
The particulars: Transfer from Oklahoma State
The skinny: Ohio State's defense was less-than-stellar for much of last season, and that included the secondary. Things should be different this season with Jim Knowles as the new coordinator. Tanner McCalister followed Knowles from Oklahoma State. McCalister was a two-year starter at Oklahoma State. He signed with the Cowboys as a cornerback and played extensively as a reserve corner in 2018 and '19. He moved to safety in 2020 and became a starter, and kept his starting spot in 2021. McCalister had 34 tackles, an interception and five pass breakups last season for one of the nation's best defenses. McCalister's versatility, experience and knowledge of Knowles' scheme will make him an important part of a reconfigured Buckeyes secondary.
5. WR Mitchell Tinsley, Penn State
The particulars: Transfer from Western Kentucky
The skinny: It's not going out on a limb to say Penn State will have one of the three or four most productive passing attacks in the Big Ten. One of the reasons, of course, is that the league doesn't have a lot of high-powered passing offenses. Still, expect the Nittany Lions to do damage in the air even without first-round pick Jahan Dotson. The addition of Mitchell Tinsley from the transfer portal is big in that regard. He was one of the most productive receivers in the nation last season in Western Kentucky's pass-happy attack, with 87 receptions for 1,402 yards and 14 TDs. The receptions total was 16th nationally, while he was eighth in receiving yards and fifth in TD receptions; he did all that as Western's No. 2 receiver. He's likely to be the Nittany Lions' No. 2 guy, too, behind holdover Parker Washington. Tinsley, Washington and KeAndre Lambert-Smith form a potent trio.
4. CB Jay Shaw, Wisconsin
The particulars: Transfer from UCLA
The skinny: It's a given that coordinator Jim Leonhard will field a highly ranked defense even though Wisconsin returns just three starters on that side of the ball. All five starters in the secondary are new, and the Badgers signed four DBs from the transfer portal for help. Jay Shaw is the most important. He started 16 games in his five-year UCLA career (he redshirted as a true freshman in 2017) and will start at corner for the Badgers. Shaw was a full-time starter in 2020 and a part-time starter in 2019 and last season; he earned some second-team All-Pac-12 acclaim last season, when he tied for the Bruins' lead with three interceptions. Shaw seems likely to line up as the starter next to holdover corner Alexander Smith. Justin Clark (from Toledo) and Cedrick Dort (Kentucky) are the other transfer corners.
3. EDGE Ochaun Mathis, Nebraska
The particulars: Transfer from TCU
The skinny: Nebraska had just 20 sacks last season, which ranked tied for 101st nationally; the Huskers were 96th in the truncated 2020 season at 1.6 sacks per game. In short, the Blackshirts need a big-time pass rusher and Ochaun Mathis should be the guy. Nebraska returns its top two edge rushers from last season in Garrett Nelson and Caleb Tannor – but they combined for just seven sacks as fulltime starters. Mathis had a big 2020 (nine sacks in 10 games) but struggled in 2021 (four sacks in 12 games). If he regains his 2020 form, he will vie for all-league honors. Mathis started for three seasons with the Horned Frogs and had 30.5 tackles for loss, 15.5 sacks and 13 quarterback hurries.
2. C Olusegun Oluwatimi, Michigan
The particulars: Transfer from Virginia
The skinny: Adding experienced and talented interior linemen from the transfer portal is a big deal. Adding an experienced linemen who might be the best player in the nation at his position is an even bigger deal. That's what Michigan did with Olusegun Oluwatimi, who began his career at Air Force, then transferred and became a three-year starter for Virginia. Michigan won the Joe Moore Award last season for having the nation's best line, and this season's group might be even more talented. Oluwatimi was a second-team All-ACC selection in 2021, when he was one of three finalists for the Rimington Trophy, which goes to the nation's best center. He and linemates Zak Zinter, a guard, and Ryan Hayes, a tackle, are All-America candidates.
1. RB Jarek Broussard, Michigan State
The particulars: Transfer from Colorado
The skinny: Kenneth Walker III accounted for 72 percent of Michigan State's rushing yards and 78 percent of its rushing touchdowns last season. Alas, he's now in the NFL. He was a transfer portal addition, and Spartans coaches went the same route this offseason. They brought in Jarek Broussard from Colorado to be the lead back. Broussard isn't going to be as prolific (Walker rushed for 1,636 yards and won the Doak Walker Award as the nation's best back), but he's still a vital addition. He led Colorado in rushing in each of the past two seasons; he was the Pac-12 offensive player of the year in 2020, when he rushed for 895 yards in six games in 2020 (149.2 yards per game, third nationally). Broussard did that in an offense that didn't have much of a passing attack. Broussard isn't as good between the tackles and won't be a 22-carry-a-game guy like Walker. But he has good quickness and big-play ability.