Transfer portal breakdown: Projecting the 10 most impactful transfers among independents, Group of 5s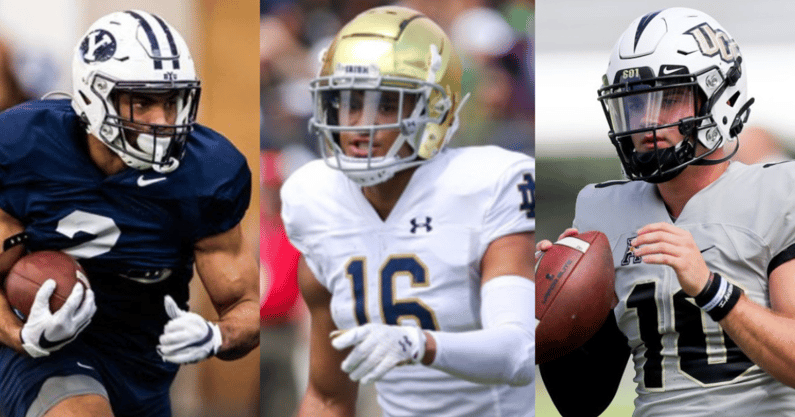 Let's dive back into the transfer portal pool. With preseason camps opening this week, here's a projection of the 10 most impactful transfers in the independent and Group of 5 ranks this season. (We already have looked at the most impactful ACC, SEC, Pac-12, Big 12 and Big Ten transfers.)
The top two independents signed notable players out of the portal, and we leaned heavily toward leading contenders in the Group of 5 ranks when putting together this list.
With these 10 transfers, this is not a measure just of sheer talent. Instead, the most important aspect is expected production. And it's fair to say that if these guys do not produce, their teams as a whole will suffer.
10. WR Brian Cobbs, Utah State
The particulars: Transfer from Maryland
The skinny: Utah State was the best turnaround story in the nation last season (heck, it is one of the best ever), going from one win in 2020 to 11-3 and Mountain West champs in 2021. A big reason was the passing attack, which was 15th nationally at 303.4 yards per game and fifth nationally with 41 TD passes. But the Aggies' top three receivers are gone; those guys combined for 206 receptions, 3,328 yards and 31 TDs. The Aggies are counting on Brian Cobbs to help replace some of those numbers. Cobbs made 12 starts in four seasons at Maryland, and finished his Terps career with 59 catches; he had 25 receptions for 341 yards and a TD last season. Cobbs had a good spring, drawing praise from coaches, and should double his receptions and yardage totals from last season.
9. WR Sam Pinckney, Coastal Carolina
The particulars: Transfer from Georgia State
The skinny: Coastal Carolina has one of the nation's best quarterbacks in Grayson McCall. But the Chanticleers don't return a wide receiver who had more than six receptions last season; that makes Sam Pinckney's intra-conference transfer an important one. He had 27 receptions for the Panthers last season, when their passing attack was one of the least productive in the nation (161.6 yards per game). Pinckney should double that catch total this season working with McCall. Pinckney had 47 receptions for 815 yards (17.34 yards per catch) and seven TDs in 2020. His big-play ability figures to be put to good use by McCall and Coastal coach Jamey Chadwell this fall.
8. RB Dae Dae Hunter, Liberty
The particulars: Transfer from Hawaii
The skinny: Liberty lost star QB Malik Willis to the NFL, and that caused a retooling of the offense for coach Hugh Freeze. Willis led the Flames in rushing in each of the past two seasons, but new QB Charlie Brewer (a transfer from Utah) most definitely does not have Willis' mobility. Thus, Liberty running backs will be far more important this season. Dae Dae Hunter was signed out of the transfer portal to be the lead back; he looked good in the spring in Liberty's revamped offense. Hunter started 12 games in the past two seasons at Hawaii and rushed for 651 yards (averaging 6.45 yards per carry) in 2021. He also is a good receiver.
7. QB Clay Millen, Colorado State
The particulars: Transfer from Nevada
The skinny: Over the past two seasons, Nevada averaged 42 pass attempts, 335.6 passing yards and three TD passes per game; the same numbers at Colorado State were 32, 238.6 and 1.2, respectively. That shows the offensive differences between new Rams coach Jay Norvell (who had been at Nevada) and former Rams coach Steve Addazio (now the offensive line coach at Texas A&M). Addazio was a coach who liked to run; Norvell is a coach who has married the "Pistol" with the "Air Raid" (his offensive coordinator is Matt Mumme, Hal's son). Nine Nevada players transferred to Colorado State, but the most important is Clay Millen, a guy who barely played with the Wolf Pack; he saw time in two blowout wins last season as a true freshman (including, coincidentally, a 42-point rout of Colorado State). Millen's knowledge of the offense means he could put up big numbers (like 3,000-plus passing yards) this season as Norvell moves the Rams from a ground-based offense to an air-it-out approach.
6. QB Ben Bryant, Cincinnati
The particulars: Transfer from Eastern Michigan
The skinny: Ben Bryant started 11 games and led Eastern Michigan to a bowl appearance last season. This is his second go-round at Cincinnati: He was Cincinnati's backup in 2019 and '20, then entered the transfer portal and transferred to EMU last season. He threw for 3,121 yards and 14 touchdowns with the Eagles. Worth noting: He had a "Do Not Contact" designation in the portal, which means the player has to initiate any contact with a school. (In other words, he knew where he was going when he entered.) He will vie with holdover Evan Prater for the starting job. Cincinnati returns its entire starting offensive line, but is rebuilding its running back and receiving units. You'd figure, then, that Bryant's experience – not to mention his strong arm – should mean he wins the job over Prater.
CLICK HERE to subscribe to the On3 YouTube channel for the latest news on college football, recruiting, NIL, more!
5. QB John Rhys Plumlee, UCF
The particulars: Transfer from Ole Miss
The skinny: UCF finished 9-4 last season, Gus Malzahn's first at UCF. And it came with true freshman QB Mikey Keene pressed into action once starter Dillon Gabriel was injured in Game 3. Keene started the remaining games and was 7-3 as the starter. Keene threw for 1,730 yards, with 17 TDs and six interceptions; those are solid numbers for a guy who was expected to see scant time. But he's not really a runner, and Malzahn's offense is at its best when it has a running threat at quarterback. Enter John Rhys Plumlee from the transfer portal. Plumlee is a former starting quarterback at Ole Miss, but his lack of ability as a passer caused Lane Kiffin to move him to wide receiver. Plumlee still wanted to play quarterback, though, and Malzahn will give him that opportunity. UCF has a nice stable of running backs, but, again, Malzahn likes a quarterback who can run. The Knights have the talent to win the AAC and be the highest-ranked team among the Group of 5 if the offense comes through.
4. QB Braxton Burmeister, San Diego State
The particulars: Transfer from Virginia Tech
The skinny: San Diego State has averaged more than 200 passing yards per game just once in the past eight seasons, and that was 202.6 in 2019. In other words, the Aztecs love to run the ball. That's not going to change with Braxton Burmeister. He's a San Diego-area native who began his career at Oregon, then started four games for Virginia Tech in 2020 before taking over as the fulltime starter last season. He is a dual-threat quarterback who is a better runner than passer. Burmeister ran for 696 yards and four TDs and threw for 2,647 yards and 16 TDs in his two seasons at Virginia Tech. He will be a key part of a rebuilt offense for coach Brady Hoke, whose defense again will lead the way. SDSU can win the Mountain West if Burmeister plays steady football. Expecting him to run for 500-plus and throw for around 2,200 is legitimate.
3. RB Trelon Smith, UTSA
The particulars: Transfer from Arkansas
The skinny: Trelon Smith left a Power 5 school where he was productive for a Group of 5 program where he should be even more productive. He was part of a share-the-wealth backfield at Arkansas last season – he was one of four Hogs who rushed for more than 500 yards – but figures to be more of a true feature back with the Roadrunners, who are the defending Conference USA champs and won 12 games last season. UTSA lost two-time 1,450-yard rusher Sincere McCormick, but returns star QB Frank Harris and standout WR Zakhari Franklin; the addition of Smith means the Roadrunners might have the best quarterback/running back/receiver trio in the Group of 5 ranks. UTSA is Smith's third school; he began his career at Arizona State, then played two seasons at Arkansas before entering the transfer portal. He rushed for 1,308 yards and 10 TDs in his time with the Razorbacks, including 598 yards and five TDs last season.
2. S Brandon Joseph, Notre Dame
The particulars: Transfer from Northwestern
The skinny: It's not often you can add an All-American through the transfer portal. And Notre Dame replaced one All-American with another. Brandon Joseph was a first-team All-American as a redshirt freshman at Northwestern in 2020, when he had 52 tackles, six interceptions and two pass breakups. In 2021, he had 80 tackles, three picks and four pass breakups in earning second-team All-Big Ten honors. Notre Dame lost safety Kyle Hamilton, who was an All-American in 2021, to the NFL draft. Joseph is a talented ballhawk who should fit nicely in the Irish defensive scheme.
1. RB Christopher Brooks, BYU
The particulars: Transfer from California
The skinny: BYU is coming off a 10-win season fueled in great part by 1,600-yard rusher Tyler Allgeier, who's now in the NFL. The Cougars return starting QB Jaren Hall, two starting receivers and three starters on the offensive line. But who will replace Allgeier? Christopher Brooks was snagged from the transfer portal to help in that regard. Brooks was headed to Purdue before he changed his mind and ended up in Provo. He's a big (6 feet 1, 235 pounds), physical back who twice led Cal in rushing; he finished his four-season career in Berkeley with 1,734 yards and 14 TDs. Brooks rushed for a team-high 607 yards in 2021 in an offense that can kindly be called pedestrian. Allgeier had 276 carries last season, fourth-most in the nation; Brooks won't have as heavy a workload, but he still will be the lead back in an offense predicated on the run. He also is a good receiver, and that facet of his game will be put to good use. One more transfer running back to watch for BYU is Houston Heimuli, a fullback who left Stanford. (Yep, a former player from Cal following the blocks of a former player from Stanford. Oh, the humanity.)