On3 Roundtable: Impact of Purdue of adding Graham Harrell, Hudson Card to Boilermaker offense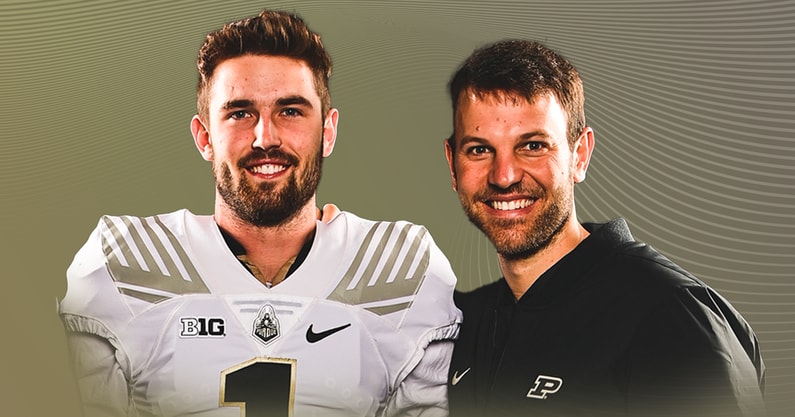 Purdue has gone the defensive head coach route, hiring former Illinois defensive coordinator Ryan Walters to lead the program. But Walters is taking a different route with his offense, hiring Mike Leach disciple Graham Harrell as the OC. A big NCAA transfer portal splash was made as well by bringing in quarterback Hudson Card.
Walters is going to want to play solid defense and continue his personal streak of leading one of the Big Ten's best units. However, Gold and Black's Alan Karpick said Purdue's identity needs to be through Card,Harrell, and the offense. He joined the On3 Roundtable to discuss how important that is for the Boilermakers.
"We know Ryan Walters brings a defensive scheme and has that as part of his resume and pedigree," Karpick said. "But Purdue needs to be strong offensively. It's M.O. It's who it is as a football program in a lot of different ways."
Harrell has never been shy of putting points on the board. In seven years of being an offensive coordinator — at North Texas, USC, and West Virginia — Harrell's offenses have averaged under 30 points per game just twice. In the same time span, Purdue has only surpassed 30 PPG once (30.5 PPG in 2018).
Some quality quarterbacks have been a part of that run but Card has the opportunity to be the best overall.
"Those two need to make it exciting," Karpick said. "Purdue needs to be an exciting brand of football. That's what people in the stands under Jeff Brohm. That is an absolute must for the Boilermakers and that's why I put them at a nine in terms of importance."
Hudson Card facing pressure as Purdue starting quarterback
Card might be out of Austin and the spotlight of Texas' high expectations but there will still be plenty of pressure on the quarterback. Karpick says Card has been the starter ever since arriving in West Lafayette. He might seems to be "the real deal" but will have to make sure it translates on Saturdays.
"Hudson Card, there's a lot resting on him," Karpick said. "Just because he comes in with the accolades, comes in from Texas. He's been the starter since Day One. He's a guy that has shown well in practice. We haven't been able to see a lot of practice but from all accounts, he's the real deal for Purdue."
Card started four games last season for Texas, winning three of them. He also played for a majority of the Alabama game and nearly pulled off the upset. Pressure situations will not be foreign to Card — both big picture and during in-game scenarios.