Buzz Williams confirms Texas A&M WR Chris Marshall will not be member of basketball program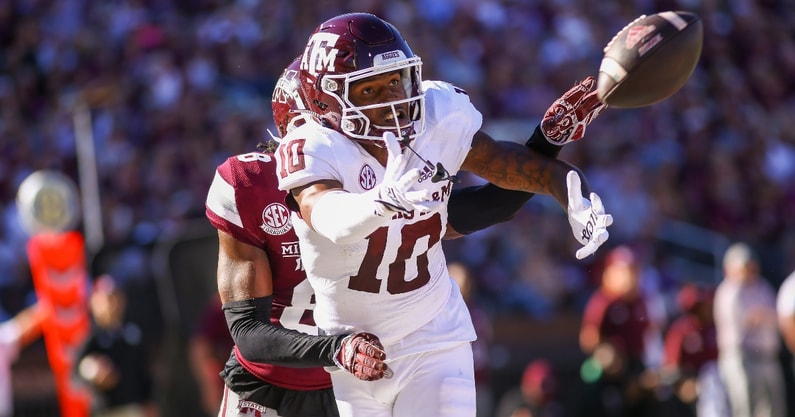 Texas A&M wide receiver Chris Marshall was a highly touted football prospect coming out of high school, earning five-star status on the On3 Consensus. However, before he ever stepped foot on the gridiron, Marshall was a top basketball player at Fort Bend Marshall High School. Speculation was he would also play for Buzz Williams but that now seems unlikely.
Williams confirmed Marshall will not play basketball for the Aggies in the future. Not for just this season but moving forward as well. In what should already be an impressive squad upcoming for Williams in 2022-2023, Marshall will remain with the football team only.
CLICK HERE to subscribe for FREE to the On3 YouTube channel
"Buzz Williams said Texas A&M football WR Chris Marshall will not be a part of the men's basketball program," Travis Brown of The Eagle said via Twitter. "There was some speculation on Twitter that he might."
Marshall had multiple Division I basketball offers, with local Houston being one of them. Ole Miss out of the SEC was interested in Marshall as well, who was considered a shooting guard. Texas Southern and Western Kentucky were the other two programs to extend offers.
When highly ranked football players also say they will play basketball once on campus, it rarely works out due to overlapping schedules. Marshall is just the latest example but it might be to off-the-field/court issues.
Chris Marshall among Texas A&M players suspended vs. Ole Miss
Late Monday night, news broke that four Texas A&M players have been suspended indefinitely by head coach Jimbo Fisher. More specific details, including the names of the players, have emerged.
Wide receiver Chris Marshall, defensive back Denver Harris and offensive lineman PJ Williams were suspended, according to TexAgs' Billy Liucci, and he initially reported a fourth player could be involved, as well. They were all big parts of the Aggies' highly-touted recruiting class, which ranked No. 1 in the On3 Consensus Team Recruiting Ranking.
This marks the second time this year Harris and Marshall have been suspended. They also missed the Aggies' game against Miami earlier in the year for a violation of team rules.
Harris and Marshall were both five-star recruits and came in as the respective No. 23 and No. 24 players in the country from the class of 2022, according to the On3 Consensus, a complete and equally weighted industry-generated average that utilizes all four major recruiting media companies. Williams came in as the No. 64 player in the nation, per the On3 Consensus.
Marshall has proven to be a key contributor on offense, totaling 108 yards in six games, while Harris has 14 tackles and is tied for the team lead with three passes defended.