2022 All-American Bowl Roster Breakdown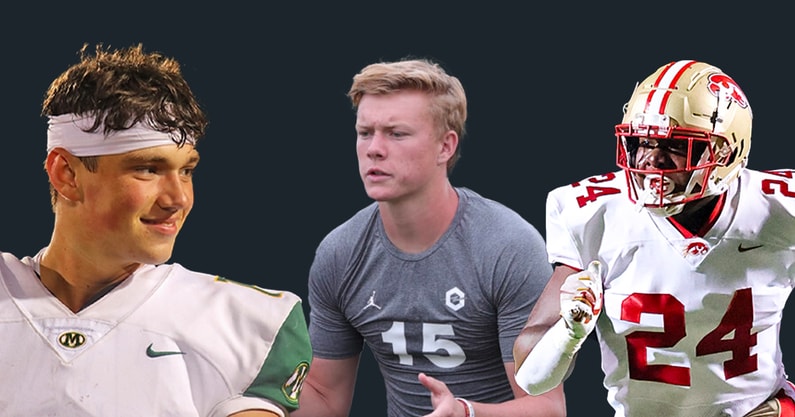 The All-American Bowl (formerly known as the U.S. Army All-American Bowl) is set to be played Saturday in San Antonio at the Alamodome at 1:00 p.m. ET. The event organizers have split up more than 100 of the country's best football players into two teams: East and West.
Each team is loaded with elite talent on both sides of the ball. See who will be playing which team and what jersey number they will be wearing below.
Team East
Quarterbacks
#14 Gunner Stockton
Tiger (Ga.) Rabun County 
On3 Consensus: No. 64
Status: Signed with Georgia
#15 Drew Allar
Medina (Ohio) High
On3 Consensus: No. 24
Status: Signed with Penn State
#16 Jayden Denegal
Apple Valley (Calif.)
On3 Consensus: No. 438
Status: Signed with Michigan
#16 Sam Horn
Suwanee (Ga.) Collins Hill
On3 Consensus: No. 188
Status: Signed with Missouri
*not playing*
Nick Evers
Flower Mound (Texas)
On3 Consensus: No. 126
Status: Signed with Oklahoma
*not playing*
Running Backs
#2 Jordan James
Murfreesboro (Tenn.) Oakland
On3 Consensus: No. 209
Status: Committed to Georgia
#10 Nick Singleton
Reading (Pa.) Governor Mifflin
On3 Consensus: No. 30
Signed with Penn State
#18 Trevor Etienne
Jennings (La.)
On3 Consensus: No. 290
Status: Committed to Florida
#28 Omarion Hampton
Clayton (N.C.) Cleveland
On3 Consensus: No. 163
Status: Signed with North Carolina
*not playing*
Wide Receivers
#1 Deyon Bouie
Bainbridge (Ga.)
On3 Consensus: No. 82
Status: Signed with Texas A&M
#3 Kaleb Brown
Chicago St. Rita
On3 Consensus: No. 110
Status: Signed with Ohio State
*not playing*
#5 Samuel Mbake
Snellville (Ga.) North Cobb
On3 Consensus: No. 373
Status: Signed with Arkansas
#7 Barion Brown
Nashville (Tenn.) Pearl-Cohn 
On3 Consensus: No. 79
Status: Signed with Kentucky
#8 Tyler Morris
Bolingbrook (Ill.) Plainfield East 
On3 Consensus: No. 142
Status: Signed with Michigan
*not playing*
#11 Kojo Antwi
Suwanee (Ga.) Lambert
On3 Consensus: No. 190
Status: Signed with Ohio State
#12 De'Nylon Morrissette
Snellville (Ga.) Brookwood
On3 Consensus: No. 227
Status: Signed with Georgia
*not playing*
#17 Isaiah Bond
Buford (Ga.)
On3 Consensus: No. 116
Status: Signed with Alabama
#81 Isaiah Sategna
Fayetteville (Ark.)
On3 Consensus: No. 124
Status: Signed with Arkansas
Tight Ends
#0 Jaleel Skinner
Greer (S.C.) IMG Academy
On3 Consensus: No. 66
Status: Signed with Miami
*not playing*
#4 Oscar Delp
Cumming (Ga.) West Forsyth
On3 Consensus: No. 76
Status: Signed with Georgia
#9 Jake Johnson
Bogart (Ga.) Oconee County
On3 Consensus: No. 69
Status: Signed with Texas A&M
*not playing*
Offensive Line
#54 Ashton Craig
Lawrenceburg (Ind.)
On3 Consensus: No. 420
Status: Signed with Notre Dame
#57 Elijah Pritchett
Columbus (Ga.) Carver
On3 Consensus: No. 49
Status: Signed with Alabama
#59 Aamil Wagner
Dayton (Ohio) Wayne
On3 Consensus: No. 139
Status: Signed with Notre Dame
#70 Griffin Scroggs
Loganville (Ga.) Grayson
On3 Consensus: No. 1130
Status: Signed with Georgia
#72 Andrew Chamblee
Maumelle (Ark.)
On3 Consensus: No. 255
Status: Signed with Arkansas
#73 Addison Nichols
Norcross (Ga.) Greater Atlanta Christian School
On3 Consensus: No. 155
Status: Signed with Tennessee
*not playing*
#74 Jacob Allen
Princeton (N.J.) Hun School
On3 Consensus: No. 203
Status: Signed with Rutgers
*not playing*
#75 Julian Armella
Miami St. Thomas Aquinas
On3 Consensus: No. 140
Status: Signed with Florida State
#76 Jaylen Early
Duncanville (Texas)
On3 Consensus: No. 261
Status: Signed with Florida State
#77 Tegra Tshabola
West Chester (Ohio) Lakota West
On3 Consensus: No. 99
Status: Signed with Ohio State
#78 Kiyaunta Goodwin
Charlestown (Ind.) High
On3 Consensus: No. 19
Status: Signed with Kentucky
Defensive Line
#0 Mykel Williams
Columbus (Ga.) Hardaway
On3 Consensus: No. 21
Signed with Georgia
#9 Nyjalik Kelly
Fort Lauderdale (Fla.) Fillard
On3 Consensus: No. 100
Status: Signed with Miami
*not playing*
#33 Dani Dennis-Sutton
Owings Mills (Md.) McDonogh School
On3 Consensus: No. 44
Status: Signed with Penn State
#44 Khurtiss Perry
Montgomery (Ala.) Pike Road
On3 Consensus: No. 75
Status: Signed with Alabama
*not playing*
#45 Vincent Anthony Jr.
Durham (N.C.) C.E. Jordan
On3 Consensus: No. 909
Status: Signed with Duke
#52 Christen Miller
Ellenwood (Ga.) Cedar Grove
On3 Consensus: No. 133
Status: Uncommitted
*not playing*
#99 Francois Nolton Jr.
Miami Edison
On3 Consensus: No. 596
Status: Uncommitted
EDGE
#6 Enai White
Philadelphia Imhotep Institute 
On3 Consensus: No. 46
Status: Signed with Texas A&M
*not playing*
#18 Marvin Jones Jr.
Fort Lauderdale (Fla.) American Heritage
On3 Consensus: No. 16
Status: Signed with Georgia
#24 Mario Eugenio
Clearwater (Fla.) Gaither
On3 Consensus: No. 315
Status: Signed with Cincinnati
*not playing*
#90 Aiden Gobaira
Chantilly (Va.)
On3 Consensus: No. 202
Status: Signed with Notre Dame
Linebackers
#7 DeMario Tolan
Kissimmee (Fla.) Tohopekaliga High
On3 Consensus: No. 207
Status: Signed with LSU
#15 Joshua Burnham
Traverse City (Mich.) Central
On3 Consensus: No. 103
Status: Signed with Notre Dame
#19 Keaten Wade
Spring Hill (Tenn.) Summit
On3 Consensus: No. 231
Status: Signed with Kentucky
#21 Sebastian Cheeks
Evanston (Ill.) Evanston Township
On3 Consensus: No. 114
Status: Signed with North Carolina
#23 Keon Wylie
Philadelphia Imhotep Institute
On3 Consensus: No. 506
Status: Signed with Penn State
#41 Daniel Martin
Marietta (Ga.)
On3 Consensus: No. 258
Status: Uncommitted
Cornerbacks
#1 Trevell Mullen
Pompano Beach (Fla.) Coconut Creek
On3 Consensus: No. 294
Status: Signed with Indiana
#2 Marquis Groves-Killebrew
Snellville (Ga.) North Cobb
On3 Consensus: No. 104
Status: Signed with Texas A&M
*out with injury*
#4 Marcus Allen
Marietta (Ga.) Walton
On3 Consensus: No. 319
Status: Signed with UNC
*not playing*
#20 Jyaire Brown
West Chester (Ohio) Lakota West 
On3 Consensus: No. 167
Status: Signed with Ohio State
*not playing*
#27 Julian Humphrey
Houston Clear Lake
On3 Consensus: No. 92
Status: Signed with Georgia
#29 Earl Little Jr.
Fort Lauderdale (Fla.) American Heritage
On3 Consensus: No. 88
Status: Signed in Alabama
*not playing*
Jaden Mangham
Franklin (Mich.) Wylie E. Groves
On3 Consensus: No. 301
Status: Signed with Michigan State
*not playing*
Safeties
#3 Devin Moore
Naples (Fla.)
On3 Consensus: No. 186
Status: Signed with Florida
#4 Keenan Nelson Jr.
Philadelphia St. Joseph's Prep School
On3 Consensus: No. 295
Status: Signed with South Carolina
*not playing*
#10 Zeke Berry
Concord (Calif.) De La Salle
On3 Consensus: No. 132
Status: Signed with Michigan
*not playing*
#25 Myles Rowser
Detroit Belleville
On3 Consensus: No. 229
Status: Committed to Arkansas
*not playing*
#26 Davison Igbinosun
Union (N.J.)
On3 Consensus: No. 193
Status: Committed to Ole Miss
*not playing*
Specialists
#22 Evan Crenshaw
Ponte Vedra Beach (Fla.) Nease
Punter
Status: Signed with Coastal Carolina
#23 Blake Ford
Arlington (Texas) Lamar
Kicker
Status: Uncommitted
#69 Eli Stein
Cambridge (Wisc.)
Long Snapper
Status: Signed with Arkansas
Team West
Quarterbacks
#6 Cade Klubnik
Austin (Texas) Westlake
On3 Consensus: No. 20
Status: Signed with Clemson
#12 Ty Simpson
Martin (Tenn.) Westview
On3 Consensus: No. 28
Status: Signed with Alabama
*not participating, already practicing with Alabama*
#13 Justyn Martin
Inglewood (Calif.)
On3 Consensus: No. 218
Status: Signed with UCLA
#15 Devin Brown
Draper (Utah) Corner Canyon
On3 Consensus: No. 43
Status: Signed with Ohio State
Running Backs
#2 TreVonte' Citizen
Lake Charles (La.) Lake Charles College Prep
On3 Consensus: No. 67
Status: Uncommitted
#3 Raleek Brown
Santa Ana (Calif.) Mater Dei
On3 Consensus: No. 57
Status: Signed with USC
#21 Rayshon Luke
Bellflower (Calif.) St. John Bosco
On3 Consensus: No. 275
Status: Committed to Arizona
#27 Gavin Sawchuk
Littleton (Colo.) Valor Christian
On3 Consensus: No. 80
Status: Signed with Oklahoma
Wide Receivers
#0 Caleb Burton
Del Valle (Texas) Lake Travis
On3 Consensus: No. 111
Status: Signed with Ohio State
*not playing*
#1 Kevin Coleman
St. Louis (Mo.) St. Mary's
On3 Consensus: No. 71
Status: Uncommitted
#4 Tetairoa McMillan
Anaheim (Calif.) Servite
On3 Consensus: No. 47
Status: Signed with Arizona
*not playing*
#5 Tobias Merriweather
Camas (Wash.) Union
On3 Consensus: No. 121
Status: Signed with Notre Dame
#7 Landon Samson
Southlake (Texas) Southlake Carroll
On3 Consensus: No. 496
Status: Signed with South Carolina
#8 C.J. Williams
Santa Ana (Calif.) Mater Dei
On3 Consensus: No. 117
Status: Committed to USC
#14 Kyion Grayes
Chandler (Ariz.)
On3 Consensus: No. 105
Status: Signed with Ohio State
#27 Clint Stephens
Inglewood (Texas)
On3 Consensus: No. 391
Status: Signed with UCLA
*not playing*
#80 Kendrick Law
Shreveport (La.) Captain Shreve
On3 Consensus: No. 86
Status: Signed with Alabama
*not playing*
#83 Darrius Clemons
Portland (Ore.) Westview
On3 Consensus: No. 98
Status: Signed with Michigan
*not playing*
Tight Ends
#10 Ryan Otton
Olympia (Wash.) Turnwater
On3 Consensus: No. 187
Status: Signed with Washington
*not playing*
Offensive Line
#50 Nikolas Hall
Austin (Texas) Atkins
On3 Consensus: No. 394
Status: Signed with Kentucky
#55 Josh Conerly Jr.
Seattle Rainier Beach
On3 Consensus: No. 22
Status: Uncommitted
#56 Joe Brunner
Milwaukee (Wisc.) Whitefish Bay
On3 Consensus: No. 74
Status: Signed with Wisconsin
*not playing*
#66 George Fitzpatrick
Englewood (Colo.) Cherry Creek
On3 Consensus: No. 225
Status: Signed with Ohio State
#67 Hunter Erb
Haslet (Texas) Eaton
On3 Consensus: No. 173
Status: Signed with Texas A&M
#69 Jake Taylor
Las Vegas Bishop Gorman
On3 Consensus: No. 95
Status: Signed with Oklahoma
*not playing*
#71 Earnest Greene
Bellflower (Calif.) St. John Bosco
On3 Consensus: No. 60
Status: Committed to Georgia
#72 Billy Schrauth
Fond Du Lac (Wisc.) St. Mary's Springs
On3 Consensus: No. 138
Status: Signed with Notre Dame
#75 Carson Hinzman
Hammond (Wisc.) Saint Croix Central
On3 Consensus: No. 120
Status: Committed to Ohio State
#77 Ben Rios
San Antonio Central Catholic
On3 Consensus: No. 1460
Status: Signed with UTSA
*not playing*
#78 Deandre Marshall
San Antonio Central Catholic
On3 Consensus: No. 1785
Status: Signed with UTSA
#79 Joey Tanona
Zionsville (Ind.)
On3 Consensus: No. 118
Status: Signed with Notre Dame
*not playing*
Defensive Line
#0 Quency Wiggins
Baton Rouge (La.) Madison Prep Academy
On3 Consensus: No. 77
Status: Signed with LSU
*not playing*
#7 Nic Caraway
Bryan (Texas)
On3 Consensus: No. 674
Status: Signed with Purdue
#14 Caden Curry
Greenwood (Ind.) Center Grove
On3 Consensus: No. 112
Status: Signed with Ohio State
#45 Hero Kanu
Rancho Santa Margarita (Calif.) Santa Margarita Catholic
On3 Consensus: No. 125
Status: Uncommitted
*not playing*
#46 Chris McClellan
Owasso (Okla.)
On3 Consensus: No. 101
Status: Signed with Florida
#68 Aaron Graves
Gworie (Iowa) Southeast Valley
On3 Consensus: No. 94
Status: Signed with Iowa
#98 Tyson Ford
St. Louis (Mo.) John Burroughs School
On3 Consensus: No. 122
Status: Signed with Notre Dame
EDGE
#9 D.J. Wesolak
Boonville (Mo.)
On3 Consensus: No. 185
Status: Signed with Missouri
#11 Cyrus Moss
Las Vegas (Nev.) Bishop Gorman
On3 Consensus: No. 83
Status: Uncommitted
*not playing*
#14 J'mond Tapp
Donaldsonville (La.) Ascension Catholic
On3 Consensus: No. 144
Status: Signed with Texas
Linebackers
#8 Lander Barton
Salt Lake City Brighton
On3 Consensus: No. 199
Status: Signed with Utah
#20 Taariq Al-Uqdah
Inglewood (Calif.)
On3 Consensus: No. 631
Status: Signed with Washington State
*not playing*
#26 Devon Jackson
Omaha (Neb.) Burke
On3 Consensus: No. 174
Status: Signed with Oregon
#31 David Bailey
Santa Ana (Calif.) Mater Dei
On3 Consensus: No. 91
Status: Signed with Stanford
*not playing*
#40 Nolan Ziegler
Grand Rapids (Mich.) Catholic Central
On3 Consensus: No. 244
Status: Signed with Notre Dame
#44 Niuafe Tuihalamaka
Mission Hills (Calif.) Bishop Alemany
On3 Consensus: No. 184
Status: Signed with Notre Dame
Cornerbacks
#2 Gentry Williams
Tulsa (Okla.) Booker T. Washington 
On3 Consensus: No. 58
Status: Committed to Oklahoma
*not playing*
#2 Trudell Berry
Baytown (Texas) Lee
On3 Consensus: No. 844
Status: Signed with Vanderbilt
#3 Toriano Pride
St. Louis (Mo.) East St. Louis 
On3 Consensus: No. 54
Status: Signed with Clemson
*not playing*
#3 Terian Williams II
Alpharetta (Ga.) Johns Creek
On3 Consensus: No. 817
Status: Signed with Stanford
#11 Kyron Chambers
Dallas South Oak Cliff
On3 Consensus: No. 536
Status: Signed with TCU
#13 Jaylon Guilbeau
Port Arthur (Texas) Memorial
On3 Consensus: No. 149
Status: Signed with Texas
#23 Jalil Tucker
San Diego Lincoln
On3 Consensus: No. 119
Status: Signed with Oregon
*not playing*
Alex Afari
West Chester (Ohio) Lakota West
On3 Consensus: No. 323
Status: Signed with Kentucky
*not playing*
Safeties
#1 Trejon Williams
Portland (Ore.) Jefferson
On3 Consensus: No. 246
Status: Committed to Oregon
#5 Xavier Nwankpa
Altoona (Iowa) Southeast Polk 
On3 Consensus: No. 35
Status: Signed with Iowa
#21 Larry Turner-Gooden
Playa Del Rey (Calif.) St. Bernard 
On3 Consensus: No. 245
Status: Uncommitted
*not playing*
Specialists
#17 Bryce McFerson
Indian Trail (N.C.) Metrolina Christian Academy
Punter
Status: Signed with Notre Dame
#22 Ethan Moczulski
Mead (Wash.) Mt. Spokane
Kicker
Status: Signed with Texas A&M
#34 Kurt Chesney
Aliso (Calif.) Aliso Niguel
Long Snapper
Status: Committed to Air Force