2022 SEC Unit Rankings: The Top 5 pass-catching corps in the SEC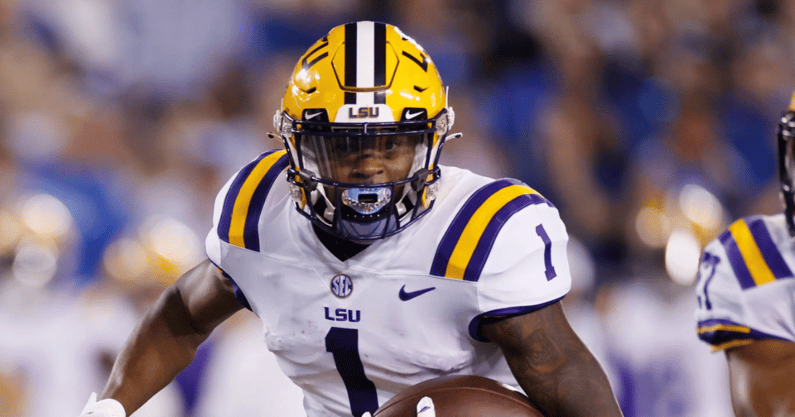 In the last three years, the SEC has seen nine pass-catchers get drafted in the 1st Round, and league looks set to continue flooding the NFL Draft with top playmaking talent for the foreseeable future. 
Outside of the ridiculous room Brian Hartline has put together at Ohio State, the SEC might have the next best three pass-catcher units in the entire country. 
It's important to note here: This is not exclusively about wideouts. In today's modern game, freakish tight ends have become just as vital to some teams' offense (see: Georgia). 
So who has the strongest pass-catching corps in the SEC in 2022? It starts with a deep and loaded room in Baton Rouge. 
1. LSU
LSU has the best collection of perimeter playmakers in the SEC. They're built like a basketball team, with size, speed and versatility. The Tigers return their top five leading receivers from 2021 — headlined by Kayshon Boutte (Over 500 yards and nine touchdowns in just six games last season) who is arguably the best overall receiver in the conference this year. It's no solo show, though, as LSU touts as trio of awesome sophomores (Jack Bech, Malik Nabers and Brian Thomas Jr.) — all of whom caught at least 25 balls in 2021. The Tigers expect Chris Hilton Jr. to factor into the offense more this season, while senior Jaray Jenkins is back after finishing No. 2 on the team in yards (502) and touchdowns (six). As a cherry on top, Brian Kelly grabbed Louisiana-Lafayette wideout Kyren Lacy (10 career touchdowns in two seasons) from the transfer portal. The Tigers may not know who their quarterback is yet, but there's a glut of weapons to utilize for whoever wins the job. 
2. Georgia
Georgia's tight end room is unrivaled, with Brock Bowers (14 total touchdowns) returning as the heavy favorite to win the Mackey Award in 2022. Georgia also features freakish former 5-star recruits in Arik Gilbert and Darnell Washington, as well as Top 100 freshman Oscar Delp — all of whom will be heavily involved in Todd Monken's offense. But it's not just about the tight ends for Georgia, as Stetson Bennett has no shortage of playmakers to get the ball to. Two of the Bulldogs' top perimeter weapons off their national championship team are back (sophomores Adonai Mitchell and Ladd McConkey), while a trio of wideouts (Arian Smith, Dominick Blaylock and Marcus Rosemy-Jacksaint) who were injured for much of 2021 are fully healthy and ready to contribute. Smith, in particular, could have a monster season. Senior Kearis Jackson had a down year last fall, but he's eying a bounce-back campaign. A couple freshmen have made waves this offseason, with De'Nylon Morrissette looking to push his way into the rotation. 
3. Alabama
Alabama and the Buckeyes have been in a battle for the WRU crown lately, and while Alabama's pass-catcher room isn't as other-worldly compared to recent seasons, it's still really good. The Tide added transfers Jermaine Burton from Georgia and speedy Tyler Harrell from Louisville. Burton is expected to play a similar role in the Tide's offense as John Metchie — Bryce Young's security blanket in 2021. Alabama also has a pair of sophomores set to see more snaps in former 5-star Ja'Corey Brooks or JoJo Earle. Cameron Latu is one of the better tight ends in the SEC, and finally settled at the positionsenior could become an even bigger part of the offense in 2022. 
4. Texas A&M
The Texas A&M pass-catching unit could've look a lot differently if Ainias Smith didn't have charges dropped from an offseason arrest, but the senior is available and he's one of the better playmakers in the entire country (90 catches for 12 touchdowns the last two years). Texas A&M also expects a trio of blue-chip freshmen to become instant contributors — 5-star wideout Evan Stewart (a blazing receiver who should boost an offense's lack of explosive plays), 5-star Chris Marshall (a 6-3, 200-pound ball-winner) and tight end Jake Johnson. Sophomore Moose Muhammad III had eight of his 10 catches in Texas A&M's final two games in 2021 and will start opposite Smith and Stewart this fall. 
5. Tennessee 
Tennessee returns the SEC's leading wideout in Cedric Tillman (1,081 yards and 12 touchdowns), and there's optimism that junior Jalin Hyatt (now 20 pounds heavier) can replace the production of Velus Jones (62 receptions and seven touchdown) in the slot. There's hope that a pair of Jimmy's (Jimmy Calloway and Jimmy Holiday) develop into Joe's in Year 2 of Josh Heupel's WR-friendly offense. Tennessee also added four promising freshmen wideouts to the roster, with Marquaris 'Squirrel' White and Chas Nimrod garnering the most offseason buzz. A wild card for the Vols this fall is former 5-star Bru McCoy. The USC transfer is still not eligible, but if he finds his way onto the field in 2022, he gives quarterback Hendon Hooker another dynamic weapon to throw to. 
The best of the rest:
Both Magnolia State schools have a bevy of solid playmaking options. Ole Miss grabbed USC transfer tight end Michael Trigg from the portal, as well as Mississippi State receiver Malik Heath, speedsters Jaylon Robinson from UCF and Jordan Watkins from Louisville. Jonathan Mingo is now healthy, too. 
Meanwhile, the Bulldogs must replace Makai Polk (1,046 yards and 105 catches), but Jaden Walley, Austin Williams and Lideatrick Griffin form a nice starting trio. 
Elsewhere, Missouri and South Carolina aren't short on explosive perimeter pass-catchers. The Tigers signed 5-star Luther Burden, with Eli Drinkwitz looking to pair the East St. Louis standout with Dominic Lovett, Mookie Cooper, Barrett Banister, and senior Tauskie Dove (team-high 576 yards in 2021).

Similarly to Georgia, the Gamecocks have a versatile set of weapons that include H-back/tight end Jaheim Bell, Swiss Army knife Dakereon Joyner, senior Josh Vann and transfers Austin Stogner, Corey Rucker and Antwane Wells (an FCS All-American at James Madison in 2021).