2023 Big 12 win totals: Analyzing schedule projections from Texas to West Virginia in the most difficult league to handicap this fall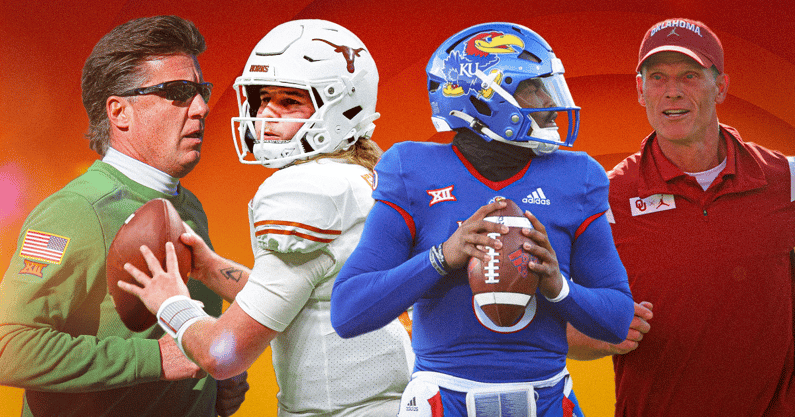 The 2023 college football season is still several months away, but sports books everywhere have begun to release over/under win total projections for the fall. 
After Power Ranking each P5 conference last week, this week we'll look at the win total numbers released by DraftKings Sportsbook. We debuted the series analyzing projections for all 14 SEC teams. Yesterday, we released opinions on the Big Ten projections. 
Today, we look at the Big 12, which looks like the hardest conference to handicap in 2023. No team — not even Texas — has a preseason win total in the double-digits. Six schools have win totals between seven and six games. 
So with the latest information, here's a little Post-Spring Too High? Too Low? Just Right? with the Big 12 win total projections. 
Should Texas win 10 games? Probably. The Longhorns are certainly talented enough. But Steve Sarkisian has never done that once in his career, so it makes sense to open the team's win total slightly south of double-digits. 
Although Texas is the preseason Big 12 favorite, it also faces one of the tougher schedules in the league in 2023. The Longhorns play the four other in-state schools (at Baylor and TCU), while also hosting reigning conference champions Kansas State and a Week 2 road game at Alabama. 
Even with Georgia no longer on the schedule, the Sooners having the same preseason win total as Texas seems slightly ambitious, and yet, their schedule is much more favorable. 
Not only no UGA, but OU also avoids Kansas State, Texas Tech and Baylor — three of the four programs with the next-highest win totals in the league. 
Brent Venables returns a more talented team in Year 2, and the defense should be much better with a host of reinforcements from the transfer portal, so a three-win improvement from last season seems very manageable. 
The Sooners' non-conference slate includes SMU and a road trip to Tulsa, and they get Big 12 newcomers Cincy, UCF and BYU on the schedule. 
Of the Big 12 conference title contenders in 2023, the Wildcats have one of the more navigable schedules. They do play at Missouri, but they should still win that game in Columbia. 
They don't play Oklahoma and will be favored to sweep their five conference home games. That's eight wins right there. Kansas and Oklahoma State will be home underdogs against K-State, too. 
Chris Klieman is the best coach in the league, and the Wildcats' roster remains strong even after losing star tailback Deuce Vaughn and 1st Round pass rusher Felix Anudike-Uzomah. This number is at least off by half a win, maybe more. 
Even with all the NFL departures (Heisman Trophy quarterback Max Duggan, wideout Quentin Johnston, running back Kendre Miller, cornerback Tre'Vius Hodges-Tomlinson, linebacker Dee Winters ), the Horned Frogs still project to have a competitive team in 2023. 
Sonny Dykes' program won't contend for a national title again this fall, but it would take a sharp regression to not even win at least 7-8 games. TCU, which reloaded its roster from the portal, will be favored in its first seven games. The Horned Frogs' final stretch is a gauntlet — at Kansas State, at TTU, vs. Texas and Baylor, at Oklahoma — which is why this number with a hook looks right. 
Joey McGuire has a squad entering his second season in Lubbock. Quarterback Tyler Shough is back and healthy, and 14 other starters return, too. 
This is a veteran team with multiple impact signees (Syracuse pass rusher Steve Linton and San Diego State safety CJ Baskerville) from the transfer portal. Texas Tech avoids Oklahoma and has Kansas State and TCU at home. It gets to play three of the newcomers to the Big 12, too. 
The Red Raiders host Oregon in Week 2, but they should be a better team than they were a year ago. An 8-4 season is a more likely floor. 
Baylor, a team that went from the Big 12 Championship in 2021 to barely making a bowl in 2022, has eight home games in 2023, including a Week 2 matchup with a Top 15 Utah team. 
The Bears also welcome Texas, Texas Tech and Houston to Waco. They draw three of the conference's newcomers and avoid Oklahoma. 
So why is their win total at just 7.5? Because there are plenty of booby-trap games, plus tough road tilts at TCU and Kansas State. We also don't really know what type of yo-yo team Dave Aranda is going to have each year it seems. 
It's been a turbulent offseason in Stillwater, with more than 18 players transferring and DC Derek Mason opting to take a sabbatical rather than continue coaching the Cowboys' defense. 
And yet, all Mike Gundy does is win at least seven games. He's done it in every season sans 2005, so while Oklahoma State seems like a program in decline (and it certainly might be), a 6.5 win total is still too low — especially when you see its schedule. 
Michigan transfer Alan Bowman doesn't inspire a ton of confidence at quarterback, but the Cowboys' schedule isn't overly daunting, so perhaps the transfer will pan out. They avoid Texas, TCU and Texas Tech. They get Oklahoma at home. 
Their conference road games are against two newcomers (UCF and Houston) and two teams with the lowest preseason win-totals (West Virginia and Iowa State). 
The Jayhawks went bowling for the first time in 14 years in 2022, so the fact sports books see that as a baseline expectation in 2023 highlights Lane Leipold's resuscitation job of a moribund program. 
And yet while I love Leipold, this win total is just a bit too high when you look at the makeup of Kansas' 2023 team, plus examining its very difficult schedule. 
While star quarterback Jalon Daniels and 1,000-yard rusher Devin Neal are back, Kansas' defense (particularly its front seven) is likely to stink again, so there's little margin for error. 
The Jayhawks play the top four preseason projected teams in the league (Texas, Kansas State, Oklahoma, Texas Tech). They host Illinois in Week 2 and then must travel to play Nevada. Both of those are toss-up games even before they play their nine conference games. 
UCF: 6.5 — TOO LOW
Maybe Gus Malzahn has the rabbit foot in his pocket again, because the Knights have the best newcomer schedule of the four inaugural Big 12 teams. 
They get all their most winnable conference games at home, and their three toughest (K-State, OU, Texas Tech, all likely losses regardless) on the road. 
With John Rhys Plumlee back at QB and a couple of impact pieces from the transfer portal (5-star tailback Demarkcus Bowman, Georgia linebacker Rian Davis), UCF has the makeup of a baseline 7-5 team. 
BYU: 5.5 — TOO HIGH
The Cougars are playing a full conference schedule for the first time in a dozen years, and they return a bad defense and an offensive line that could start up to five transfers. 
That's not the recipe for a fringe bowl team in 2023. When you take a look at BYU's schedule, you have to squint hard just to see even five wins. 
BYU plays Texas, Oklahoma, Texas Tech and TCU. It has a non-conference game at Arkansas. This has all the makings of a rude transition year for Kalani Sitake's team this fall. 
The Cyclones lost six one-score games in their disappointing 4-8 a year ago. Perhaps they'll bounce back and go bowling again this fall, but that's not a given facing one of the tougher slates in the league. 
They draw five of the top six teams in the league (Texas, Kansas State, Oklahoma, TCU and Baylor) and play in-state rival Iowa in Week 2. 
Matt Campbell is a great coach, and Iowa State returns lots of experience, but even making a bowl game should be considered a success in 2023.
Regardless of what some (myself included) might think of the Scott Satterfield hire, the Bearcats are being shortchanged in the market in their transition season to the Big 12. While an adjustment is expected, this is not a program or schedule that should have a win-total south of at least five or higher. 
Cincy does play a non-conference game at Pitt, but its first Big 12 slate does not include Texas, Texas Tech or Kansas State. 
The Bearcats play the "perceived" preseason bottom-seven teams in the Big 12 — all potentially winnable games. Maybe they'll fall short of a bowl game, but this number should sit at 5.5 not a game lower. 
Houston: 4.5 — JUST RIGHT
Dana Holgorsen's program is trending in the wrong direction — and that's a problem since they're making the jump to the Power 5 this fall. So after going 12-2 and then 8-5, a 4.5 win-total looks right in 2023. 
The Cougars are hoping to overcome a mass exodus of transfer portal departures (namely at OL) by bringing in former Big 12 QB Donovan Smith from Texas Tech to take over for longtime starter Clayton Tune. 
The good news is Houston has just four road games this year. The bad news is it opens against UTSA, a fringe Top 25 team,   and will be either underdogs or tossup favorites in all nine conference games. 
Neal Brown has openly acknowledged that he enters a must-win fall at West Virginia, and yet the AD who hired him (and has since been fired) did him little favors with a non-conference schedule that includes a road opener at Penn State and then the Backyard Brawl versus Pitt two weeks later. 
The conference schedule doesn't include Texas or Kansas State, and yet West Virginia still won't be favored in more than three games all season.