2023 Big Ten football head coach rankings: Jim Harbaugh remains the king of the conference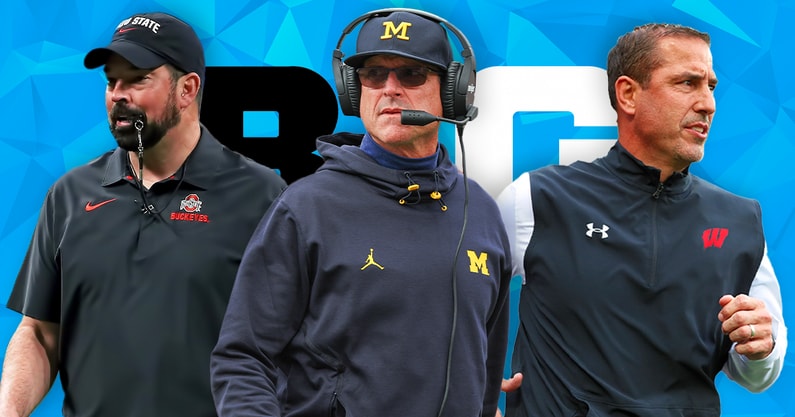 It's that time of the year again. Offseason coaching rankings!
Over the next six weeks, I'll release rankings for each Power 5 conference and the Top 10 Group of 5 coaches before a final Top 25 coaches in all of football.
Last week, we kickstarted the series with the 2023 SEC football head coach rankings.
Remember, this is a fun exercise and even if your favorite coach is ranked near the bottom of his conference's list: A) He's still considered a damn good football coach to have said job and B) That doesn't mean I hate your team!
With that, this list is totally subjective. It's my rankings. Some might weigh the overall body of work for a head coach. I take that into account, but college football has become the ultimate what-have-you-done-for-me-lately-business with the carousel constantly spinning. 
The job of a head coach has changed in recent years, too. So for my rankings, I take into account recent performance, recruiting chops, hiring quality assistants, sending players to the NFL, working the transfer portal, etc. 
The Big Ten features among the most interesting collection of coaches in any conference. It has arguably three of the Top 10ish coaches in the sport, a bunch of old heads and three new coaches in the league including a guy who is the only coach to take a Group of 5 team to the College Football Playoff. 
1. Jim Harbaugh, Michigan
It took some time, but Jim Harbaugh fulfilled his promise of beating Ohio State and delivering his alma mater a Big Ten Championship. 
Then he did it again last season. The Wolverines are 25-3 the last two years, with a pair of conference titles and College Football Playoff berths. While Harbaugh has downplayed some of the major cultural and philosophical changes he made before the 2021 season, he deserves credit for pivoting and overhauling his staff. 
In eight years at Michigan, Harbaugh has five seasons with at least 10 wins. Although the yearly NFL rumors remain a distraction, the Wolverines don't look like they're going to slowdown at all under Harbaugh, either. They bring back a loaded squad in 2023 — with Harbaugh supplementing the depth chart with several key additions from the transfer portal — and will be the favorites to three-peat in the Big Ten. 
While I weigh the present more than the past, Harbaugh's coaching resume also includes jumpstarting Stanford's program (12-1 season in his final year) and four years with the San Francisco 49ers where he never had a losing season, played in the NFC Championship Game three times and lost to his brother John Harbaugh in the Super Bowl. 
Ryan Day was a missed field goal against Georgia in the College Football Playoff away from getting a mini-mulligan for losing to Michigan in back-to-back years, instead, he enters 2023 facing unique pressure for a head coach who is 45-6 in his first four seasons. 
Many Buckeye fans believe Day is overrated, while others feel he's under-appreciated. But that's what happens when you walk the tightrope as the head coach of Ohio State, where the expectation is to beat Michigan, win the Big Ten and play for the national championship — none of which has happened the last two years. 
Day has been to the playoffs three times, developed multiple 1st Round quarterbacks, and has a staff that's recruited some of the best skill-talent and defensive linemen in the country, but none of that matters much to OSU fans until he reclaims the Buckeyes' throne as the king of the conference by beating Michigan. 
Only a couple of coaches in America have won with more consistency and produced more NFL talent in recent years than Luke Fickell. A year ago, the former Buckeye became the first coach to lead a Group of 5 program to the College Football Playoff and sent nine players to the NFL Draft. 
Now, Fickell faces a new challenge leaving Cincinnati for Wisconsin.
Fickell was 57-18 with the Bearcats, with a trio of 11-win seasons. He always seemed destined to return to the Big Ten at some point, but few expected it would be at a place like Wisconsin. However, Fickell clearly sees the upside and growth potential for what was already one of the winningest programs in the conference over the last two decades. 
Fickell immediately went to work this offseason shoring up the Badgers' roster, grabbing a trio of quarterbacks from the portal and another 10 position players he hopes become starters or contributors. He also assembled a very interesting Year 1 staff, especially with the addition of former North Carolina offensive coordinator Phil Longo, who brings a stark philosophical change after 30 years of bully-ball in Madison.
Some questioned the trajectory of PSU's program under James Franklin after a pair of down seasons in 2020 and 2021 (4-5 and 7-6), but the Nittany Lions bounced back with an 11-2 campaign in 2022 and return one of the best rosters in the nation in 2023. 
Franklin has four 11-win seasons in State College, and has signed his best two recruiting classes during his nine-year run the last two cycles. Penn State is among the darlings of the offseason, as the Nittany Lions look positioned to potentially make the College Football Playoff field for the first time under Franklin. 
The next step for Franklin and PSU is to start winning more games against its rivals (4-14 vs. Ohio State and Michigan). Still, with the expanded playoff coming, Franklin looks likely to bust through the doorstep at some point, as he's proven to be one of the best program-builders in the country. 
His work at Vanderbilt continues to look more and more impressive with each passing season, too, as Franklin won nine games twice with the Commodores (with two Top 25 finishes) and the program hasn't had a winning season since he left. 
5. Kirk Ferentz, Iowa
With good reason, Kirk Ferentz is the butt of many college football jokes, but the saga surrounding his son Brian as Iowa's maligned OC coupled with various embarrassing lawsuits has overshadowed the remarkable consistency at which Fernetz has produced winners. 
The sport's longest-tenured head coach has 19 winning seasons since taking over the program in 1999. The Hawkeyes go bowling every year, and last season's 8-5 showing was considered a down-season after a couple 10-win showings the previous years. 
Ferentz's stubbornness not to move on from his son as OC is absolutely holding the program back. The Hawkeyes had one of the nation's saltiest defenses in 2022. They might've been a CFP contender with even a functional offense. Still, despite recruiting 2-and 3-stars, no program in America has been better than Iowa at mining and developing NFL Draft picks. 
The Hawkeyes project to have another five players picked inside the Top 100 of the draft in April.
6. Bret Bielema, Illinois
If this list were made this time last offseason, Bret Bielema would've found himself much lower in the rankings, but after delivering Illinois its best season in 15 years, Bert finds himself just outside the Top 5. 
The Fighting Illini nearly won the Big Ten West title, playing awesome defense with a smash-mouth rushing attack. Bielema was a really good coach at Wisconsin (three Big Ten Championships), and he seems back at home in the Big Ten at Illinois. 
In two seasons, Bielema has improved the program's recruiting capabilities, hired quality assistants (see: Ryan Walters plucked for Purdue's HC opening) and developed multiple players on the roster into top NFL Draft picks. 
Maintaining success will be harder to come by once divisions go away when USC and UCLA join the league in 2024, but the program is undoubtedly on firmer footing with Bielema in charge as head coach. 
College football's Ray Donovan is tasked with fixing yet another broken program, looking to resurrect Nebraska after the Cornhuskers have wandered in the wilderness for the last decade. 
Matt Rhule failed as the head coach with the Carolina Panthers, but he got an NFL job because of the work he did at Temple (2-10 in Year 1 to two 10-win seasons) and Baylor (1-11 in Year 1 to 11-3 in Year 3). 
He's regarded as a shrewd evaluator and a good player-development coach. At Nebraska, Rhule will have more resources to work with and he doesn't inherit quite the dire circumstances he did at his previous two college head coaching stops. He's also shown an ability to adapt to a new CFB landscape, embracing NIL and using the transfer portal to shore up the roster for 2023. 
P.J. Fleck is the quintessential solid football coach. His personality and affinity for cliches aren't for everybody, but Minnesota has rowed the boat to back-to-back 9-4 seasons.
The Gophers' style of play isn't pretty (their ground-and-pound offense led the Big Ten in rushing attempts per game and time of possession in 2022), but the results have produced four winning seasons in six years at Minnesota. 
Fleck is also 4-0 in bowl games with the Gophers and has a 13-1 season at Western Michigan on his resume, too. 
Like Bielema, his job is about to become more difficult once the Gophers no longer get to reside in the comforts of the Big Ten West sandbox once USC and UCLA join the league in 2024, but he has one more opportunity to win the division outright and send Minnesota to its first Big Ten Championship Game in school history this fall.
Mel Tucker is 18-14 with the Spartans, going a disappointing 5-7 in 2022 with one of the worst defenses in the country. 
So why is he ranked above the likes of Pat Fitzgerald, who has a much longer track record of success, or Mike Locksley, who beat Tucker just last season?
Because less than two years ago, Mel Tucker pulled off one of the greatest heists in college football coaching history!
But seriously, Tucker got hired by MSU very late in the 2020 cycle and then the pandemic hit. A year later, he was the original portal king, stuffing the Spartans' roster with close to 20 transfers including star tailback Kenneth Walker II. Michigan State had a magical season, going 11-2 with wins over Michigan and Penn State and a victory in the Peach Bowl. Tucker then parlayed the one-year-wonder, plus interest from LSU, into $95 million contract. It was all-time stuff. 
Now we'll see if he can get the Spartans back to relevancy after an ugly (especially when you include the off-field incident at Michigan) 2022. 
Tucker has recruited better than any B1G program not named Ohio State, Penn State and Michigan. The Spartans actually signed as many blue-chip prospects (eight) as the Wolverines in 2023. He also once again loaded up on transfers (14) with the hope that the new additions will help fix the defense (and produce better team chemistry than it did last fall).
At first glance, this ranking is disrespectful to the overall work Pat Fitzgerald has done at his alma mater, and is not indicative of the job he's done in 17 years in Evanston (110-101 record, three 10-win seasons). 
And yet, the results are trending hard in the wrong direction the last few seasons. The 2020 Big Ten West title (7-2 with a loss to Ohio State) during the shortened COVID season is a major outlier, with the Wildcats winning just seven games total in 2019, 2021 and 2022 (7-29 combined record). 
Last fall, Northwestern became the first team in college football history to go 1-0 in Europe and then 0-11 in America. Fitzgerald made a bunch of staff changes this offseason, but the program faces a steep hill to get back on track — especially with a roster that ranks No. 115th nationally in returning production.
11. Mike Locksley, Maryland
After five consecutive losing seasons to start his head coaching career — including a disastrous tenure at New Mexico from 2009-11 (2-26) — Mike Locksley has produced back-to-back bowl-winning teams at Maryland. 
The Terps are fresh off their best season since 2010, going 8-5 with a win over NC State in the Duke's Mayo Bowl and competitive close losses to Michigan and Ohio State. 
Recruiting slipped a bit in 2023 (they signed the 11th-best class in the B1G after finishing eighth in 2022), but Locksley hasn't been shy about grabbing impact players in the portal to plug immediate holes — particularly guys from the DMV area looking to play closer to home. 
The former Alabama OC has a track record of developing quarterbacks, and Taulia Tagovailoa returns as the most experienced starter in the conference next season. 
Locksley could easily leapfrog several coaches on this list next season if Maryland cements its standing as the fourth-best team in the Big Ten East in 2023. 
12. Greg Schiano, Rutgers
Greg Schiano's reunion at Rutgers hasn't gone as swimmingly as many hoped now that the Scarlet Knights play in the Big Ten. Although Schiano parlayed a first successful stint in Piscataway (68-67 in 11 seasons averaging over eight wins per year the final six seasons) into the Tampa Bay Bucs head coaching job, he's struggled to field a competitive team in three seasons (12-22) back at Rutgers. 
When Rutgers was in the Big East, Schiano had a history of sending oodles of talent to the NFL. He recruited New Jersey and Florida really well. That's no longer the case. While Schiano out-recruited some of his Big Ten brethren his first few seasons back at RU, the Scarlett Knights just signed their worst class under Schiano — 59th nationally, 13th in the Big Ten — and their punter Adam Korsak was the program's lone representative at the NFL Combine. 
In fairness, Rutgers is among the hardest jobs in all of the Power 5. It took Schiano five seasons for him to produce a winning season the first go-round with the Knights, so perhaps more patience is warranted considering they're currently forced to play Ohio State, Michigan, Penn State and Michigan State annually. 
13. Tom Allen, Indiana 
Since a couple of surprisingly strong seasons in 2019 and 2020 — 8-5 and 6-2 — the Hoosiers are just 6-18 the last two years, as the likable Tom Allen seems to have lost whatever mojo he had midway through his IU tenure. 
Allen has hired some really good assistants at Indiana (see: Washington's Kalen DeBoer and South Alabama's Kane Wommack), but the quality of play has deteriorated since they left town. 
Allen has four losing seasons in six years as IU's head coach. The Hooisers' defense — Allen's specialty — has fallen off a cliff in recent years, too, finishing last in the Big Ten in multiple categories in 2022. In an effort to turn around the program, Allen aggressively attacked the transfer portal, but barring a surprise season, 2023 could be his last year in Bloomington. 
14. Ryan Walters, Purdue
Much like Zach Arnett at Mississippi State, Ryan Walters automatically gets slotted at the bottom of the rankings since he's a first-time head coach. Here's a strong guess that he won't take up the rear when this piece drops in 2024. 
Walters piloted Illinois' historic defense in 2022, as the Fighting Illini led the nation in scoring, were No. 2 in takeaways, No. 3 in yards per play allowed and Top 10 in third-down stop percentage. 
Purdue clearly believes very strongly in Walters' upside as a head coach, as evidenced by the program deviating from its tradition of hiring offensive-minded coaches. Walters, 37, has put together a nice staff and the OC-QB combo of Graham Harrell and Texas transfer Hudson Card is one of the more interesting new pairings in the conference. 
Depth will be an issue for the Boilermakers this fall, though, especially on the DL where the coaching change promoted several starters to transfer elsewhere.